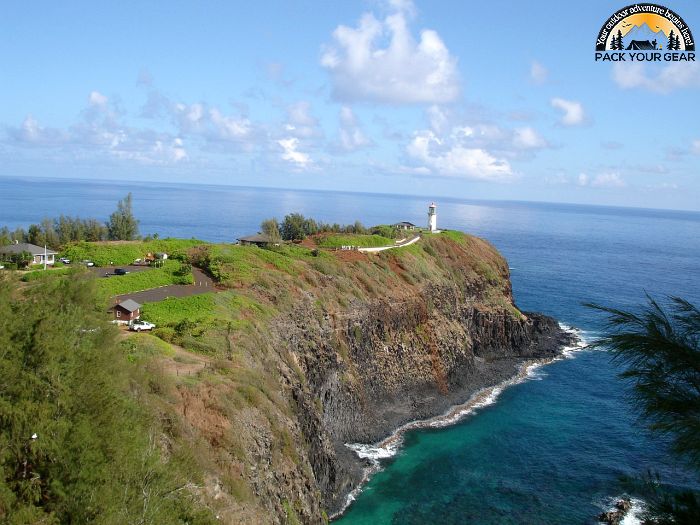 Kilauea Point National Wildlife Refuge
Park Information
Kilauea Point National Wildlife Refuge's rocky cliffs provide premier nesting and roosting habitat for seven native Hawaiian seabirds.
It is one of the most important seabird nesting sites in the inhabited Hawaiian Islands. Reintroduction of the endangered nene goose began on the refuge in 1991 as part of a statewide recovery program.
Predator control and a predator proof fence line around the perimeter of the refuge are necessary to protect breeding seabirds and nene.
Native plant restoration has been ongoing since the refuge was established in 1985. Habitat management also includes opening and maintaining nesting areas for the recently colonizing Laysan albatross and improving feeding habitat for nene.
Built in 1913 as a navigational aid for commercial shipping between Hawaii and Asia, Kilauea Lighthouse stands as a monument to Hawai'i's colorful past.
For 62 years, it guided ships and boats safely along Kaua'i's rugged north shore. In 1976, the Coast Guard deactivated the lighthouse and replaced it with an automatic beacon.
In 1979, the lighthouse was placed on the National Register of Historic Places. Kilauea Point NWR receives over 500,000 visitors per year.
Agency Name:
Fish and Wildlife Service
Directions
Turn off the Kuhio Highway at the entrance to the town of Kilauea and follow the signs to Kilauea Lighthouse. The refuge is at the end of Lighthouse Road.
Contact Info
Kilauea Point Lighthouse
Kilauea, Kauai, HI
96754
Additional Info
"Home – Kilauea Point National Wildlife Refuge – U.S. Fish and Wildlife Service". Accessed May 09, 2020. Link.