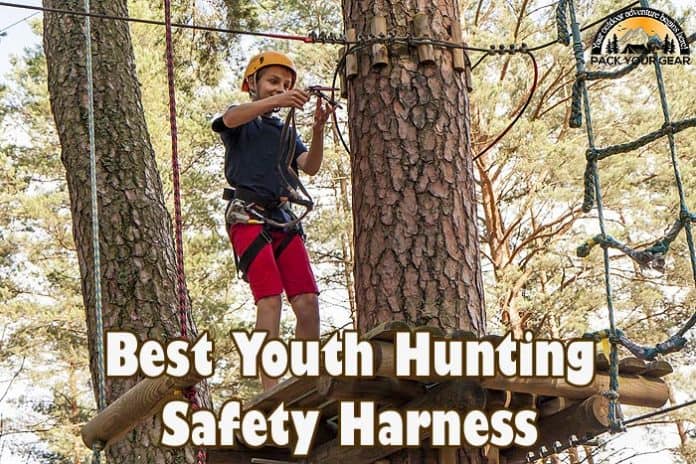 Do you have a child in your life who loves to hunt? Are you taking the kids with you to hunt in the woods? They better wear a youth hunting safety harness. You see, kids falling from a treestand while hunting in the woods is fatal and can lead to severe injuries such as spinal damage.
Sale
Best Youth Hunting Safety Harness
Our Pick
If you plan to get your child started in the woods, the first thing you need to do is ensure their safety when putting them in the tree stands. This Hunter Safety System Lil' Treestalker is the perfect solution for children and offers total safety for them.
We ♥ honesty! Pack Your Gear earns a commission through the following hand-picked links at no extra cost to you.
One best way to reduce the risk of falls is to use the best youth hunting safety harness. This will give your kids more protection than any other fall protection measures such as rails and seat belts.
Best Youth Hunting Safety Harness – Comparison Table

Why Do I Need a Hunting Safety Harness?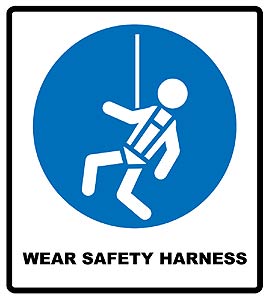 A hunting safety harness is essential to keep you safe when using a tree stand. Many hunters like to place their tree stands at various heights, but most people place them between 17 and 20 feet tall.
There are many dangerous moments. Most people have an accident while climbing, carrying their equipment, or dismounting. People spend a long time in stands, and it is not uncommon for people to fall asleep. In this case, there is a high risk of falling.
A safety harness supports you in the event of a fall. Furthermore, your tree platform may come out from under you and leave you to fall. It is weird, but it can happen. A hunting safety harness will protect hunters from this.
Suggested Reading:

How Do You Build a Safety Line for Hunting?
For less than $20 apiece, you can create your safety line for hunting. We'll show you the simple steps required to create your own from an ordinary rope.
5 Easy Steps to a DIY Safety Line for Hunting
Cut the Premium 1/2 inches double braided rope into 30-foot sections. This is the rope that runs down from the top of the tree stand. If you are going to place the tree stands higher, we suggest you cut them into 40-foot sections.
Cut the premium 3/8 inches double braided polyethylene rope into 5-foot sections.
Melt the rope's ends to avoid fraying.
Tie a Prusik Knot into the 30-foot sections of the Premium 1/2 inches double braided polyester rope, with the 5-foot section of the Premium 7/16 inches double braided polyester rope!
Tie one side of the 30-foot 1/2-inch double braid rope to the tree's bottom. Then tie the other end of the rope over your tree stand! Use a snap hook to secure the Prusik knot loop that you tied in the ½-inch 30-foot sections.
Suggested Reading:

How Do You Use a Hunting Safety Harness?
Create a system and follow the instructions for your particular hunting safety harness while attaching it to a tree. Here are the general steps for attaching a hunting safety harness to a treestand:
Guide the tree strap behind the TWO chest straps of your hunting safety harness at ground level.
Wrap the strap around the tree JUST ONE TIME, ensuring that the tree strap isn't twisted.
Secure the strap with the slide adjuster.
Adjust the tree strap's length so that you can easily lean back when climbing.
Before climbing, pull on the tree harness to make sure it is properly attached.
As you go up, keep increasing the tree strap's height with each step, leaning back slightly each time to exert some pressure on the tree strap to keep it from slipping.
Always climb OVER your tree stand and descend onto your tree stand platform.
When you get to the treestand, attach the leash to the tree strap.
Suggested Reading:

How Long are Harnesses Good for?
5 years is the typical length suggested by the TMA (Treestand Manufacturers Association).

What are the Four R's of an Ethical Hunter?
1. Respect for Self
Learn all about the game you are hunting.
Learn and understand why baggage limits are set and stick to the daily baggage limits. Know and regard the legal seasons for hunting games.
Practice your marksmanship well in advance of the hunting season to ensure a swift and clean harvest of the game.
Before you go hunting, plan and prepare.
Do not use drugs or drink alcohol while handling firearms or hunting.

2. Respect for Others
Do not interfere with other hunter's hunts intentionally.
Teach others to hunt and share your knowledge about the sport.
Don't use bad language or rude behavior.
Don't openly display collected wildlife if it may offend a non-hunter.

3. Responsibility for Actions
Don't play blind to game infractions – report infractions.
Cooperate and collaborate with law enforcement officers.
Realize that your actions directly reflect how others see you as a hunter and the sport in general.
Admit you did something wrong.

4. Respect for Resource
Take only fair photos. Know the distance to your destination.
Avoid shooting in tough times (crossing water, stuck in the snow, etc. ).
Only humane shots. Avoid shooting games when animals are accompanied by their little ones. Young animals may starve to death without their parents.
Follow local laws. Do not overhunt.

What to Look for?
A) Weight
Some time ago, hunting safety harnesses were designed to be "flexible, " meaning they could withstand various weights. These days, virtually all models come in different sizes, usually up to 300 pounds. Check your child's weight before you buy and be realistic. If your kid only weighs a few pounds less, go for the larger model. This is an aspect where you do not want to take risks.

B) Durability/Quality Materials
You want high-quality materials and strong seams used for your safety harness. The best youth hunting safety harness is made from breathable fabrics. This means that the air remains cool and dry no matter the season.

C) Mobility/Flexibility
Ensure there is mobility between the safety harness and the cord. You do not want to realize that you are attached to the treestand, even if it rotates 300 degrees or more. Another essential aspect of flexibility is choosing a safety harness crafted from lightweight, flexible materials that are not rigid. Therefore, when moving, the harness will not get in the way.

D) Comfort
As mentioned earlier, it's essential to maintain complete flexibility without even knowing that you are wearing the safety harness.
Your child can't withstand an uncomfortable safety harness for long. Look for an upper-body harness that promotes their natural posture.
Make sure the weight is evenly distributed on their buttocks and around their thighs in the lower half.
A poorly designed harness can restrict blood flow to the artery on the inner thigh if your child falls off. This is especially risky if you are stuck in the wrong position for an extended period.
For optimum comfort, you also need a hunting protection belt made of breathable materials. This allows sweat to dry and prevents overheating thanks to the passage of air.

E) Safety
Does the harness meet TMA (Tree Stand Manufacturers Association) standards? The TMA was founded in 1995 by industry-leading companies. They first met at a trade show in Atlanta to consent on the lowest safety standards for treestands. Verify that your intended purchase meets or exceeds TMA standards.

Best Youth Hunting Safety Harness Reviewed
Here are the top 6 best youth hunting safety harnesses on the market place today:
1. Hunter Safety System Pro-Series Harness Review
The Hunter Safety System Pro-Series Harness with ElimiShield odor control technology combines more luxurious options and a lightweight design.
All fibers of the harness are treated with Elimishield technology to remove human odors. What we like best about this unit are the 6 pockets that come with it.
Your kids can forget about their trouser pockets and rely on these pockets to store items or even to keep their hands warm.
It weighs a comfortable 2.5 pounds and has the same 1.25-inch top straps, shock-absorbing straps, and scaled-down buckles as the Hunter Ultra-Lite.
The only drawback we found was that one reviewer said the leg strap buckles were on the back of his legs and uncomfortable sitting on.
However, this depends on your child's size, but it does not seem like it happens to many people. This Hunter Safety System Pro-Series Harness conforms to TMA standards, so it's safe for your child.
Pros
An excellent combination of luxury, safety, and comfort.
Great maneuverability of the fabric and design.
Suitable for youths weighing up to 150 pounds.
Cons
The adjustable leg strap buckle can fall on the back of the leg and be uncomfortable when sitting.
Check Price on Amazon

2. Treestand Wingman Emergency Descender System Review
The TreeStand Wingman is a revolutionary emergency descent/fall arrest system that can protect young hunters from tree injuries.
When combined with a safety harness system, it has been shown to minimize death from falling from a tree stand or suspension trauma.
This best youth treestand harness can be used for hunting, climbing, and even descending from a tree. It will protect your little one from getting stuck in the tree while wearing a typical safety harness.
Additionally, TreeStand Wingman protects against the suspension, compression, and fall injuries.
This hunting safety harness can support multiple uses as it can be reset and used repeatedly by simply weaving the nylon tape through the device.
The TreeStand Wingman has been tested and proven effective in falls up to 9 meters. Your child will feel safe when hunting.
So far, the metal wingman device and nylon fabric are in good condition; the wingman can be safely used for archery with a hunting harness.
The Treestand Wingman Emergency Descender System comes with instructions for adjusting the device for youths weighing 70 to 150 pounds.
Pros
Lightweight design
Can withstand up to 30ft treestand falls.
Supports youths up to 300 pounds.
Eliminates ground impact and suspension trauma.
Check Price on Amazon

3. Hunter Safety System HSS Lil' Treestalker Youth TreesStand Safety Harness Review
The Hunter Safety System HSS Lil' Treestalker is an excellent choice for young hunters.
It is a highly adjustable one size fits all safety harness. Indeed, young hunters grow up quickly, and by adapting the harness to their size, you have the opportunity to extend the life of the safety harness.
The waist and chest straps can be adjusted for a custom fit. The recommended weight range for this unit is 50 to 120 pounds, so it should work for various heights.
Thanks to the quick-release belt loops, it is straightforward to put on and take off. It has a few accessories that are worth it.
It features a deer anchor point to bring the handle home, as well as a quick-release tree line that drops on the tree when needed.
Also, they added a lifesaving suspension rescue system for additional safety.
Finally, thermally fusing the Elimishield technology with the fabric and some pockets for your essential gear is the option.
Pros
An excellent option for young people.
Convenient and flexible
Easy to use and adjust.
Odor control technology
Cons
The suspension strap may be too big for young people.
Check Price on Amazon

4. Muddy 1004622 Safeguard Harness Review
The Muddy 1004622 Safeguard Harness is a simple but effective youth hunting safety harness at a great price.
This Muddy youth safety harness is crafted from lightweight, padded nylon with adjustable leg straps. It has a weight class of up to 300 pounds and is comfortable for people up to the weight limit, which cannot be said for other harnesses as they start to chafe and tighten.
Putting on the harness is easy, as there is only one leg strap on each leg. If we had to find a negative point, we would say that braces are a little challenging to adjust, although it is not a big deal.
Also, the buckles are made of plastic. At first, it might look cheaply made, but it is a brilliant decision.
They're sturdy, and the safety harness stays completely silent instead of clinking when you move.
Pros
One size fits most.
Lightweight padded nylon
Quiet plastic buckle design.
Cam leg straps
Cons
The straps were a bit difficult to adjust.
Check Price on Amazon

5. Hunter Safety System Patriot Reversible Vest Belt Review
Would you like hunter orange on your vest for added safety? This unit is one of the best reversible hunting safety harnesses on the market.
This reversible vest features brushed Hunter Orange fabric on one side and Realtree Xtra Camo on the other. But not only does it have a look you want, but it also has some great features.
This best tree stand harness for big guys is extremely light. It features a 1.25-inch torso strap, shock-absorbing clip, and waist buckle that reduces bulk and weight.
The feeling of security is real with this youth safety harness, as it has been tested by the TMA and released with the A. OK.
With 3 pockets on either side for a total of 6 pockets, you are sure to find a place to carry your mobile phone, devices, and other tools by your side.
Simple, extremely safe, and practical: The Hunter Safety System Patriot Reversible Vest Belt is another great choice for youths.
Pros
Meets TMA industry standards of excellence.
All-year hunting harness
Lightweight 1.25-inch upper body strap.
6 large pockets and accessory clips.
Cons
Construction so durable that it can get too hot at times.
Check Price on Amazon

6. Summit Treestands Sports Safety Harness Review
The Summit Treestands Professional Safety Harness is a TMA Certified unit and a sturdy piece of gear that looks great.
At the back are an 8-foot lineman's rope and a sturdy lashing that will absorb shock in the event of a fall.
It has well-padded shoulder straps and quick-release buckles on the thighs that are quick and easy to put on.
What's great about this unit is that it has a molle system that allows users to purchase and attach separate accessories as needed.
It can support weights of up to 300 pounds and is available in different sizes, depending on your height, to make you feel comfortable.
On the downside, if you are unlucky, the adjustment straps on your thighs will shake when you walk. This is a considerable drawback. Also, at 4.9 pounds, it is a heavy harness to wear.
While it is not much, when you are carrying a tree stand, umbrella, gun, and other kits for the day, it all adds up.
Pros
Stylish design
Military-inspired Molle system for additional accessories.
Comfortable to wear
Cons
Metal buckles can rattle while walking.
On the heavy side.
Check Price on Amazon

Sale
Top-Rated Youth Hunting Safety Harness
Our Pick
Our pick for the best youth hunting safety harness this season is the Hunter Safety System Lil' Treestalker Youth Tree-Stand Safety Harness with its fantastic ElimiShield odor control technology.
It asserts itself in all categories: durability, safety, comfort to handling, noise, and price.
It weighs just about 2.5 pounds and comes with all the extras your child needs for a comfortable experience.
Keep your children safe this hunting season by investing in the best youth hunting safety harness. Your kids will be glad you did if they ever need it.

Key References
"Tree stands account for majority of hunting accidents and fatalities". Accessed April 14, 2021. Link.
"5- Easy Steps for a DIY Treestand Lifeline 2020 – FeatherNett Outdoors LLC". Accessed April 14, 2021. Link.