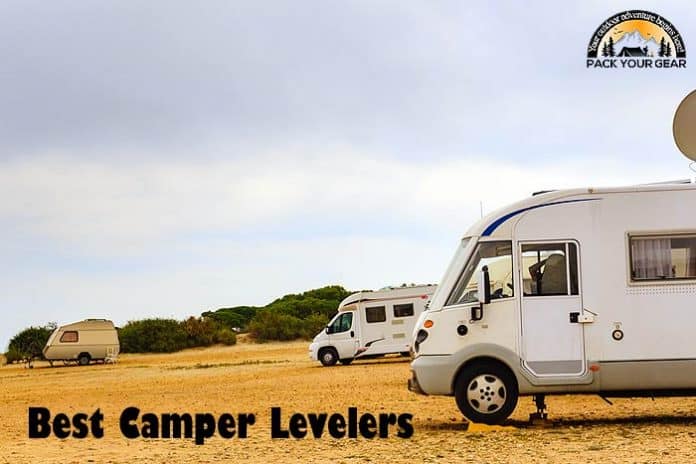 There is nothing worse than camping on slope regions. You cannot eat at the table or sleep comfortably. However, with the best camper levelers, you have a simple solution that costs less than a tank of fuel. Using the best camper levelers will ensure that this motorhome and the people and equipment in it are in good balance.
Best Camper Levelers
Our Pick
We think the Beech Lane Camper Leveler is the best here as it is a very well thought out product that can be used with any size and style of rig. Offering a durable solution to your camper leveling needs, this unit is made with durable polymer and can accommodate up to 35,000 pounds.
We ♥ honesty! Pack Your Gear earns a commission through the following hand-picked links at no extra cost to you.
We have picked out 6 of the best camper levelers to use as buying guides below, so read on.
Best Camper Levelers – Comparison Table
Max. Camper Capacity (lbs)
Height Increment (inches)
Material
Patented Recycled Materials
Patented Recycled Materials

What is a Camper Leveler?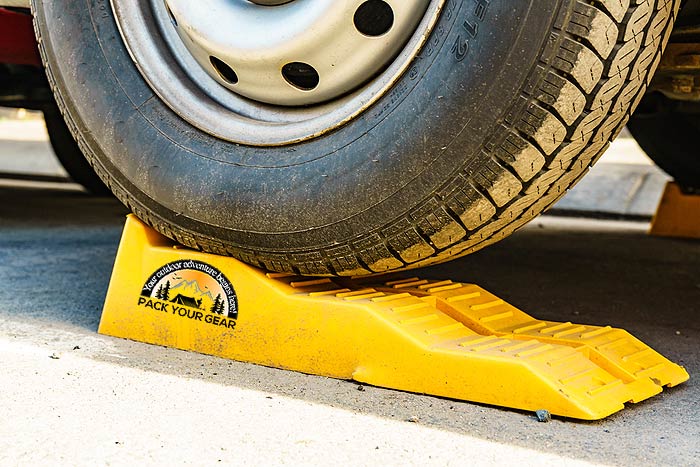 As the name suggests, a camper leveler adjusts the height of a specific part of your recreational vehicle to ensure that the interior of your RV is level. This is vital to ensure that your RV's appliances are working correctly and that you won't slide or slip while you are inside.
Some RV devices do not work when tilted, e.g., an RV refrigerator. And even if the refrigerator works in an inclined position, it can damage and stop working in the future.
While you can use jacks to adjust the height of a side of your motorhome, they shouldn't be used as a camper leveler. Jacks can't support the weight of an RV for long and can cause accidents.
Using a jack to level your motorhome can damage not only your jack but the motorhome frame as well.

What Happens if Your RV is Not Level?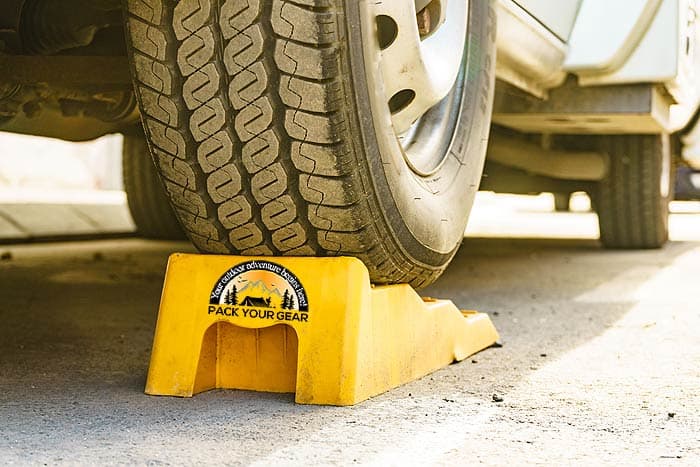 First, it is uncomfortable to be on an RV that isn't level. The doors open on their own, and some may fall out of the cabinets or refrigerators when they are opened.
You are at greater risk if your head is lower than your legs or at an angle; you will be uncomfortable in bed. You might even fall out of your bed. This is not a great plan! Really, an uneven camper is a bit uncomfortable.
Another critical reason to have your recreational vehicle level is your refrigerator. Virtually all camper refrigerators must be level to function correctly. If they're not level and not working, it can seriously damage your refrigerator. Considerable damage means high costs. We believe you don't want that as replacing refrigerators is costly.
It's worth making sure you're level rather than risking your expensive refrigerator breaking down. Therefore, you must have some sort of leveling system in place to stay level when you're not.
You will be surprised at the number of campsites that are not level. You don't need to be in a state park to find this problem.

What's the optimal way to level a camper?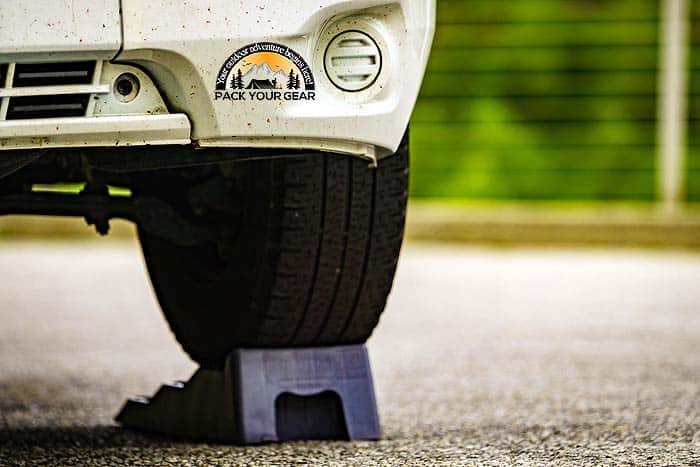 The best way to level an RV, perhaps, depends mainly on some factors. Some of these factors include the parking space and the weight and width of the motorhome tires.
Examine the campsite to check the grounds. Ensure you are using the right tools, such as hydraulic jacks, compact leveling devices, and leveling pads or ramps.
Taking these factors into account can make the leveling process of the camper easier.
If you do not follow the process systematically, you might have problems when you get to your campsite's parking space.
Suggested Reading:

Can Leveling Jacks be Added to Travel Trailers?
Yes! Depending on your travel trailer, your rig will likely come with a set of RV leveling jacks on board, mainly if it is a modern model.
These leveling jacks extend downward under the vehicle. They are typically used along with other leveling aids such as blocks to create a unified coach.
Now, some high-tech and large travel trailers come with auto-leveling systems, a set of RV hydraulic levels that do most of the work for you at the push of a button.
Suggested Reading:

Can You Level RV with Slides Out?
Generally, most guidelines say that you need to level your RV first and then have the slide-outs deployed. Trying to level your RV with the slides extended will unnecessarily pressure your RV's leveling jacks, accelerating wear and tear and possibly damaging some of the leveling components.
Suggested Reading:

Can You Use Stabilizer Jacks to Level a Trailer?
Stabilizer jacks are only used to keep the travel trailer stable. They shouldn't be used to level the travel trailer as they can damage the frame or stabilizers of the trailer.
If the reed lifter and stabilizer bushings have to travel long distances, they can become stressed or damaged.
To avoid damage, consider stacking zippered pads or boards to reduce the distance the jacks must travel.
It is recommended that you always have at least one ratchet pad under each jack so that jacks do not dig into the ground or damage the surface of the ground on which they rest.
There are simple leveling systems that can make leveling your trailer easier. One of these systems is called a camper leveler.

Are Slide Out Stabilizers Necessary?
Most motorhome manufacturers will tell you that slide-out stabilizers are unnecessary. Still, an experienced RV driver will most probably disagree with this statement.
If you're parked on slightly uneven terrain, stabilizers will help you a lot. As well as adding a touch of support, these sturdy devices also level the area under the slide-out to prevent it from rocking and tipping over.
This is an absolute must if you plan to use the motorhome for an extended period, particularly for those that have energetic children or a pet. You'll likely sleep better if your RV doesn't tip over and roll every time kids jump.
Suggested Reading:

What to Look for?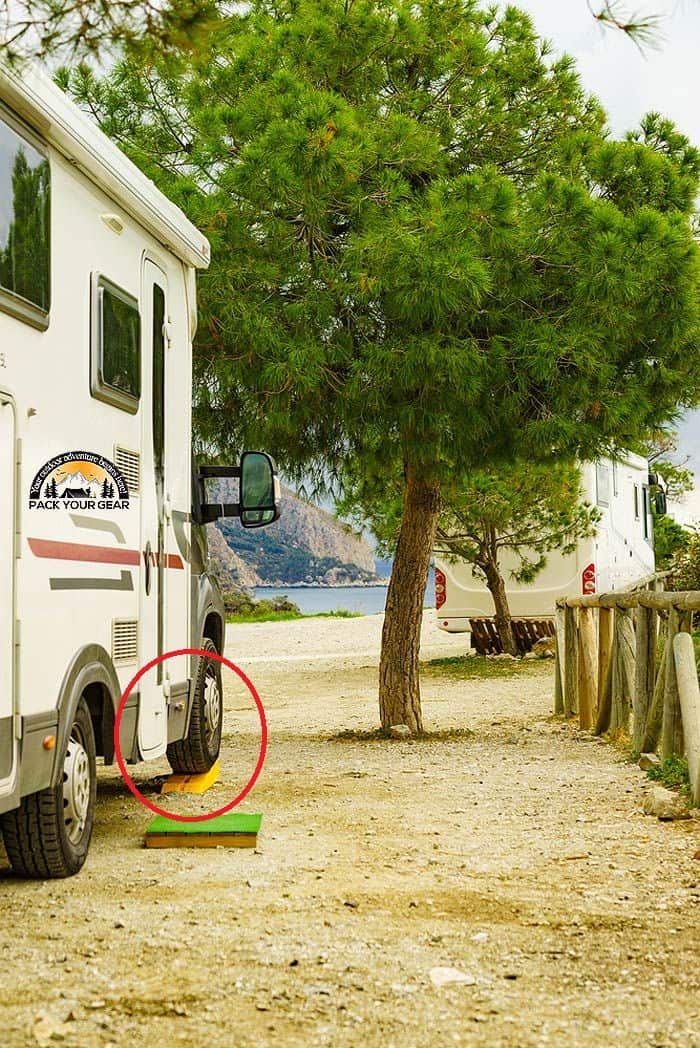 A) Versatility
Do not limit yourself to only one configuration. The best camper levelers are helpful for single and dual-wheel settings. Times change, as your RV does. So, if you invest in another setting in the future, you won't necessarily want to repurchase another set of camper leveler. The best quality grading systems help in both situations and do not need to be changed.

B) Convenience
The best camper levelers are also useful when stored. Manufacturers that make their levelers portable and easy to store are on the right track. A carry bag makes it easy to store camper levelers in a compartment that's always ready to use. A handle allows you to move the bag from one corner of the motorhome to another, so it can be easily mounted and removed in minutes.

C) Durable Materials
Camper levelers should not be delicate or brittle. The best camper levelers are not only durable. Still, they can also withstand the abuse, whether in dusty and dirty situations, in the rain, or in a variety of icy, snowy, or harsh weather conditions. The levelers must be made of durable materials that can withstand the rigors of the outdoors. The best camper levelers won't crack or chip with the least added weight.

D) Non-slip Adhesive Coating
In addition to being durable, the best camper levelers should be able to hold your RV wheel in place without fear of slipping. In this regard, these levelers should act as chocks on the wheels, biting into the ground underneath and the tire to ensure a firm grip. The coating can inevitably attract debris and dirt, but this should only increase the grip-ability of the leveler.

Best Camper Levelers Reviews
Here are the top 6 best camper levelers on the market today:
1. Andersen Hitches 2-Pack Camper Leveler
These Andersen Hitches 2-Pack Camper Levelers eliminate various leveling problems for campers, RVs, trailers, and motorhomes.
These blocks can raise RVs to 4 inches high in ½ inch increments. In addition, any increase can be obtained while driving the vehicle.
So you don't need to get in and out of the driver's seat just to check the motorhome level.
Compatibility is pretty good as these levelers will work with virtually any trailer, RV, RV, or as long as they have tires up to 32″ in diameter.
Each package contains two Andersen Hitches Camper Levelers. But each block weighs around 11 pounds, which means it is heavier than some competitors.
Overall, these camper levelers dramatically reduce the time and effort required for RV alignment operations.
Pros
A convenient 3-step leveling process.
Leveling height ½ to 4 inches.
Vehicles can be leveled without having to get out of the driver's seat frequently.
Compatible with many trailers, RVs, and motorhomes.
Two leveling blocks in one package.
Cons
Heavier than other camper levelers.
Check Price on Amazon

2. CARMTEK Camper Leveler Kit
CARMTEK is a perfect choice for various travel trailers and RVs, as it is well suited for one and two-wheel axles.
Its compatibility is enhanced by its high-strength constructions thanks to its high-quality polymer material.
Part of the sturdy construction of the product is based on its non-slip connection system. This feature helps prevent the leveler from slipping while the RV is in motion. RV leveling is also quick and accurate with this unit.
Plus, you can level your RV to a height of 4 inches in less than 5 minutes as the process is done in 3 simple steps.
There are also comprehensive instructions on how to properly set the levelers to reduce errors. Besides the levelers, this kit includes two-wheel chocks to prevent the RV from rolling on rough or flat surfaces.
Pros
Compatible with several single- and dual-wheelers.
It can support up to 35, 000 pounds of trailer weight.
Non-slip connection system
Leveling is customizable, precise, fast, and easy.
Cons
The paint on the non-slip surface does not adhere well.
Check Price on Amazon

3. Beech Lane Camper Leveler
With these two-wheel camper levelers from Beech Lane, you can level at campgrounds with no frustration.
Its dimensions are suitable for two-axle motorhomes, and its countless functions promote comfort in and out of parking lots.
Based on their material, the brand made these dock levelers more robust than many competitors, thanks to their rugged and custom-made polymer blend constructions.
Therefore, they are more durable than other plastic products made of polypropylene (PP) and high-density polyethylene (HDPE). This leveler is quite similar to the Andersen Hitches Camper Leveler.
It is also a wedge-style camper leveler with a chock that helps lock it in place. The Beech Lane Camper leveler is slightly better rated as it can take 5, 000lbs more weight capacity than the Andersen Hitches Camper Leveler.
Each Beech Lane leveling block in the package can also hold up to 35, 000 pounds of the motorhome weight. It is a breath of fresh air to see these levelers hook up to a C-Class trailer with no signs of wear.
As mentioned above, these blocks are 6 inches wide to accommodate two-wheel trailers. Also, leveling is a pleasure as these levelers are very accurate.
Each increment is up to ½-inch, and the total height can be up to 4 inches. With these numbers, these tools can meet different alignment needs for different campsites and parking lots.
The Beech Lane Camper Leveler has unmatched durability to provide excellent durability and stability for many motorhome balancing endeavors.
Pros
The surface area offers space for two-axle mobile homes.
Highly durable custom polymer blend construction.
Holds up to 35, 000 pounds of trailer weight.
Comes with non-slip rubber mats.
Cons
Non-slip mats are fragile.
Check Price on Amazon

4. Andersen Hitches Camper Leveler 3604
Andersen Camper Leveler is one of the most intuitive camper levelers you will ever see.
This leveler has a curved design that increases its thickness and quickly drives you to the height you want.
Using this unit is quite simple; all you need to do is figure out how high you want to go, drive to the leveling block, stop at the height point, and then add the attached wheel chock.
However, unlike other camper levelers that you can adjust yourself, you need someone else to guide you to stop exactly in the right place and immediately fit the appropriate wheel block.
What we like about Andersen levelers is that they also double as stabilizers. However, you can only adjust the level up to four inches; nothing more than that, and you will need a tile leveler.
If your axle is so close, you can easily adjust this unit to fit. Specific cutting instructions are included in the set. So be sure to follow them to avoid breakage.
Pros
Easy to install
Holds up to 30, 000 pounds.
It has a very impressive design.
Cons
A little expensive compared to other products.
The interior is a little hollow, which may affect its durability.
Check Price on Amazon

5. Zone Tech Automotive Multi-Leveling Ramps
Make sure your RV equipment is working properly with the Zone Tech Automotive Multi-Leveling Ramps. This way, you always make sure that your RV, caravan, or other motorhome is level, even on sloping surfaces.
These leveling blocks have sturdy handles and a non-slip surface to keep your camper in place.
It also has a solid base which means it won't sink into loose soil. The Zone Tech Automotive Multi-Leveling Ramps are made from high-quality polypropylene plastic for superior durability and strength.
Although the ramps are lightweight, they can still support a maximum axle weight capacity of 11, 000 pounds.
With a three-level design, the Zone Tech Automotive Multi-Leveling Ramps allows you to adjust and raise your vehicle to the height you want.
Pros
Lightweight design
Non-slip surface
Made from high-quality materials.
Cons
It can only support a maximum weight of 11, 000 pounds.
Check Price on Amazon

6. EZ RV Leveler – Curved Ramps
These camper levelers are shaped like a ramp and are fitted with wheel chocks to secure the motorhome in place.
These leveling blocks have a honeycomb pattern on the surface. The plastic honeycombs pattern makes this unit durable without adding extra mass.
This camper leveler can raise a motorhome to 4 inches. It is compatible with all tandem spacers with no additional modification required. Despite their small appearance, these levelers can support up to 30, 000 pounds.
It works with almost any camper or trailer. The main advantage of this leveler is that it can accommodate most wheel spacing.
The ramp design is curved, so you can drive at the height you want. The main disadvantage is that these levelers slide easily over rough terrain such as asphalt. You may need tweezers at the base.
But if it's on concrete, you probably don't need to level it. You can expect these leveling blocks to work on any tire.
The EZ RV Leveler – Curved Ramps are 11 inches long to meet most specifications.
Pros
Curved honeycomb design
Lighter than most camper levelers.
Supports heavyweights
Works with any tandem spacer.
Cons
Slides on hard ground.
A clamp on the bottom may be needed.
Check Price on Amazon

Top-Rated Camper Levelers
Our Pick
Our top pick for the best camper levelers is the Beech Lane Camper Leveler.
Its dimensions are suitable for two-axle motorhomes, and its countless functions promote comfort in and out of parking lots.
It is made from high-quality polymer, making sure the leveler doesn't snap in half while bearing the camper's weight.
The levelers are about 15 inches long and 6 inches wide to easily fit bigger rigs.
Also, it can hold RVs weighing up to 35,000 lbs, so durability isn't an issue.
Depending on the size and type of RV you have, the reviews above will help you choose the right camper leveler to meet your needs.
Remember, the best camper levelers should provide users with durability, comfort, value, and longevity. If you are in no rush, take the time to read this guide to ensure you are buying suitable models.

Key References
"What's The Proper Leveling Procedure For A Travel Trailer". Accessed April 28, 2021. Link.
"Are RV Slide Out Supports Necessary?". Accessed April 28, 2021. Link.