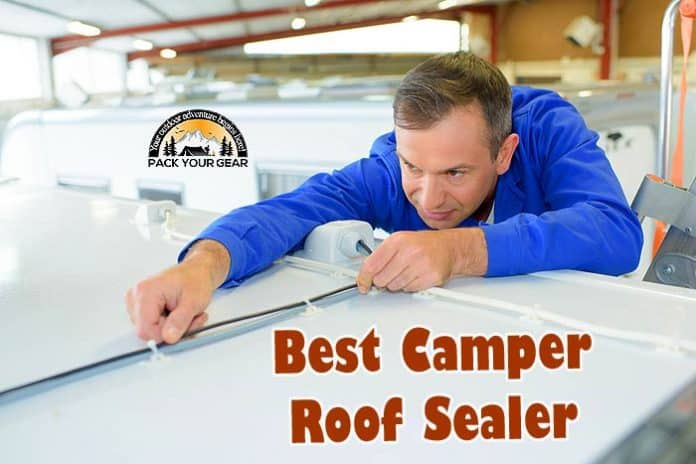 Your RV provides a comfortable and quiet place to escape when you want to get off the grid and enjoy the best that nature has to offer. Getting caught in heavy rain with a leaky roof while miles away from civilization can really hinder your vacation.
Best Camper Roof Sealer
Our Pick
Xfasten RV Repair Tape can expand and contract in extreme weather conditions to seal cracks and leaks all year round, making it our top pick. Just one application will create a seamless barrier on your camper roof for years of protection while also reducing roof vibration.
We ♥ honesty! Pack Your Gear earns a commission through the following hand-picked links at no extra cost to you.
However, with the market flooded with quality camper roof sealants, you won't have to postpone repairing a leaky RV roof until it is too late. Sealing or coating a damaged roof can save you lots of money in repairs.
Whether you're repairing a leaky roof or looking to service your RV roof annually, we'll help you select the best camper roof sealer to solve your leak problem.
Best Camper Roof Sealer – Comparison Table

How Do You Waterproof a Camper Roof?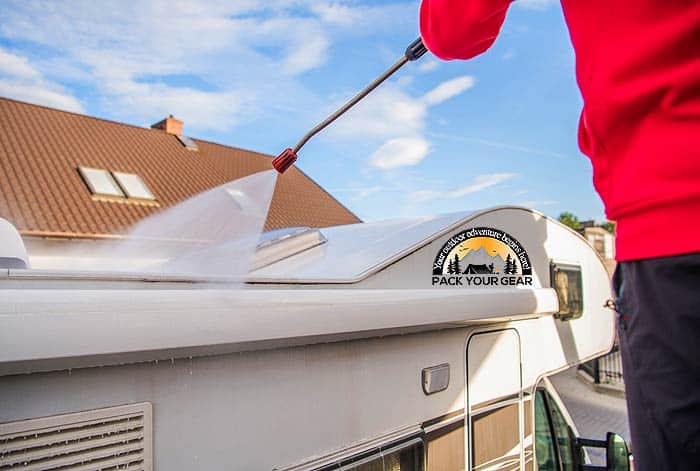 Water damage can damage the interior of your camper. Your electrical system is in ruins, and upholstered furniture must be thrown away.
Then there is the cost of your vacation plans. You don't want to cancel your trip because of a small leak. It is frustrating when something so easy and straightforward to fix keeps you home.
A simple 3-step process and your camper roof will be waterproof. First, prepare the surface of your RV, then add a liquid catalyst into the roof sealer's can and brush it onto your roof.
As long as it is above 12 degrees Centigrade wherever you apply it, the rubber you used to cover the leaking roof as a liquid will solidify into a hardened membrane.
Suggested Reading:

How Often Should You Seal a Camper Roof?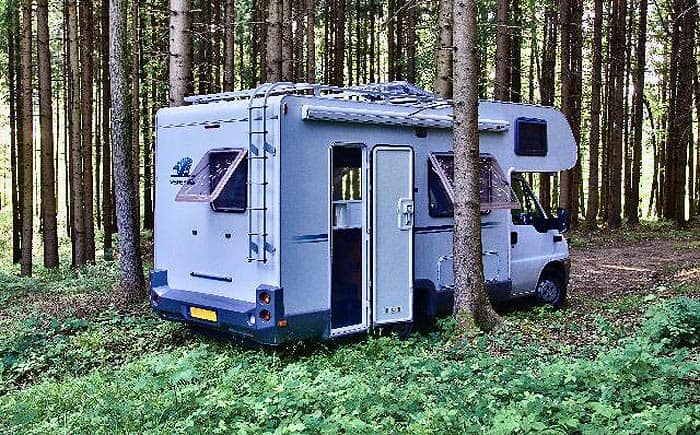 Of course, how often you should seal different camper roofs will vary, but we recommend resealing your camper roof yearly.
It is recommended to replace the entire roof every 10 years. Otherwise, there will be leaks. Leaks will damage your interior wallpaper, destroy your walls (resulting in them having to be replaced too), and mold.
If you are purchasing a used motorhome, there's a good chance the previous owner didn't work on repairing, resealing, or replacing the roof. They probably didn't know they needed it.
If you have a new motorhome, it is recommended to have it checked every year.

Does RV Insurance Cover Roof Leaks?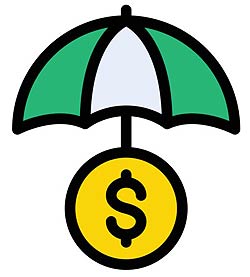 If you damage your RV roof in a collision, your insurance company will pay to replace the new roof.
The collision maybe with a sign, building, tree, or other low obstacles. This kind of collision usually tears the roof of the spoke. The spoke breaks will cause the insurance company to replace the roof.
A hole drilled in the membrane on the large flat surfaces is given a plaster. Such damage would come from a branch falling on the roof.
For damages caused by collisions or storms, the insurance covers the substrate, roof, and any damaged accessories on the roof.
If you discover that a branch pierced your roof on your last camping trip, you can still file a claim.

How do You Coat a Camper Roof?
The instructions for use may vary depending on the manufacturer. However, it is not at all difficult to get it on the roof of your caravan in many cases.
You have to measure the width and length of the roof to determine how much sealing you will need.
Then you need to get the entire roof surface area. Multiply the width and length and divide what you get by 42.
This calculation approximates the number of gallons you should apply to your roof.
When applying it, ensure you have adequate ventilation in the area where you apply it.
Prepare the roof's surface by scrubbing or washing it. Remove the loose roof coatings and caulking.
Using a brush to apply the sealants helps cover pits, bumps, and seams. Allow the coating to dry.
Apply a topcoat if necessary.

Can You Put Kool Seal on a Rubber RV Roof?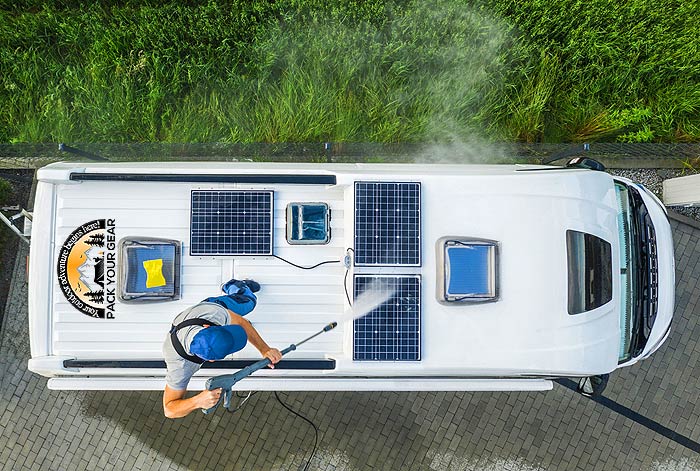 You can use Kool Seal, but it should be the RV version. The regular one is NOT designed for use with EPDM (ethylene propylene diene monomer) rubber.
To use Kool Seal, clean surface dirt using a pressure washer.
On a sunny, warm, cloudless day (65 degrees Fahrenheit and above), apply STA-KOOL, Gardner, or Black Jack Elastomeric Roof Coating to a dry surface on the roof.
Cut along the edges, then go from one end of the roof to the other, maintaining a continuous wet edge.
Follow all directions on the label.
Suggested Reading:

Can you Walk on Top of a Camper?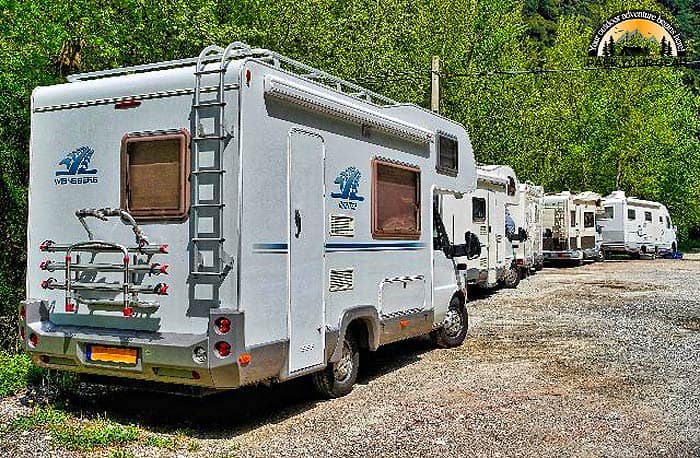 Yes, you can walk on top of a camper. To walk on the roof, you would need to climb a ladder to find out if you can walk on your camper. You can usually walk on rubber roofs, but many manufacturers use thinner plywood to reduce weight and cost. It's not safe to walk on this type of camper.
Suggested Reading:

Does Flex Seal Work on Camper Roofs?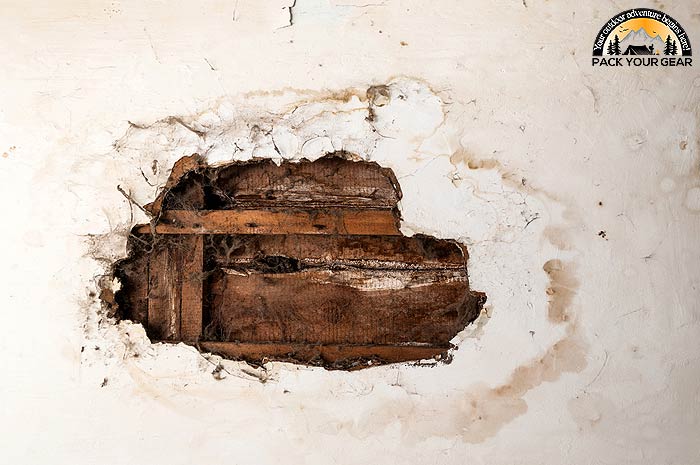 Yes, you can use Flex Seal for RV roof or your motorhome roof! Not only can it be used to coat the roof of your RV, but it is also ideal for any other application where you want to apply a flexible, waterproof rubber coating. The Flex-Seal is designed to be extra mild. It can be quickly brushed on, poured, rolled, and leveled.

How Long Does RV Roof Sealant Take To Dry?
When the place's weather is between 50 and 70°F, RV roof sealants typically take 5 minutes to dry and are waterproof after 4 hours. The sealant is up to 80% cured after 48 hours. It can take about 30 days to cure 100%.

How do You Clean an RV Roof Before Sealing?
Use warm water to clean the roof's surface, then allow it to dry. For best results, the surface should be free of grease or oil. You can use acetone or methyl ethyl ketone (MEK) to remove grease stains. Wear thick rubber gloves for this task.

What to Look for?
RV enthusiasts have many opinions on what we might call the best camper roof sealer. However, if you don't want to waste money on substandard products, consider these aspects when shopping.
A) Properties
The roof of RVs is made of various materials. When evaluating available sealants, it is strongly recommended to consider these properties. The last thing you should do is empty your wallet on a sealer that is incompatible with the roof of your motorhome. You can usually determine the suitability of a sealant by looking at its usage description.

B) Ease of Use
As an RV owner, you would need to deal with numerous tasks, so you don't want roof sealers with heavy and prolonged applications. So when looking for the best camper roof sealer, it is essential to choose a product that is easy to use. Avoid purchasing until you are sure you have the tools and skills to handle the selected product's application. Undoubtedly, hiring a professional to apply your roof sealer is always an option, but it will cost you money.

C) Curing Time
Often, the curing time is influenced by a variety of factors, ranging from temperature to humidity, and varies widely from sealer to sealer. To determine your RV roof sealer's correct curing time, you need to think about your travel plan. If you're planning to leave soon, prioritize sealants with quick curing times. Conversely, if you don't already plan on hitting the road, you can opt for standard sealers.

D) Capacity
Even on small RVs, large amounts of sealer can be required to adequately cover the roof. This means that capacity is a vital consideration. Repeatedly opening new sealant containers is cumbersome and leads to several interruptions. So it is better to be thorough. Use your roof measurement as a reference, then calculate the amount of sealant required for complete protection. It should be noted that there are currently several products on the market in containers of different capacities.

E) Budget
Camper roof sealers come at different prices, so you have plenty of choices regardless of your budget. However, since the price is subtly tied to the quality, you need to be careful. In general, you don't have to spend a lot of money on roof sealers if you don't fancy, sophisticated requirements. It's also not advisable to buy inexpensive products to save a few dollars, as they rarely stay together for long.

Best Camper Roof Sealer Reviewed
Here are the top 6 best camper roof sealers reviewed from the market place:
1. Ziollo RV Flex Repair Tape Review
Ziollo RV Flex Repair Tape offers a quick and easy solution for leaky roofs on motorhomes.
It's a 15-meter-long white tape with butyl glue that forms an airtight seal with roofs made of EPDM rubber, fiberglass, metal, plastic, and almost any surface except silicone.
This camper sealer works better when you apply it to a clean surface. To seal large cracks effectively, the tape can be overlapped on itself.
You will also receive a seam roll with the packaging to activate the seal on the surface. As soon as it fully adheres to the surface, a waterproof layer is created that stays flexible even with temperature changes.
This EPDM roof coating is also resistant to UV damage. You should note that this tape is quite sticky and that if you pull too much, you could waste a lot.
It can stick to your hands or adjoining surfaces that are not meant to be sealed.
Pros
Economically
Top-notch container capacity
Storage is a breeze.
Check Price on Amazon

2. Liquid Rubber RV Roof Coating
An essential feature of a roof sealer is flexibility, and that is what Liquid Rubber RV Roof Coating offers RVers.
This best RV rubber roof sealant can be used straight from the container and adapts to the slightest change in temperature by contracting and expanding with the applied surface to ensure a permanent seal.
Also, it reflects sunlight, which helps keep your camper cooler during the summer.
A gallon is enough to coat an area of ​​50 square feet and can be applied with a roller, paintbrush, or loaded into a paint gun.
You also don't need to worry about putting on a gas mask. It is an environmentally friendly formula that does not give off harmful odors.
This RV rubber roof coating is also non-sticky, so it doesn't make it complicated to use. You have to apply 2-3 coats to get a robust membrane that will effectively hold water.
This means you may need to purchase more than one gallon if you have a large RV and want to seal all the edges.
Pros
When used correctly, this sealant has one of the most extended lifetimes of any sealant out there.
Guarantees strong adhesion and prevents adhesion errors.
Reflects Ultraviolet rays and maintains the temperature in your motorhome.
Easy to use
Environmentally friendly
Cons
This solution can get a bit expensive if you purchase enough to coat your entire motorhome.
Check Price on Amazon

3. E-SDS RV Roof Sealant Tape
E-SDS RV Roof Sealant Tape is designed to instantly stop water leaks.
It's made from a proprietary extra-thick butyl adhesive that adheres to almost all surfaces except silicone.
Whether on a flat surface, a corner, or a curve, the adhesive tape can be easily handled and applied to all surfaces thanks to the flexible butyl structure.
This white camper roof sealer can resist ultraviolet rays, steam, moisture, harsh chemicals, and other leaks, protecting your motorhome from adverse weather.
This best RV roof coating is designed to be easy to apply. Simply peel it off and apply it. Seal any cracks, tears, or open seams on any surface with this product.
The E-SDS RV Roof Sealant Tape can be widely used to seal RV roof, trailer, fifth wheel, airstreams, buses, vans, and more.
Pros
Waterproof and UV resistant.
Easy to install
Wide applications
Permanent stops leaks
Cons
Due to its high-strength adhesive, it may be difficult to fix installation accidents.
Check Price on Amazon

4. Kohree RV Sealing Tape
The Kohree RV sealing tape is one of the best sealing and caulking products for camper roofs.
We recommend this sealer because it requires minimal surface preparation before use.
You will also appreciate this product can stretch well. It can move like your roof because it is flexible and can expand and contract when needed.
This is because it has a high stretch factor that makes it contract and expand ideally and adheres well when applied.
It is effortless to use, so even novice users will have no trouble applying it to various surfaces.
Once cured, this sealant is resistant to mold and UV rays, so it will outlast other products on the market.
Pros
Stable color sealing
It can be used in a wide variety of applications.
Adheres well to a variety of materials.
Long-lasting and durable performance.
Doesn't give a messy asphalt appearance.
Check Price on Amazon

5. Xfasten RV Repair Tape
XFasten Repair Tape is an effective adhesive tape that can seal the camper's roof for an extended period and permanently.
This best sealant for aluminum RV roof doesn't need to be reapplied often as it has excellent sealability, making it one of our top picks for camper roof sealing.
It's a flexible sealant that can also help you seal windows and boats, besides RV maintenance and repairs. This eliminates the need to purchase separate products for a variety of uses.
This repair tape has a long lifespan, making it one of the best-performing products in this category.
It doesn't melt like other sealants, so you can move and store it without worrying it won't work next time.
The adhesive camper roof tape has a high-temperature range, making it ideal for use at any temperature.
XFasten Repair Tape also adheres well to many types of surfaces such as galvanized metal, frosted fiberglass, plastic, aluminum, wood, and other popular RV surfaces.
Overall, this product is one of the best out there that we came across.
Pros
Doesn't melt
Offers a waterproof finish.
Easy to install and has a long lifespan.
Seals surfaces permanently
Works on a variety of surfaces, including galvanized metal and frosted glass.
Cons
It can be a little expensive.
Check Price on Amazon

6. Dicor RPCRC1 White EPDM Rubber Roof Coating
Dicor RPFRC1 is specifically designed for fiberglass and can protect RVs with fiberglass roofs from almost any outdoor challenge.
Dicor's sealant is flexible and can adapt to changes in dimensions as the roof contracts and expands.
Thanks to the dry films, this product inhibits the growth of mildew and mold in RVs.
Therefore, this is the best camper roof sealer for RVs crossing areas with high humidity and looking for high-quality moisture protection.
When applied, this unit reflects the sun's heat on the roof. It helps to keep the indoor temperature at a tolerable level.
So, when you apply Dicor sealant to your camper roof, you don't have to leave the air conditioners on all day.
In terms of durability, the Dicor RPFRC1 could last many road trip seasons without failing.
It goes without saying that the interval between applications of RPFRC1 is long compared to traditional camper roof sealers.
Pros
Saves energy
Wonderful temperature control
The instruction manual is well written.
Cons
Some reviewers complained of irregular peeling.
Check Price on Amazon

Top-Rated Camper Roof Sealer
Our Pick
Our top pick for the best camper roof sealer is the XFasten RV Repair Tape. It is a powerful product that seals leaks and cracks, besides being resistant to the elements and containing a non-toxic formulation.
We ♥ honesty! Pack Your Gear earns a commission through the following hand-picked links at no extra cost to you.
With several types of camper sealers on the market, you can certainly find one that meets your needs, whether you are looking for a long-term solution or a quick fix.
Before purchasing a sealant, consider your RV roofing material and the type of sealer you're looking for.
Our guide offers the best options for self-leveling, liquid, and tape camper roof sealants. These tips can guide you in finding the best camper roof sealer.

Key References
"How to apply Liquid Roof to your Motorhome or RV" – Motorhome Roof Repair. Accessed April 15, 2021. Link.