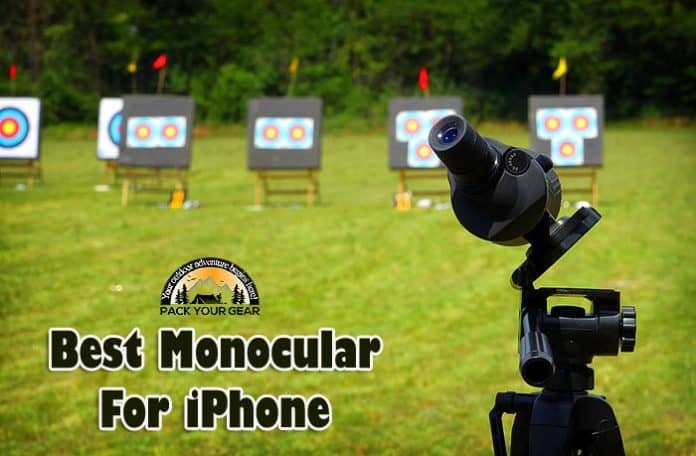 Best Monocular For iPhone: Imagine what it would feel like to transform your iPhone into your observatory, turning this nifty technology into a miniature telescope to study the surrounding universe. Does this sound too good to be true?
Sale
Best Monocular For iPhone
Our Pick
Our top pick for the best monocular for iPhone is the Gosky 12x55 High Definition Monocular Telescope. It comes with an iPhone adapter/mount that allows you to take photos with your iPhone through the monocular lens. The unit is water, shock, and fog-proof, making it perfect for outdoor enthusiasts.
We ♥ honesty! Pack Your Gear earns a commission through the following hand-picked links at no extra cost to you.
However, if you are ready to try the best monocular for iPhone, there is a good chance that you will be whistling a different tune. In combination with the built-in camera, you can use this device not only as an iPhone "telescope " but also as your telescope.
Here are the smartphone monocular telescope reviews.
Best Monoculars For iPhone – Comparison Table
What is a Monocular for iPhone?
A monocular is a single-lens telescope used to view distant objects. It is typically smaller and more portable than a traditional telescope and is commonly used for outdoor activities such as bird watching, hunting, and hiking. Monoculars for iPhone are designed to be attached to your iPhone to enhance your photography experience.

How Does Monocular for iPhone Work?
The operation of the monocular for the iPhone is very straightforward and simple. Think of it as one-half of a binocular pair.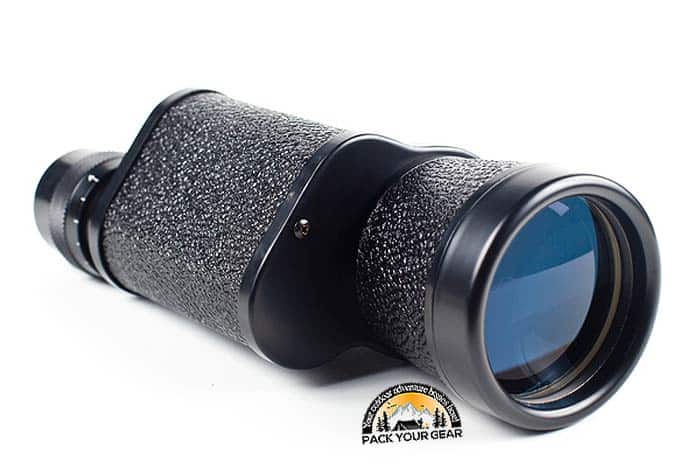 There are a couple of magnifying glasses with an aluminum barrel/tubular steel, a focus and magnifying ring, as well as a couple of other hardware pieces that you can use to magnify the action around you and in the sky.
The best thing about the monocular for iPhone is that it also works as a telephoto lens for a telescope lens for your iPhone camera.
All you need to do is hold the eyepiece over your iPhone's primary camera lens, and it will instantly increase the zoom capabilities by up to 12x.
This is enough to take great nightly photos of the stars and moon.
Suggested Reading:

Advantages of Monocular With iPhone Support
Most people are probably glued to their phones.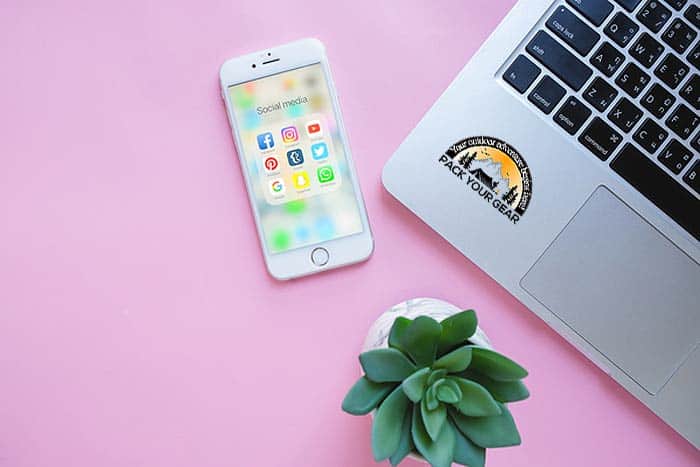 With the growing popularity of picture-based social apps like Snapchat and Instagram, more and more people are looking for ways to get great photos on their phones. It provides a higher magnification range compared to the built-in camera of your iPhone. This means that you can capture distant subjects with greater detail and clarity.
Monoculars improve the image quality of your photos, resulting in sharper and more detailed images.
This allows you to adjust the iPhone and monocular neatly to get a good picture of both so you have control over composition and framing.
Social media junkies seeking a new way to take fun photos may be interested in the iPhone's best monocular.

Can I Record Monocular Viewing with my iPhone?
Yes. You can record monocular viewing with your iPhone using the digits coping adapter that works with almost any iPhone for a steady view.

What to Look for?
A) Size
One of the primary reasons to choose monoculars for iPhone over binoculars is their compact size.
Monoculars are basically a half pair of binoculars. As such, they are about half the weight and size. However, that does not mean that all monoculars are the same size.
Differences in design may cause drastic differences in size. For example, some models have a focus ring that wraps around the main body, resulting in a streamlined monocular.
Others have a separate focus wheel on top of the main telescope, making it much larger.

B) Weight
Generally, most monoculars weigh less than one pound. Some models are close to that one-pound bar, while others weigh under half a pound. It doesn't seem like a big difference, but you will feel that extra weight after looking at it for a few minutes.
Suggested Reading:

C) Magnification
Magnification measures how larger an object appears when viewed through the lens.
If a monocular offers 12x magnification, anything seen through will appear twelve times larger.
Another possibility is that the object appears twelve times closer. Monoculars are available in a variety of magnification levels.
You can often choose between multiple magnification levels on the same monocular.
If you want to see objects far away, choose a monocular with a higher magnification.

D) Image Quality
The purpose of a monocular is to improve an individual's viewing capability. So, it is wise to think that image quality is one of the most important considerations when comparing monoculars.
Some things to remember are brightness, clarity, and visibility. The viewing range of a monocular determines how far you can see with it and can be significantly affected by magnification.
Clarity refers to the sharpness of your image. You don't want the image to be clear in the center while the edges are blurred.
And if the image is not bright, you won't have a comfortable viewing experience in all lighting conditions.
Image stabilization reduces hand movement and produces sharp & clear images. Lastly, lens coating improves image quality and reduces glare and reflections.

E) Weatherproofing
In many cases, monoculars are used outdoors. Bird watchers, hunters, and those who attend sports games use a monocular for better vision.
However, this leads to possible contamination by dust, water, etc. Fortunately, manufacturers have considered this by offering weather-resistant models.
Suppose you know that you will use your monocular outdoors. In that case, we recommend looking for the most reliable weather protection.

F) Lens Coating
Lens coating is another important feature when choosing a monocular for iPhone. The lens coating improves image quality by reducing glare and reflections. It is recommended to choose a monocular with multi-coated lenses for optimal performance.

Best Monocular for iPhone
Here are the top 6 best monoculars with iPhone support on the market today:
1. Gosky 12×55 High Definition Monocular Telescope Review
The Gosky 12×55 High Definition Monocular Telescope comes with an iPhone holder perfect for wildlife photographers who are taking a break from their professional cameras.
This Gosky monocular includes a BAK-4 prism for improved vision, a multilayer green lens coating, and filter light for a brighter image.
Not only does this best iPhone telescope offers excellent brightness and light transmission for a high-quality image, but it's also very durable.
This best monocular for iPhone 11 or 12 pro max is equipped with durable rubber armor that increases its resistance to falls and the elements.
The rubber also makes the grip more comfortable and convenient.
This best monocular telescope for smartphones allows you to see up to 325 feet and has a 6.5-degree angle of view. Its waterproof, fog-free, and shock-absorbing qualities make this unit ideal for intense, action-packed outdoor activities and withstand harsh weather conditions.
Pros
High-power 12×55 magnifications
Compatible with almost all iPhones.
Multi-coated lens for superior brightness and transmission.
Check Price on Amazon

2. Vabogu Monocular Telescope 12×50 High Power Monocular Review
The Vabogu Monocular Telescope offers a high magnification of about 1000 meters, so you can enjoy the scenery and wildlife on an adventure with Mother Nature.
This best monocular phone telescope has the latest optical technology. This high-definition monocular telescope has night vision in low light conditions, so you can keep up with the scenery even when night falls.
This monocular has an iPhone mount, a tripod, and a BAK 4 prism for high-resolution images.
Besides the BAK4 prism, this monocular features the latest optical technology and a multilayer lens for superior brightness and light transmission to ensure clear images.
This best monocular for cell phones sports an efficient design and can be used continuously in any weather.
This best telescope for iPhone is waterproof, dust-proof, and fog-proof. You don't have to worry about your iPhone because the Vabogu Monocular Telescope is compatible with all iPhones.
Pros
High focus distance and magnification.
Delivers crisp images in low lights.
Single hand focus
Waterproof and fog-proof construction.
Cons
Hard to find replacement hardware.
Check Price on Amazon

3. VIVREAL Monocular Telescope Review
Our favorite feature of this best monocular telescope for iPhone is its incredibly affordable price. There aren't many monoculars for this price, so we weren't expecting much from this one.
Surprisingly, it delivers an excellent performance. This monocular is waterproof to IPX7 thanks to the nitrogen purge.
This iPhone monocular provides a wide field of view of 1000 meters. You even get a mountable tripod for a stable display and an iPhone adapter/mount that allows you to take photos with your iPhone through the monocular lens.
Unsurprisingly, however, the picture quality on this device is not the best.
The images were a bit blurry and never seemed perfectly sharp except for the center of the lens.
Pros
IPX7 waterproof
This best monocular with smartphone adapter includes a tripod and iPhone holder.
360-foot field of view.
Reasonably priced
Cons
It is relatively bulkier.
Check Price on Amazon

4. Oxxyt Monocular Telescope Review
The Oxxyt Monocular Telescope has a great viewing distance of about 1, 000 meters, thanks to its high-resolution magnification.
This monocular telescope for phone features a multi-coated lens that offers a truer round, which translates to better edge-to-edge sharpness and light transmission.
This best monocular for a smartphone comes with an iPhone holder that allows you to attach the monocular to your phone's camera.
This monocular scope for iPhone is compatible with most iPhone models. This best monocular telescope for mobile features durable rubber armor and a non-slip grip that makes it comfortable to use.
The O-ring sealed optics and fog-resistant coating prevent debris, dust, and moisture from keeping the unit clear all the time.
The twist-up eyecup design of the Oxxyt Monocular Telescope makes it comfortable to use.
Additionally, its ergonomic design helps you focus on the target accurately and quickly with just one hand.
Pros
Great viewing distance
Impressive objective lens
Includes a smartphone holder.
Durable rubber armor for comfortable use.
Single hand focus and long-eye relief.
Cons
Distorted images with increased range.
Check Price on Amazon

5. Gosky Titan 12×50 Monocular Review
The Gosky Titan 12 × 50 is one of the best options for all kinds of outdoor activities (bird watching, hunting, hiking, and wildlife viewing).
This monoscope for iPhone offers 12x magnification, and the lens measures 50mm for bright and clear images.
While the optics can't be compared to more sophisticated monoculars, they are suitable for the money.
One of the coolest features of the Gosky Titan 12×50 is the Quick Align smartphone adapter, which is compatible with all iPhone models.
This monocular phone attachment allows you to take pictures and videos of what you are watching to share the views with others.
Overall, we love the construction of this monocular with iPhone support, which feels very durable.
The rubber armor offers some impact resistance as well as water and dust resistance.
Pros
Impressive magnification for the price.
iPhone adapter for photos and videos.
Solid construction with outer rubber armor.
Check Price on Amazon

6. MYWISH Powerful Monocular Telescope Review
The MYWISH Powerful Monocular Telescope comes with a stable tripod mount and cell phone clip that allows you to take great photos outdoors.
This best iPhone monocular allows you to capture high-quality videos and images with multilayer lenses for brighter and clear images.
This best monocular scope for iPhone magnifies up to 10x and uses 60mm objective lenses.
This best monocular for stargazing is comfortable to hold as it comes with a no-slip grip. The grip is lightweight and minimizes vibrations for functionality and comfort.
Users can expect comfort with this unit thanks to its flexible eyecups.
The adjustable focus ring is smooth and shaky hands won't be a problem.
This best monoscope for iPhone is compatible with all iPhone models.
The MYWISH Powerful Monocular Telescope is excellent for any outdoor activity that needs viewing, such as bird watching, hiking, hunting, archery, target shooting, and many more.
Pros
Comfortable and compact
Non-slip design
User-friendly
Excellent brightness and light transmission.
Cons
Fogs up in humid weather.
Check Price on Amazon

Sale
Top-Rated Monocular For iPhone
Our Pick
Our top recommendation for the best monocular for iPhone is the Gosky 12x55 High Definition Monocular Telescope. It features an iPhone adapter/mount, which allows you to capture photos with your iPhone via the monocular lens. The unit is waterproof, shockproof, and fog proof, making it ideal for outdoor enthusiasts.
The best monocular for iPhone is an impressive addition to any outdoor sports enthusiast's tools. If you want to leave your heavy and bulky camera at home, you can connect it to your iPhone and view the beauty of your surroundings.
You can also use it to zoom in on images like wildlife or tree details in the distance.

Key References
"Monocular buyer's guide – ScopeUout NZ". Accessed December 05, 2020. Link.