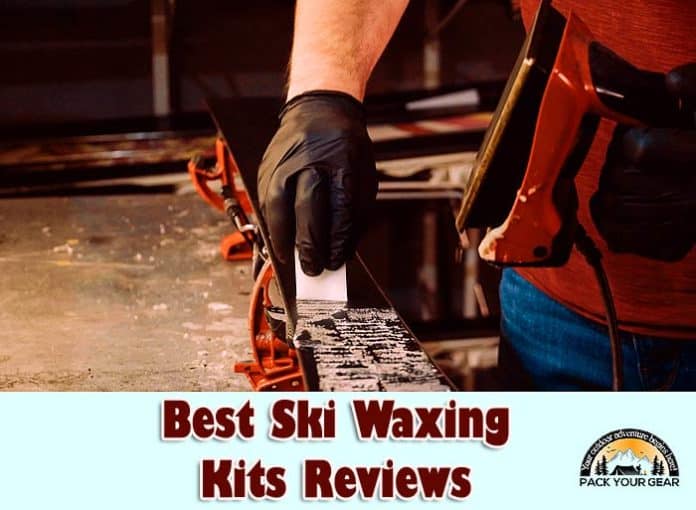 BEST Ski Waxing Kits: To optimize your skateboard's performance, applying wax is essential. Without wax, the skateboard's efficiency on snow will be diminished, restricting your velocity and possibly impacting your overall satisfaction.
Best Ski Waxing Kits
Our Pick
Our top pick for the best ski waxing kits is the Demon Complete Ski Tune Kit. You will be hard-pressed to find a better ski waxing kit than this. It comes with all the necessary waxing kits for a sleek job.
We ♥ honesty! Pack Your Gear earns a commission through the following hand-picked links at no extra cost to you.
Consistently waxing your board is advisable; frequent riders should increase the frequency of waxing.
Though acquiring a wax service from a snowboard shop and rental is convenient, performing the task independently is cost-effective and simpler. Possessing a wax kit is a valuable asset for any snowboarder.
This comprehensive review will examine the top ski waxing kits, enabling you to effortlessly glide across the snowy terrain and maximize your seasonal experience.
BEST Ski Waxing Kits – Comparison Table
How to Wax your Skis or Snowboard?
Waxing your skis or snowboard involves following the provided instructions that come with a kit or on the advice of a specialist. However, the basic process includes the following:
Remove old wax with a spray remover.
Rub on a fresh coat of wax if using stick wax.
Use a wax iron to evenly apply it if using hot wax.
Wait 15 minutes for the wax to cool before continuing.
Scrape the snowboard to remove excess wax.
Smooth the surface and polish it.
Use your hand to locate uneven areas.

Can I Wax Skis Without an Iron?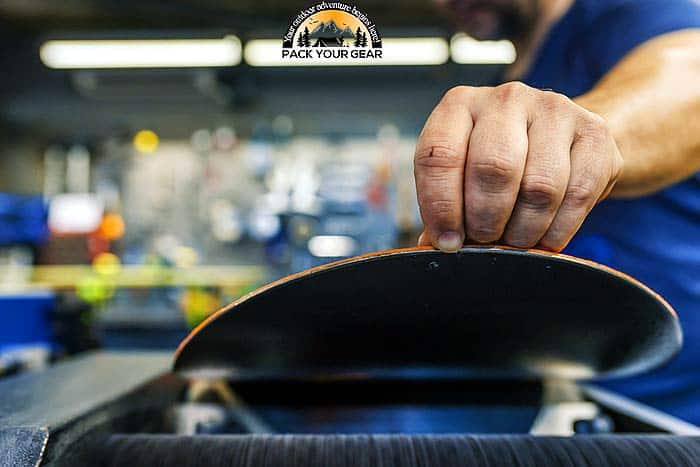 One essential tool you can use to wax your ski is iron. Many waxing kits come with an iron explicitly designed for waxing a board.
You don't always need a wax iron as part of your wax kit.
Getting a kit that does not have an iron will save you a ton of money.
Note, however, that you will still need it.
You can use an old iron if you want to save some money.
Irons for waxing skis and snowboards do not have holes in the base as they do not require steam.
Instead, they only have a flat metal bottom that heats and melts the wax.
Suggested Reading:

What to Look for?
Waxing and tuning your board is cheaper than taking it to a store. Of course, you need to know what you are doing and have the right tools. The effectiveness of a waxing kit determines its general utility. The best ski waxing kit should be able to repair any damage to your board. This means sharpening, smoothing, and polishing. It also means applying melted wax to the damaged areas. This can be dangerous. The waxing kit should contain easy-to-understand and detailed instructions.
If the kit is faulty, the iron will not heat the wax evenly. The wax will reach the desired temperature. The repairs will be broken. Inadequate quality tools will not sharpen your snowboard at the desired angles. Polishing and filing won't be possible. The best ski waxing kits always ensure self-sufficiency, even when sliding on the slope and you need repairs.
Suggested Reading:

Learning to use a waxing kit properly takes time and patience, just like any other tool. Understanding how each component in the kit works is easy with a little practice and time. With a good understanding of how each component works, using the kit should be easy. Every tool in the kit should be simple to use, from the sharpener to the iron. When a tool is used correctly and doesn't work, the kit is not easy to use. This defeats the purpose of a waxing kit. Ultimately, a visit to the store is required to resolve the issue.
Suggested Reading:

Generally, the more advanced the waxing kit has, the better. There are vital tools like files, sharpeners, and wax iron. These advanced features include bevels, PTEX strips, blocks, diamond-tipped stones, vices, and multi-tools. The key is to have advanced features that stay in the way. The kit should be light and portable, or it will be inconvenient.
Suggested Reading:

When you're going on a skiing trip, the fewer items you need to carry, the better. A portable kit is essential. The best ski waxing kit must have a zipper and, ideally, a shoulder strap. Also, the kit should be lightweight; otherwise, it is bulky to carry. Most of the kits reviewed in this guide weigh 5 lbs or less. They are compact, small, and practical.
Suggested Reading:

Best Ski Waxing Kits Reviews
Here are the top 6 best ski waxing kits on the market today:
1. Demon Complete Ski Tune Kit
The Demon Complete Ski Tune Kit is an excellent option for winter sports enthusiasts looking to save a lot of money on their skis or snowboard maintenance.
It comprises 13 waxing items, including a waxing stone, wire-bristle brush, metal scraper, shaving brush, 7.5-inch large wax scraper, white and black P-Tex, 90/88° edge turner, polishing pad, a flat-file, and an instruction manual to help you get through the correct setup process.
Also, it comes with the Demon's dual tension wax iron with an adjustable temperature between 65°C and 230°C.
Thanks to the numbering on the button, the temperature is relatively easy to adjust.
One other item in this kit is a 133g bar of Demon wax, ideal if your board only needs that particular wax. However, suppose you need other types of wax.
In that case, the Demon has a variety of high-quality scented wax mixes in stock to suit different conditions.
Finally, this kit has a carrying case with an equally sturdy handle that guarantees years of service.
Pros
Great for beginners
Dual temp waxing iron.
Comes with multiple waxes and tools.
Convenient carrying bag
Compact size -travels and stores without any hassle.
Check Price on Amazon

2. RaceWax Complete Ski Snowboard Wax Tuning Kit
The RaceWax Complete Ski Snowboard Wax Tuning Kit is one of the best ski waxing kits you can have.
It has a great onboard tuner that can adjust up to 20 angles for the board's base and sides, unlike most tuners with limited angle adjustment options.
This RaceWax tuning kit makes it a valuable asset for equipping a wide variety of snowboards and skis.
This kit also includes a 70mm diamond grinding wheel to fine-tune your board.
The included Gumi stone is used to prep, detune, or deburr the edge of your board after sharpening and to remove rust.
Thanks to the base-side bevel file guides, angles can be quickly and precisely set between a range of zero and five degrees in steps of just 0.5 degrees.
The Wintersteiger 800-watt wax iron with a nominal voltage of 110 volts also has a thick, curved base plate that keeps the set temperature constant during the entire waxing process.
This wax iron is easily adjusted with the numbered temperature knob. It allows you to set temperatures in the range of 100°C and 170°C.
All the waxing kits fit neatly in the durable Cordura carrying bag, organized with an internal strap to keep the wax iron in place.
Pros
Ideal for starters
All-inclusive kit
Edge tuner has 20 different angles.
2-sided metal file
Cons
Sharpening kit can be problematic.
Check Price on Amazon

3. Demon Charger Complete Ski and Snowboard Tuning Kit
The Demon Charger Complete Ski and Snowboard Tuning Kit comes with everything you need for a sleek waxing job.
The Demon snowboard tuning kit has a high-quality waxing iron with a dual temperature gauge.
Besides an iron, high-quality wax, 2 brushes, and 2 scrapers, it also includes a few tools for waxing your board.
You will also get various wax styles to match different conditions.
The Demon Charger Complete Ski and Snowboard Tuning Kit are designed for base or racing prep in different conditions, so it is recommended for serious snowboarders and enthusiasts.
The convenient travel bag makes it easy to keep the kit stashed in your luggage or car for waxing jobs on the road.
Pros
Compact and small
Include waxing and tuning tools.
Convenient carrying bag
Cons
Higher price than other ski waxing kits.
Check Price on Amazon

4. Winterial Snowboard and Ski Tuning Kit
The Winterial Snowboard and Ski Tuning Kit is a waxing kit that offers it all. It is perfect for beginners or experienced snowboarders.
The ski waxing kit contains a variety of useful tools.
Keeping your snowboard in top condition has never been easier.
The sharpener has multiple angles for convenience.
Typical onboard tuners are 90°. The sharpener in this kit has 87, 88, 89, and 90 degrees, allowing for exceptional precision sharpening.
The angle of the edge of the base is also adjustable.
The ski waxing kit weighs just 4.8 pounds. Despite its low weight, the Winterial Snowboard and Ski Tuning Kit include a plastic scraper, wax iron, carrying case, edge tuner, all-weather snowboard wax, PTEX strips, metal scraper, apron wax, file, Fibertex pads, and cleaning brush.
Pros
Comprehensive waxing kit
Easy to follow the user manual.
All-temp rated French wax.
Compact and portable design.
Check Price on Amazon

5. Swix North Kit Ski/Snowboard Tuning Kit
The Swix North Kit Ski/Snowboard Tuning Kit combines the eight most commonly used Swix waxing and tuning items into a kit that keeps your snowboards and skis running all season smoothly.
The waxing iron is made explicitly for waxing bases and has an adjustable temperature that makes it easy to dial in.
Additionally, the iron has an ergonomic handle that makes it convenient to use.
This Swix ski tuning kit comes with a nylon/bronze combo brush that is perfect for cleaning and finishing your bases.
The kit includes a 180g universal wax that works well in most winter conditions.
The sharp plexiglass scraper in this kit evenly removes the excess wax from the base.
The Swix North Kit Ski/Snowboard Tuning Kit is made with biodegradable materials, making it an eco-friendly option.
The convenient carrying bag keeps your waxing kit together.
Pros
Includes all the necessary tuning and waxing tools.
Adjustable temperature dial
Convenient travel bag
Works for both skis and snowboards.
Cons
The scraper lacks a corner edge.
Check Price on Amazon

6. RaceWax Stay Sharp Ski Edge Kit
If you want a high-quality racing wax, the RaceWax Stay Sharp Ski Edge Kit is a perfect choice.
This Ski Edge tuning kit is all you need to bevel and sharpen your side and base edges.
The edge tuners can dial a precise angle ranging from 0 to 5 degrees, so it can do every angle you will ever need.
The file cleaning brush helps to remove metal filings from grooves.
The four RaceWax diamond stones serve different purposes – the black stone offers the best cutting action.
The blue is perfect for routine edge sharpening and maintenance.
The red is ideal for edge polishing and deburring, while the green is for smooth edge polishing.
The RaceWax Stay Sharp Ski Edge Kit includes a metal file with 4 RaceWax diamond stones, brake retainers, brass cleaning brush, deburring Gummi stone, and instructions.
Pros
Complete sharpening kit
Easy angle adjustment
Multiple stones included
Cons
Waxing iron not included.
Check Price on Amazon

Best Ski Waxing Kits
Our Pick
Our top recommendation for the best ski waxing kits is the Demon Complete Ski Tune Kit. You will be hard-pressed to find a better ski waxing kit than this. It comes with all the necessary waxing kits for a sleek job.
Waxing your snowboard is essential. There's no way to avoid it. You must wax your board several times per season if you ride hard or frequently.
The ski waxing kits listed in this guide provide you with all the tools you need to maintain your board and optimize it if you wish.

Key References
"How to wax and tune your snowboard at home | The Nonstop Snow Journal". Accessed November 18, 2022. Link.