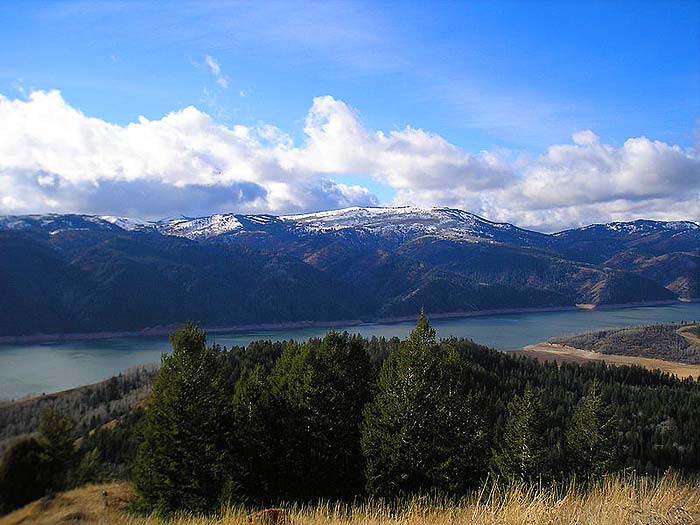 Palisades Reservoir is formed by Palisades Dam, which is a significant feature on the Palisades Project.
Recreation on this 25 square mile (16,100 acre) reservoir with 70 miles of limited access shoreline is administered by the Caribou-Targhee National Forest.
Located in scenic southeast Idaho and west-central Wyoming, east of Idaho Falls. Palisades' fish species include cutthroat and brown trout, kokanee and mackinaw.
The fishing season is year-round, but fluctuations in the reservoir level during the summer months result in inconsistent fishing.
Spring, fall, and winter ice fishingare the most productive. Reservoir acre feet and total reservoir capacity and cubic feet/second release rates for rivers below Upper Snake River Basin reservoirs and select river locations are updated daily and graphically provided.
The location offers restrooms, boat ramps, and campgrounds.
The information available at Idaho Falls Interagency Visitor's Center at 208.523.3278.

Directions to Palisades Reservoir
The reservoir is located along U. S.Highway 26 near the Idaho and Wyoming borders.

Caribou-Targhee National Forest420 Bridge St. *Saint Anthony, ID83445.
Latitude: 43.211182
Longitude: -111.132889

Fossil Butte National Monument.
Grand Teton National Park.
John D Rockefeller Jr Memorial Parkway.
Jackson National Fish Hatchery.
Eastern Idaho Visitor Information Center.
Gros Ventre Wilderness Area.
National Elk Refuge
Trail Creek Bridge Campground.
Dike Lake Campground
Pipeline Campground
McClendon Spring Campground
Blackfoot River
Redpoint Campground
St. Anthony Sand Dunes.
Hawkins Reservoir Campground
Goodenough Creek Campground
Blowout Campground
Cutthroat Trout Campground
Sage Hen Flats Campground.
Scab Creek Trailhead Campground.
Upper Green River Recreation Area.
Warren Bridge Campground
New Fork Campground
Pine Creek Ski Area.
Fontenelle Creek Recreation Area.
Tailrace Campground
Slate Creek Campsites
Names Hill
Bear Lake State Park.
American Falls Reservoir
Island Park Reservoir
Ririe Reservoir
Fontenelle Reservoir
Caribou National Forest and Curlew National Grassland.
Targhee National Forest
Bridger-Teton National Forests
Shoshone National Forest
Hells Half Acre Lava Flow.
Jackson Lake Boat Ramp.
Bear Lake National Wildlife Refuge.

Key References
"USDA – Forest Service". Accessed March 13, 2020. Link.
"Hydromet Pacific Northwest Region | Bureau of Reclamation". Accessed March 13, 2020. Link.