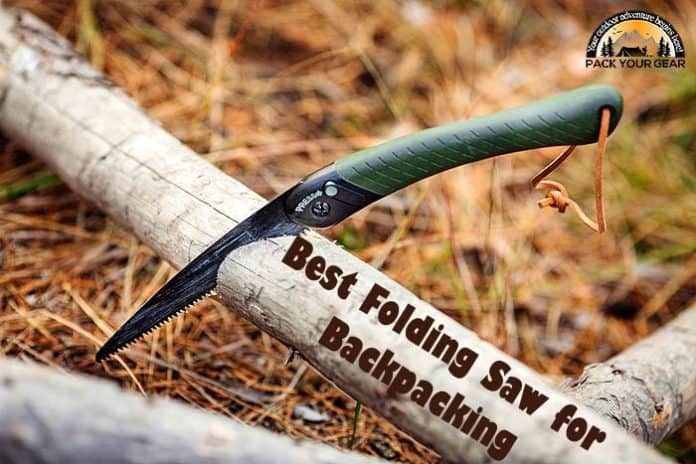 Having a campfire at your camp is one of the best ways to end the day. Handling firewood can be a task that nobody likes to do. It is for this reason that the best folding saw for backpacking is an essential camping tool.
Sale
Best Folding Saw For Backpacking
Our Pick
The Bahco 396-LAP Laplander Folding Saw is the best folding saw to take with you next time you hike. It folds up and clicks into place easily. Weighing less than 6 ounces, you may even forget you are carrying it with you.
We ♥ honesty! Pack Your Gear earns a commission through the following hand-picked links at no extra cost to you.
A folding saw gives you the cutting ability of a regular saw blade. Still, it has a lightweight design that can be safely carried in your backpack without damaging your gear. Usually, the blade has quite aggressive teeth, which are out of harm's way when folded into the scabbard.
These saws are used when you need to cut medium-weight wood (6-inches or less) but still desire a lightweight solution. The best folding saw blades have aligned teeth so that the saw blade cuts as you push and pull for maximum efficiency. If you aren't sure what you are looking for, read our guide below to weigh the pros and cons of the 5 best-selling saws.
Best Folding Saw For Backpacking – Comparison Table
Types of Backpacking Saws
There is no single type of backpacking saw. There are 3 main types, and each has an area in which they excel.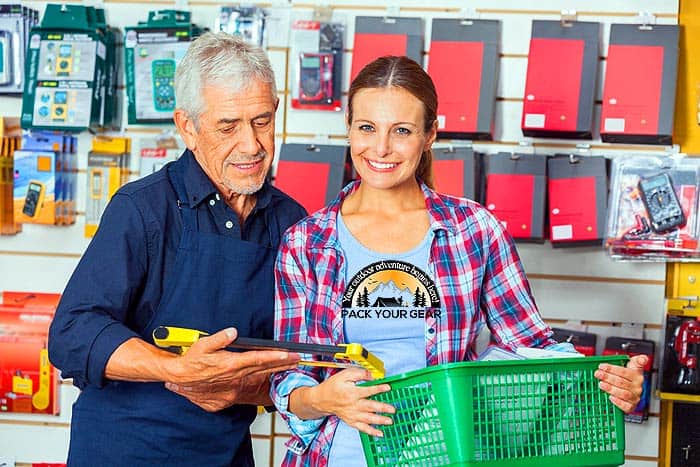 A) Bow
Identifying these saws is as easy as looking at the design. They have their name for being almost the shape of an arch. However, you may not find many of them with backpacking saws as they tend to be heavier. However, folding bow saws offer greater strength, so they may be a better option if facing a problematic pruning or cutting job.

B) Folding
As typical backpacking saw, folding saws typically have two rows of teeth and are all-purpose tools. Instead of just cutting, these can be used to cut and do other tasks around the camp as needed. They're much more comfortable to store than bow saws because, as the name suggests, they fold up for packing.

C) Pocket
So, a pocket saw is precisely what it sounds like – a pocket tool that is compact enough to fit in your backpack or pocket. They are perhaps the easiest to store. So if you want to use the light on the go, this might be your first choice. With its aggressive teeth, it can do various tasks. However, they are not very good at pruning branches because of their awkward angle.

How Does Folding Saw Help in Camping?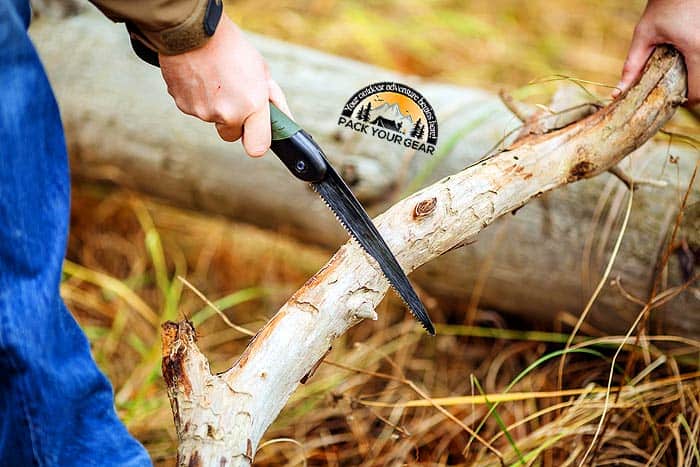 During your hike, you may come across a trail that requires urgent maintenance. Or you may need to get some limbs out of the way, start a fire, or build a shelter while the camp is set up. Whatever your needs, a folding saw can do the job for you. They are usually compact and sharp enough for light to medium jobs.
Suggested Readings:

How is the Number of Teeth on a Saw's Blade Measured?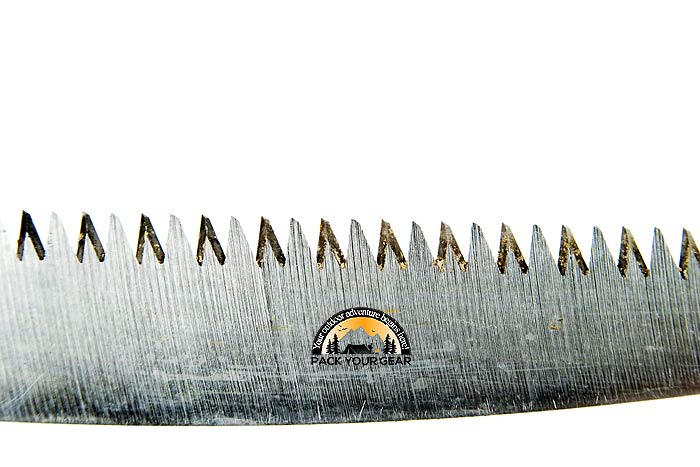 The "teeth" of a saw refer to the tips of the face of the saw blade. There are small spaces between each tooth called the "gullets". The standard method manufacturers use to measure the number of teeth on a blade is in inches and is often referred to as "teeth per inch" (TPI).
Blades with higher teeth per inch count produce a smoother cut. However, since there are fewer gullets on high TPI saws, these blades will not cut through wood as fast as lower TPI saws. This is because the gullets are larger in low TPI saws, allowing each tooth to penetrate deeper into the wood. Since there is a lot of space between the teeth on low TPI saws, the cut you get at the end is pretty rough.
Wider tooth saws can generally cut soft trees faster. In contrast, blades with a medium number of teeth are preferred for people who do many bushcraft activities and deal more with deciduous trees.
High TPI saws are often preferred by professional woodworkers because of the smooth surface they give off. As a backpacker, you don't prioritize high TPI values ​​unless working with a high TPI saw is more convenient for you. As a backpacker, you don't have to prioritize high TPI values ​​unless working with a high TPI saw is more convenient for you.

What are the Essential Things to Have When Camping in the Woods?
Here are the essential things to consider when camping in the woods.
Camp ax
Folding saw
Camp towel
Camp knife

What to Look for?
A) Length
Before deciding on a saw, consider your backpack. You want to make sure it fits.
Therefore, compare the space reserved in your backpack with the length of the saw. With that in mind, it is also worth getting familiar with using the saw.
If you know you are cutting thicker wood, a saw that is longer than the diameter of the wood is a must if you want to get the task done quickly.

B) Weight
Like with every gear you keep in your bag, weight is an essential factor that needs to be considered.
There are different types of saws available in different weight ranges and sizes.
For easy portability and better maneuverability, you don't want an item that's too heavy until it's difficult to use.

C) Blade Material
Most folding saws for backpacking are made of steel. While steel can rust, many are coated to make rust less likely to happen. Those with higher carbon content are even better able to maintain their sharpness.

D) Blade Edge
Survival saws have a curved or straight edge. For those just starting, a curved saw might be the best solution for your driveway.
Usually, they have an ergonomic design and grip so you can hold them more naturally.
They're also best for light jobs when it comes to handling thinner branches. The straight edges offer a bit more robustness, so they can help longer and larger projects.
If you know you will come across thick logs, it may be best to choose a saw with a straight-edged blade.

E) Handle
You want a unit with an ergonomic handle design that is comfortable to hold even when wearing gloves.

Best Folding Saws for Backpacking Reviews
Here are the top 5 best folding saws on the market today:
1. Sven-Saw 15″ Folding Saw Review
The Sven Saw 15″ is made of high-quality materials so you can make the most of it in the future.
This best lightweight saw can be easily folded into the aluminum frame for safety reasons. It is so light that it is easy and quick to pack.
The blades of Sven folding saw are entirely hidden even when folded, so there is no risk of them getting snagged.
Cutting is an easy task. While providing a secure hold, it is not as comfortable as the Bahco 396-LAP Laplander Folding Saw.
Gloves can help, however. The Sven Saw 15″ is the best folding saw for backpacking when you want something that will last a long time without losing its powerful cutting ability and sharpness.
Pros
Robust construction
Easy to assemble and disassemble.
Ultralight and compact
Cons
Does not offer the most comfortable grip.
Check Price on Amazon

2. Silky Ultra Accel Professional 240mm Curved Folding Saw Review
The Silky Ultra Accel Professional Curved Folding Saw is a must-have for you if you are looking for a saw that can be used for various purposes, especially outdoors.
With its well balanced and sharpened blade, it is ideal for effortlessly cutting small logs and medium-sized branches.
Thanks to its over 9.5 inches long (240 mm) blade and 6.4 curved teeth per inch, this versatile folding saw has all the power you need to cut quickly with every stroke.
It is formed with perfect balance and has a relatively small angular curve of 240 mm blade radius.
Its stronger and thicker lightweight aluminum handle cuts larger materials than other folding saws, even under the harshest operating conditions.
This folding backpacking saw weighs only 0.01 lbs (4.5 grams), which means it can be hiking, camping, and pruning.
Pros
Durable and high-quality build.
Comfortable grip
Curved shape for maximum efficiency & speed.
Extremely lightweight
Cons
Broke easily after tried cutting a large branch.
Check Price on Amazon

3. Hooyman 655226 5 Foot Extendable Tree Saw Review
The Hooyman 655226 5 Foot Extendable Tree Saw allows you to use a sturdy cutting tool that is precisely the ruler's size.
You can carry it in practically any camping backpack. However, it is not just 12 inches long.
It has some bar extensions that can be easily attached to the end of the saw and a bar saw that can extend up to 5 feet. This way, you can get to the most rigid branches of trees that can get in the way at one point and essentially get the right wood to facilitate bonfires.
With a 4-edge tooth design, this unit can cut down some of the toughest trees in the wild. You can use it to make neat cuts and even extend it to 5 feet.
Also, it has a perfect locking blade if you want to change the extension during a cut. Thanks to this feature, you also don't need to worry about blade wobble.
It allows you to make substantial cuts every time, no matter how far you cut.
Pros
Extends up to 5ft.
Sturdy aluminum construction
Lock back blade
Offers unmatched cutting
Cons
When extended, it becomes wobbly.
Check Price on Amazon

4. Silky KATANABOY Professional 500 mm Folding Saw Review
The 500 in the name of this Silky KATANABOY Saw refers to the 500mm of the cut area you get with the saw's tapered chrome sanding sheet.
For those unfamiliar with the metric system, 500mm means approximately 5.1 inches.
Each KATANABOY 500 has a TPI of 4, which results in a very smooth cut. All teeth are pulse hardened to increase durability and cutting force. It has two locking mechanisms with which you can cut at different angles.
You can lock the blade straight or angled slightly upwards. Locking the tilted blade is helpful when cutting closer to the ground to avoid joint injuries.
Each KATANABOY 500 handle has a rubberized handle with an ergonomic palm on the underside.
This best pack saw weighs 5.64 ounces from its holster and 7.7 ounces in the holster in terms of weight.
Backpackers who don't mind using a more aggressive and shorter sawing stroke will appreciate the strength and durability of the KATANABOY 500 in the wild.
Pros
Heavy-duty construction
Lightweight design
Lock the blade straight or with an edge up.
Made with high carbon steel sheet.
Cons
Bulky and large to carry.
Pricier than other folding saws.
Check Price on Amazon

5. Bahco 396-LAP Laplander Folding Saw Review
If you are concerned that rust will ruin your camping saw, the Bahco Laplander 396-LAP can reduce these problems because it is specially coated to help maintain its life.
Also, this coating gives the bladeless friction. The blade is a straight edge that is best for minor jobs. There are some excellent security features too.
On the one hand, the plastic handle with a leather strap offers a comfortable grip. This best folding saw for camping uses a security lock and padlock, which can be especially helpful if you have young children.
However, the blade may have difficulty locking back into the handle because it is not always aligned.
Overall, the Bahco 396-LAP Laplander Folding Saw is known for its ease of use and handling, as well as the essential security features in its locking system.
Pros
Durable construction
This folding camp saw provides a quick and even cut.
Coated blade for rust prevention.
Easy to use and lightweight.
Locking system for safety.
Cons
The blade does not always snap into the handle easily.
Check Price on Amazon

Sale
Top-Rated Folding Saw For Backpacking
Our Pick
Our top pick for the best folding saw for backpacking is the Bahco 396-LAP Laplander Folding Saw.
The folding saw is easy to use and, given its small size, offers surprising performance.
You can clear a path or use it for different situations around the camp.
Either way, the blade holds its edge well and provides a smooth cut, whether straight or flush.
The non-slip rubberized handle maintains a stable and comfortable grip.
The best folding saw for backpacking has a super sharp quality blade. Look for those design elements that will improve your cutting strokes efficiency to get more wood.
Weight is always an issue when backpacking, but don't be too quick to rule out the benefits of carrying a folding saw.

Key References
"Bow Saw or Folding Saw? Which Camp Saw Should You Get? – Scout Life magazine". Accessed January 09, 2021. Link.
"Woodworking Tip: Choosing a Sawblade Based on Teeth Per Inch (TPI)". Accessed January 09, 2021. Link.