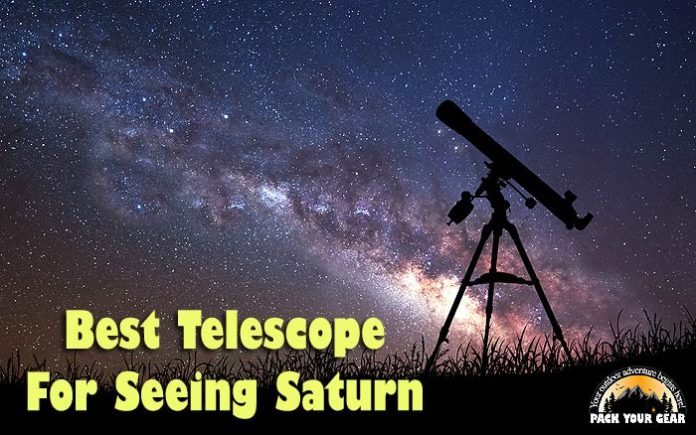 Buying a telescope for seeing Saturn and other celestial bodies is a crucial step towards a new appreciation of the night sky and the wonders it contains. The best telescope for seeing Saturn will guide you and your family through the process of learning about the night sky in an easy and rewarding way.
Best Telescope For Seeing Saturn
Our Pick
The best telescope for seeing Saturn is the Orion SpaceProbe 130ST Equatorial Reflector. The Starry Night Software this unit comes with is very helpful for beginners. It is beneficial for alerting users of upcoming events. Its primary mirror allows for splendid views of Saturn.
We ♥ honesty! Pack Your Gear earns a commission through the following hand-picked links at no extra cost to you.
It is easy to get carried away with an optical instrument that is probably too complex for children or other family members to learn right away at home.
Best Telescope For Seeing Saturn – Comparison Table
Where to Find Saturn in the Night Sky?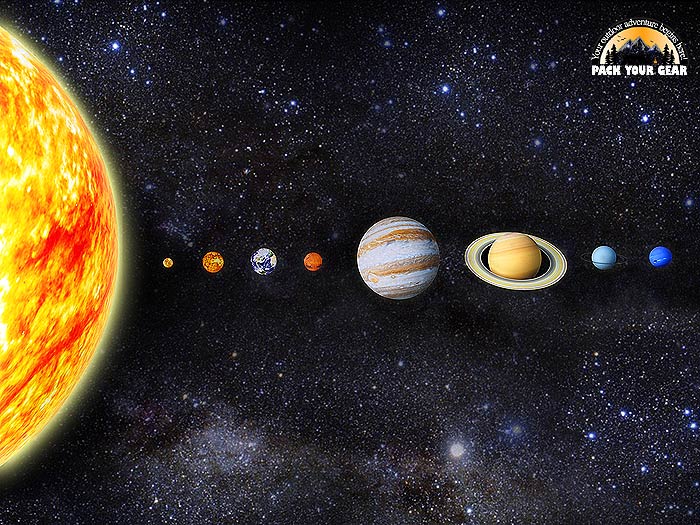 Saturn's position in the night sky changes with time. It orbits the Sun just like the Earth, except that it takes 29 years for Saturn to complete its orbit around the Sun.
Also, Saturn's position in the night sky depends on an individual's location on Earth. Saturn isn't always visible to everybody on Earth because it is sometimes too close to the Sun to be seen at night from our point of view on Earth.
To get Saturn's current location, we recommend using an astronomy app on your phone with an online planetarium simulator. The app will show you where to look precisely for Saturn from your location.
According to SkyLive, Saturn will ascend from latitude 34° 03′ 08″ N on Earth at a Right Ascension of 20h 19m 48s. At 4 a. m., it will have reached an apparent altitude high enough for you to see Saturn comfortably through your telescope.
Generally, Saturn is very bright and easy to identify in the night sky. This is useful when trying to locate Saturn from your yard. It may look like "bright stars" to the naked eye, but looking through your telescope shows that they are indeed planets.
The brightness of Saturn (apparent size) relative to Earth varies with time. Saturn's mean apparent size is 0.46 with a 0.34 standard deviation. Most of the size differences are because of the Saturn's inclination rings towards the Earth and Sun.

What are the Accessories Needed Along with Telescope for Seeing Saturn?
Here are the accessories you would need with telescope to see Saturn:
Color filters
Cameras
Phone adapters

How Big Does Saturn Show up in the Telescope?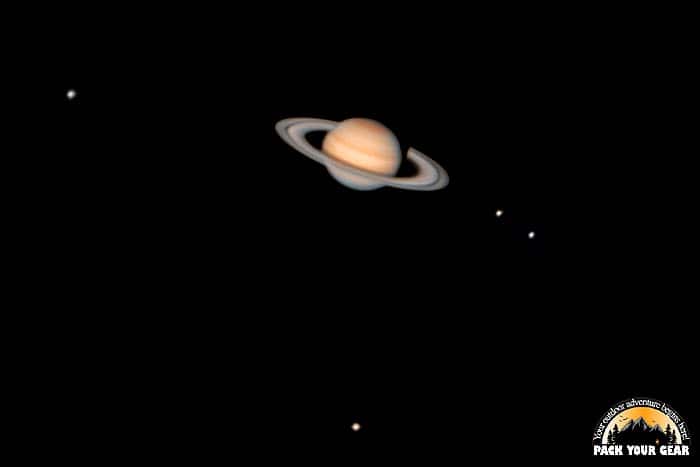 In the most favorable contrast, the Saturn disc has a diameter of about 21 arc seconds. When Saturn's rings' size is included, the system becomes up to 2.25 times larger than the disc.
In comparison, Saturn never appears larger than the opposing planet Jupiter. You can take a photo of Saturn with a point-and-shoot digital camera through the eyepiece of your telescope. This technique is known as eyepiece projection astrophotography.
Concerning objects in the night sky, the planets are relatively small. They require optical devices that can produce high magnification views. You can see Saturn with the naked eye, but it appears as a pale, bright star.
The size of the eyepiece and the telescope used will determine what Saturn looks like to you. You may think that increasing your telescope's magnification power is the answer to observing Saturn in detail. Still, it quickly becomes a blur when you start to feel the effects of astronomical vision.

What Location Would be Ideal to See Saturn?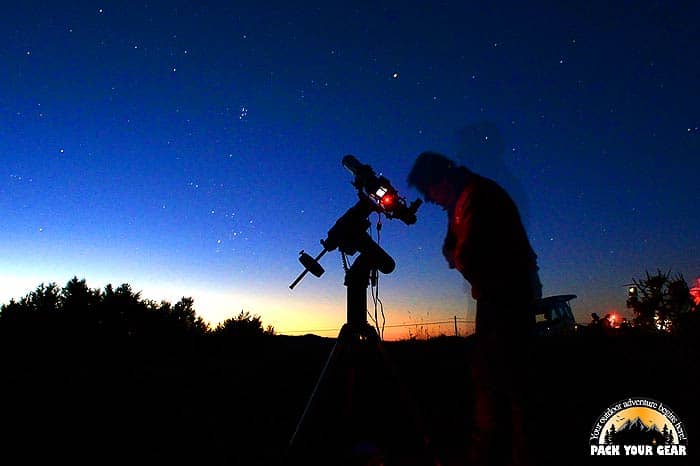 For those who want to see this phenomenon for themselves, the following applies:
Find a place with a clear view of the sky, for example, a park or field. Saturn is bright and, therefore, can be seen in most cities.
Look at the southwestern sky one hour after sunset. Saturn will be slightly weak, appearing slightly above and to the left of Jupiter on December 21.
Each night, an hour after sunset, Saturn will appear closer in the southwest.

Is There a Specific Month that Would be Perfect to See Saturn Clearly?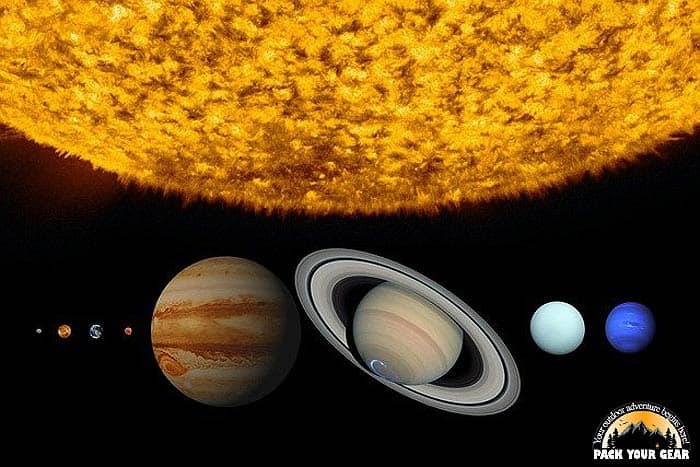 Throughout 2021, Saturn will be within the limits of Capricorn, the Sea-Goat.
Afternoons from January 1 – 6; Mornings from February 10 – August 1;
Again, on the night of August 2 – December 31.Saturn will be at its brightest in 2021 from August 1 to 4.
On August 2, Saturn contrasts the Sun and shines as brightly as the similarly colored star Capella with a +0.1 magnitude.

What to Look for?
A) Aperture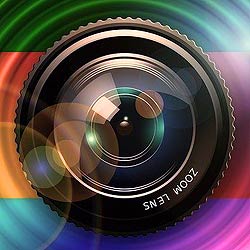 Aperture is the diameter of the objective lens or the telescope's mirror, typically measured in millimeters. The larger the aperture, the brighter the images and the deeper you can see into space.
Suggested Reading:

B) Focal Ratio
The focal length ratio (for example, f/5.9) is the ratio of aperture to focal length. Multiplying the aperture by the ratio f allows you to find the telescope's focal length.
Suggested Reading:

C) Magnification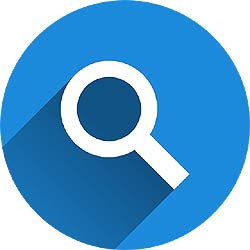 To obtain an image suitable for our eyes to view, a telescope employs a second lens/collection of lenses known as the focal plane eyepiece. The eyepiece enlarges the lens image.
Also, the eyepiece has a focal length. A telescope and an eyepiece magnification are very easy to calculate.
If the objective lens focal length is "F" and the eyepiece focal length is "f", the magnification of the combination of telescope and eyepiece is F/f.
For instance, if the objective lens of a telescope has a focal length of 1200 mm (approx.48″) and If you have an eyepiece with a focal length of 25 mm (approx.1"), then it has a 1200/25 = 48x magnification.

D) Eyepieces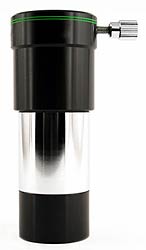 Eyepieces typically determine the field of view and magnification of a telescope.
There are different eyepieces used to see different objects. Particular objects, such as star clusters and nebulae, appear very large and are best seen at low magnification (which offers a wider field of view). In contrast, planets appear relatively small and are usually seen with eyepieces at high magnification.
Most telescopes come with 1 or 2 eyepieces. Typically, you want to have a kit that covers a range of magnifications.
Also, a Barlow lens is worth considering: multiply each eyepiece's power 2 to 3 times, which will double your eyepiece collection.

E) Finderscope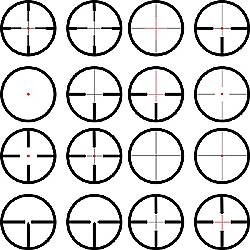 A good finderscope is vital for the best telescope for seeing Saturn. It magnifies and brightens your vision so you can find things that push the boundaries with the naked eye.
When aligned properly, a finderscope can also be used to aim more precisely with a telescope than with reflex finders or peep sights.
This is particularly important when aiming at an empty spot in the sky where your charts indicate that there should be a faint, exciting object.

Best Telescopes for Seeing Saturn
Here are the top 4 best telescopes for seeing Saturn on the market today:
1. Orion 09007 SpaceProbe 130ST Equatorial Telescope
The Orion SpaceProbe 130ST Equatorial Reflector Telescope is an excellent telescope for seeing Saturn. It is ideal for intermediate or beginner stargazers.
Although a beginner may find it a little expensive, a serious-minded beginner will find a lot to like about this telescope.
The aperture of this telescope is 130 mm (5.1 in), one of the largest aperture sizes available in the best telescope for beginners' category.
This best telescope for astrophotography lets in a reasonable amount of light so you can see Saturn clearly. The ST in this product's name stands for "Short Tube" – this telescope type is ideal for wide-field viewing of objects.
The shorter tube is believed to offer a wider field of view (FOV), which is better for space objects such as nebulae and galaxies.
While the Orion SpaceProbe 130ST Equatorial Reflector Telescope is more expensive than other starter packs, this best telescope for viewing planets offers a magnificent combination of quality and affordability.
Pros
Ideal for seeing Saturn.
Wide field of view.
Comes with a sturdy mount.
Convenient to transport
Check Price on Amazon

2. Orion 9024 AstroView 90mm Equatorial Refractor Telescope
The Orion 9024 AstroView 90mm Equatorial Refractor Telescope is a high-quality telescope for seeing Saturn that is incredibly powerful and rugged.
With a focal length of 910mm and an aperture of 90mm, this is one of the best Orion telescopes you can buy at this price point.
It's a tool that will appeal to all but the most discerning amateur astronomers. This best telescope for viewing planets and galaxies can display Saturn with incredible clarity, making your explorations of Saturn feel like a walk in the neighborhood.
Although you can use it for terrestrial viewing, you need an additional diagonal for the correct image separately sold.
Nearly every review of the Orion 9024 AstroView 90mm Equatorial Refractor Telescope shows the type of buzz this best telescope for deep space generates among seasoned hobbyists and beginners.
The Orion 9024 AstroView Telescope is rugged with an equatorial mount and a sturdy tripod over 5 feet high. It is not a toy, but a famous scientific tool, perfect for seeing the Saturn on the spot and night exploration at home.
Despite all its qualities, this telescope is reasonably priced.
Pros
Renders stunning views of Saturn.
High-quality and solid build.
Comes with a wide range of accessories.
Cons
Wobbles slightly at the focus.
Check Price on Amazon

3. Celestron AstroMaster 130EQ Newtonian Telescope
The Celestron AstroMaster 130EQ Newtonian Telescope is a surprisingly inexpensive reflecting telescope with impressive optics.
This Celestron telescope is a dual-purpose telescope from Celestron's acclaimed AstroMaster series.
The specifications are quite impressive: a 269x magnification, 114mm (4.48-inch) aperture, and a slim design with a German equatorial mount.
The Celestron 31045 AstroMaster 130 EQ Newtonian Telescope's optical properties would make it one of the best entry-level telescopes in this price range. Still, the mount and tripod have received complaints from some users.
The tripod is lightweight, making it a bit fragile even if it is not extended to its maximum height. However, the good thing about this is that you can eventually learn to use it better, or you can easily upgrade if you fancy a step towards an intermediate level of an astronomer.
Since the rifle scope itself is fantastic, it's worth it if you replace the mount and tripod of this unit with more professional options.
Pros
Good optics
Impressive scope
Compact design
Easy and quick to setup.
Cons
The tripod is a bit shaky.
Check Price on Amazon

4. Celestron-PowerSeeker 127EQ Telescope
The last telescope on our list of the best telescope for seeing Saturn is the Celestron-PowerSeeker 127EQ Telescope.
It's not the most powerful telescope you can find, but it's an excellent example of what you can get for a lower price.
There are other better telescopes out there if you are looking for inexpensive telescopes for children. However, you know that you are investing when buying a Celestron, so you don't have to worry about damaging it too much as it comes with adequate guarantees.
This best telescope for planetary imaging has an aperture of 127 mm, which is the prearranged aperture you need to take your astronomy a bit more seriously and see something other than the faint planets and moon.
Also, this best telescope to see moon has a focal length of 1000mm, which is perfect for seeing Saturn. If you want a good, inexpensive option, the Celestron-PowerSeeker 127EQ Telescope is an acceptable option.
In reality, however, it isn't the best in its class, and there are better telescopes out there that you can consider relatively inexpensive.
Pros
Large aperture size
Stable mount
High levels of contrast.
Lightweight design
Check Price on Amazon

Best Telescope For Seeing Saturn
Our Pick
Our top pick for the best telescope for seeing Saturn is the Newtonian Orion SpaceProbe 130ST Equatorial Reflector Telescope.
Its 5.1-inch parabolic mirror is an ideal size for a beginner's telescope.
It features a fast focal ratio of f/5, which offers a wide field of view.
With this telescope, you can use the magnifications up to 260x, so you can see Saturn and other planets clearly.
If you're intrigued by the rings of Saturn, then it is worth investing in a telescope. The best telescope for seeing Saturn will make your experience very memorable.
The telescopes we reviewed in this guide will help you view Saturn and all its splendid detailed finery.

Key References
"The 19 Best Astronomy Apps in 2021 | Night Sky & Stargazing". Accessed January 12, 2021. Link.
"Saturn Information | TheSkyLive.com". Accessed January 12, 2021. Link.