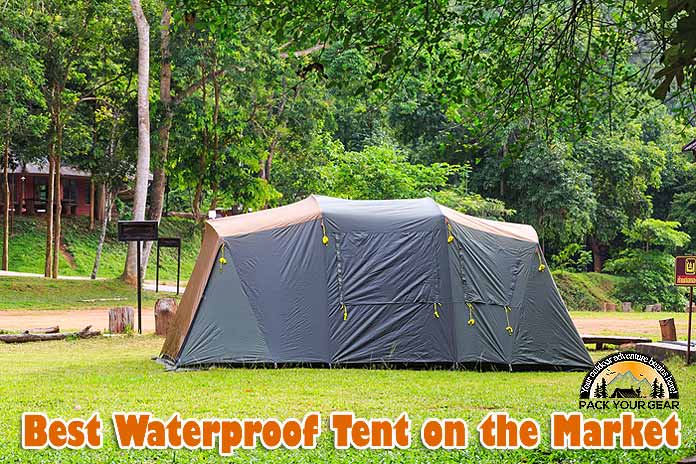 Camping is a relaxing and fun activity, but the weather is unpredictable these days because of climate change. It can rain anytime, especially in the mountains. Hence, it is essential to choose the best waterproof tent before leaving for your trip. It is the best way to ensure you'll return relaxed and happy, instead of cranky or with a cold.
Best Waterproof Tent On The Market
Our Pick
Our top pick for the best waterproof tent on the market is the NTK Laredo GT Camping Tent. It is the perfect tent for a group or family, as it is spacious enough for up to 10 people. This tent is equipped to offer a comfortable and dry camping experience.
We ♥ honesty! Pack Your Gear earns a commission through the following hand-picked links at no extra cost to you.
Best Waterproof Tents – A Comparison Table
Material
Waterproof Ripstop Polyester
Fiberglass, Polyester, Fabric

How to Prepare for Rain During Camping?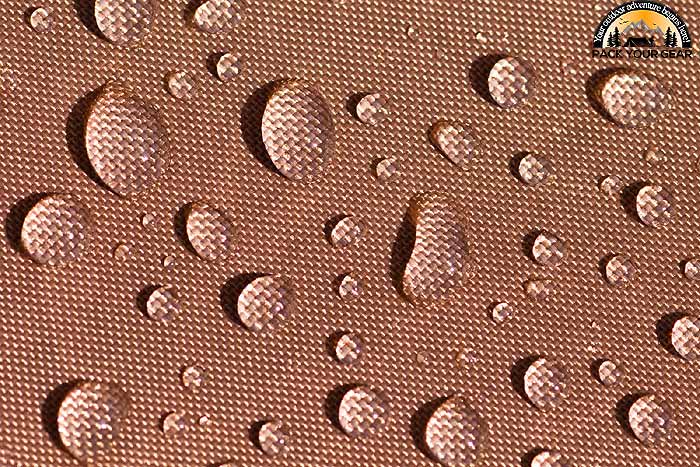 Choose a site with a little ascent that is not beside a lake or river.
It isn't nice to wake up in 3-inches of water when it rains.
If your tent is facing the morning sun, it will be easier to cajole yourself out of a sleeping bag on wet mornings.
Don't set up your campsite under a tree, whatever you do.
Long after it has stopped raining, raindrops will continue to drip on your head, and you could get injured by falling branches if the wind picks up after dark.

Lights can boost the ambiance under the tree canopy or tarp.
Carry LED lights to drape around your campsite and pack flashlights and a good camp lantern.
Be sure to bring lots of additional batteries; lithium batteries are very reliable, especially in cold weather.
If you think you will be returning late, you can attach some reflectors to the trees close to your tent.
This will allow you to find your way back quickly in the dark.

C) Devise an Outdoor Living Room
When you are done with day's activities, don't allow everyone to go back to their tents – devise an outdoor living place. Create a rain shelter by stringing up two overhead or a tarp, as well as one on the ground. Then arrange camp chairs, attend to the lights, break out the snacks, and brews and get some games and music going.

A good layering system and the appropriate camping rain gear will help regulate the body temperature, wicking active moisture.
At the same time, you are active and keeping body heat.
Choose wool and polyester base and mid-layers under a rain poncho or waterproof jacket.
A cotton is never an ideal option because it stays wet when it gets wet, which will reduce your body temperature fast.
Ensure you pack an additional set of wool socks and base layers in a waterproof bag for hanging out at your campsite.

What to Look for in a Waterproof Tent?
Most outdoor tents that are made of nylon and polyester are ideal as these fabrics are specially designed to resist the elements, including heavy rain.
Beyond that, tents with welded seams are great choices because they help prevent water from getting inside the tent.
Also, you should choose a tent with a rainfly, even when you are using a waterproof tent, as this will improve its water defense capabilities.
Additionally, you need to go for a waterproof tent that has strong guy lines, poles, and stakes.
These materials are critical, so your tent can withstand strong winds.

This is another vital thing you should look for when shopping for the best waterproof tent on the market. This is because you don't want to waste time setting up your tent for hours instead of camping in it. Choosing a tent that is easy to assemble is vital, especially if you are new to camping.
Suggested Reading:

As well as the waterproof nature of the tent, you also need to look into the size and weight when buying a waterproof tent.
Since you'll be carrying your tent to various locations, you have to ensure your choice is lightweight.
Having a waterproof tent that takes up less storage space is also very important.
It is also essential to choose a tent that can comfortably accommodate you and your friends or family without feeling cramped.

Many times, condensation does not take a long to build-up in tents.
Outdoor tents with proper ventilation can solve the problems caused by the increase in condensation like leaks, among other issues.
Thus, choosing a product with large doors and windows is a must, so you will have enough ventilation inside the tent.

Top 5 Best Waterproof Tent on the Market
Here are the top 5 best waterproof tents on the market place today:
1. Featherstone 2 Person Backpacking Tent
The Featherstone 2 Person Backpacking Tent is made from lightweight, rugged tear-resistant fabrics that are waterproof.
The micro-mesh fabric enhances comfort and breathability, thus reducing condensation.
This tent is spacious enough to accommodate up to 2 people, making it perfect for couples.
It is conveniently built with 2 vestibules and 2 doors that offer a considerable amount of storage space for all your camping gear.
The seam-taped construction makes the tent an impenetrable barrier against rain while also preventing leakage.
This backpacking tent features a bathtub floor design that elevates the bottom of the tent to protect campers from wet grounds.
The one-piece aluminum pole structure makes the tent very easy to assemble and store into your backpack.
Additionally, the freestanding design allows the shelter to be relocated and moved without needing to disassemble.
Pros
Lightweight and freestanding
Easy setup
Ample living space
Durable and breathable
Cons
Limited sleeping capacity
Check Price on Amazon
Flimsy tent poles

2. TETON Sports Mountain Ultra Tent
The TETON Sports Mountain Ultra Tent is a freestanding tent that can accommodate up to 4 people, depending on the size you choose.
Due to its seamless design, this dome tent can definitely withstand rain and groundwater.
Apart from that, the tent has a rainfly with a 3000-millimeter waterproof rating.
Also, this unit features an Oxford polyester footprint that helps prevent moisture from soaking through the campsite floor during a torrential downpour.
The micro-mesh walls of this tent offer excellent ventilation while also keeping the bugs out.
The tent also has vestibules that provide extra space for your camping gear.
It is easy to assemble, making it great for new campers.
If you are looking for a budget-friendly and lightweight tent, the TETON Sports Mountain Ultra Tent is a noteworthy option.
Pros
Easy to set up.
Lightweight design
Comes with a gear loft.
Cons
It does not have windows which may affect ventilation when you place the rainfly over it.
Check Price on Amazon

3. NTK Laredo GT Camping Tent
The NTK Laredo GT Camping Tent has a measurement of 10 feet x 12 feet, and a 6.1-foot center height.
As such, this tent is large enough to accommodate 8 to 9 people.
The tent is made of 190T PU laminated polyester fabric with a 2500mm waterproof rating.
Additionally, the tent has a rainfly with guy lines and stakes to keep the tent stable and dry during windy and stormy days or nights.
The flooring of this tent is made with polyethylene with a silver-coated inner layer that helps prevent leaks while also keeping you dry.
Another feature we like about this tent is its ultra-thin polyester micro-mesh fabric that allows the fresh air in a while keeping campers safe from insects.
For easy entrance and exit, this tent has a sizeable 2D-shaped door.
Overall, the NTK Laredo GT Camping Tent has a functional design with excellent fireproof and waterproof credentials.
Pros
Spacious enough for 9 people.
Easy to assemble
Roomy gear loft and utility pockets for gear storage.
Fully breathable inner tent.
Cons
Pricy for some campers.
Due to large capacity, it is bit heavy.
Check Price on Amazon

4. Naturehike Cloud-Up Tent
The Naturehike Cloud-Up Tent is made with anti-scratch nylon mesh that is breathable and comfortable.
With its heavy-duty tent poles made with space aluminum, it can withstand high snowfall and heavy rain.
It's effortless to assemble, and it comes with a very compact compression bag so you can carry it anywhere easily.
The mesh canopy with an extra window prevents condensation and offers maximum ventilation.
The high-tenacity ripstop nylon has a dura shield polyurethane coating that helps keep moisture away.
It has double layers – inner and outer tent – and can be used in rainy weather to keep you warm and dry.
The Naturehike Cloud-Up Tent is available in 4 color options to suit your preference.
Pros
Good rain performance
Relatively light
Affordable
Easy to set up.
Cons
The zippers on this tent can be a snag.
Check Price on Amazon

If you're looking for a quick-to-set-up tent for your campsite, the ABCCANOPY Canopy Tent is your best choice.
It is made of high-quality materials, so it will last for a long time.
The stainless steel frame is powder-coated to ensure it won't rust over time.
Also, it comes with strong square-like legs and nylon mold brackets to ensure sturdiness.
For extra sturdiness, truss bars are included.
The feet come with push-button sliders for the tent walls and 2 drilled holes for the stakes.
This tent is made from 500 denier polyester, which is lined to ensure it's 100 percent waterproof.
Thanks to the Velcro under the tent, the walls of the tent are easily attachable.
Pros
Comes with extra parts.
Durable construction
Spacious enough to accommodate up to 15 people.
Rust-resistant frame
Rainproof and doesn't rip easily.
Cons
It could be expensive for some campers.
Check Price on Amazon

Best Waterproof Tent On The Market
Our Pick
Our top recommendation for the best waterproof tent on the market is the NTK Laredo GT Camping Tent. This spacious tent is ideal for a group or family and can hold up to 10 people. The tent is equipped to offer a comfortable and dry camping experience.
When you are going camping, there is a high chance you will be exposed to the elements. You should strive to have one of the best waterproof tents on the market, so you can stay dry and comfortable even when it's raining.

Key References
"Ham Radio Camping Tips". Accessed March 09, 2020. Link.