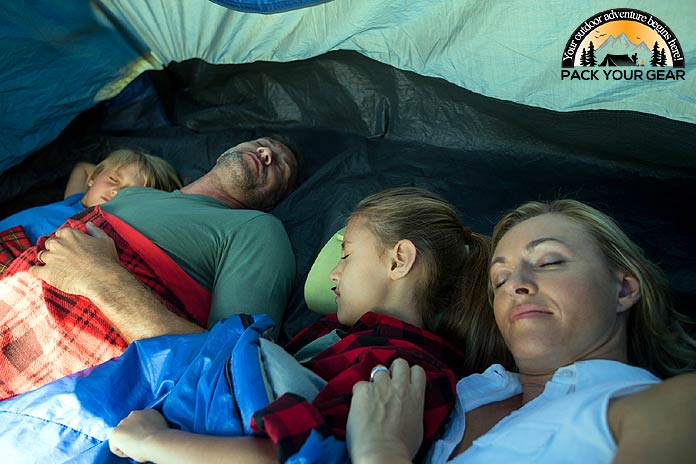 Sleeping in a tent can be a rewarding experience, believe it or not! Waking up to the sounds of birds singing and the fresh, crisp air of spring or fall is the stuff of memories. However, you will need to make yourself comfortable, and you can start with a little preparation.
Preparations for Sleeping in a Tent
First, position your tent with the entrance away from the wind. Throw some leaves in the air and try to see which way the wind is blowing. You will be warmer in cold weather.
You also want to be aware of where your fire will be so that the tent is not full of smoke when you are ready to go to bed. So, watch that the wind will not blow the smoke inside of your tent and zip up the window flys when necessary.
You will want to have a nice spot to lay down at night, so do a little work to prepare the area before pitching your tent. Clear the ground under your tent, check for tree roots and small rocks.
Use a ground tarp below your tent to prevent moisture. Throw the ground tarp down on the ground and lay down on it to see how to level the ground is and if any rocks will make you uncomfortable while sleeping.
Make sure the ground tarp is entirely covered by the tent. Otherwise, rain might collect below your tent.
Keep your tent tidy. Crumbs and garbage will attract ants. Keep a few zip-lock bags for food and dirty clothes.
Put on a pair of clean, dry socks as well. You will be more comfortable and warmer, and your tent mates will appreciate it as well.
Get a self-inflatable mat and a pillow if possible. Take some Advil or ibuprofen for sore muscles. Stretch those tired muscles before you lay down.
When you put up the tent, drive your stakes, and tie your lines as if you were expecting a big storm. It could come up in the middle of the night you never know.
And by all means, make sure you look up before you pitch your tent, loose tree limbs can come down during a storm. Furthermore, watch that your tent is not in the path of water drainage in case of rain.
Best Self-Inflatable Mattress For Camping
Our Pick
This roomy sleeping pad has 4.7 inch thickness for super comfort and it adopts an ergonomic texture design to the surface. It comes with a built-in pumping for faster inflating and deflating.

Whenever you pack your tent away, make sure it is dry. Putting up your tent before you leave and letting it air out can help with musty smells.