Generally, ski helmets are crafted from sturdy materials to withstand shocks and impacts. However, to protect the eyes from the harmful sun rays, you need more than that. This is where the best ski helmets with visors come into play.
Sale
Best Ski Helmets With Visors
Our Pick
The Bolle Might Visor Ski Helmets is our top choice for the best ski helmets with visors. It offers excellent protection with its adaptive vision and ABS shell, making it perfect for every condition.
We ♥ honesty! Pack Your Gear earns a commission through the following hand-picked links at no extra cost to you.
The visor can keep the eyes away from snowflakes, glare, or other obstructions. With the aid of a visor, you will be more agile when maneuvering between the slopes. It is perfect for both sunny and cloudy days.
Best Ski Helments with Visors – Comparison Table
Are Ski Helmets Safety Certified?
Yes, ski helmets are safety certified. When you shop for the best ski helmets with visors, you should choose a model with the following safety certification.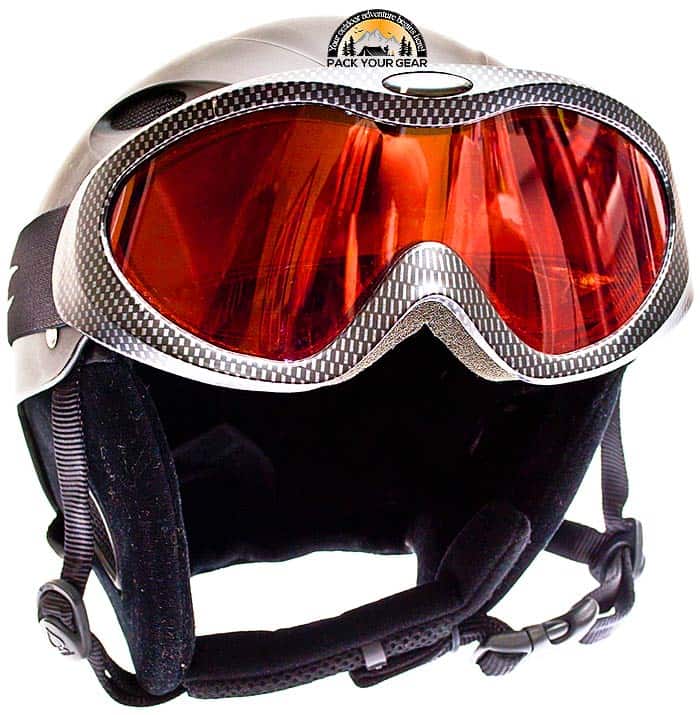 1) ASTM F2040-18: Recreational Snow Sports

2) Skiing and Snowboarding: BS EN 1077: 2007 Class B

Why do I Need to Buy a Ski Helmet with a Visor?

What to Look for?
Whenever you choose a helmet for outdoor adventures, safety standards must come first. Make sure it passes intensive product testing or is safety certified. Once this has been confirmed, you can consider the secondary aspects like communication features, convenience, design, and many more.
Let's look at a few factors to consider when shopping for the best ski helmets with visors.
A) Construction

B) Ventilation

C) Additional Features

Best Ski Helmets with Visors
Here are the top 6 best ski helmets with visors on the market today:
1. Bolle Might Visor Ski Helmets

2. Bolle Backline Premium Visor

3. Heemtle 2 in 1 Visor Ski Helmet

4. Odoland Snow Ski Helmet with Goggles Set

5. SINNER Ski and Snowboard Helmet

6. ALPINA GRAP Visor 2.0 HM Ski Helmet

Whether you are an avid skier or snowboarder, we hope that you can stay safe on the snow slopes with the best ski helmet with visors.
Key References
"Standards Give Snow Sports Safety a Lift | ASTM Standardization News". Accessed December 14, 2020. Link.
"Skiing & Snowboarding Safety" – Center for Injury Research and Policy. Accessed December 14, 2020. Link.