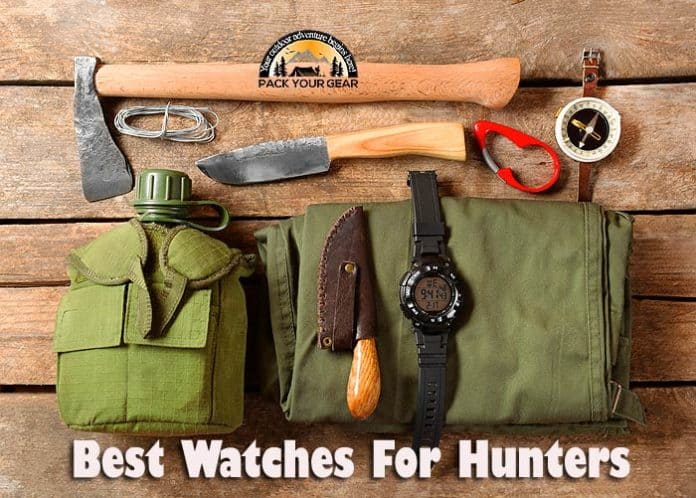 The best watches for hunters will take care of your hunting trip's logistics and allow you to focus on what is important to you. A dedicated hunting watch not only makes your life easier, but it can also save your life.
Best Watches For Hunters
Our Pick
The Suunto Traverse Alpha Watch is our pick for the best watches for hunters. It has the most reliable and accurate GPS of any watch on our list. The price is reasonable, and the features are dedicated to hunting, fishing, and hiking.
We ♥ honesty! Pack Your Gear earns a commission through the following hand-picked links at no extra cost to you.
With a built-in flashlight, waypoint marking, ABC (altimeter, barometer, and compass), GPS, and many more, you can rest assured that even when you get lost, regardless of how far into the abyss you go, the watch will help you return to safety.
The best watches for hunters are an essential part of hunting and hiking equipment, not only for safety reasons.
Best Hunter Watches – Comparison Table

Are GPS Hunting Watches Reliable?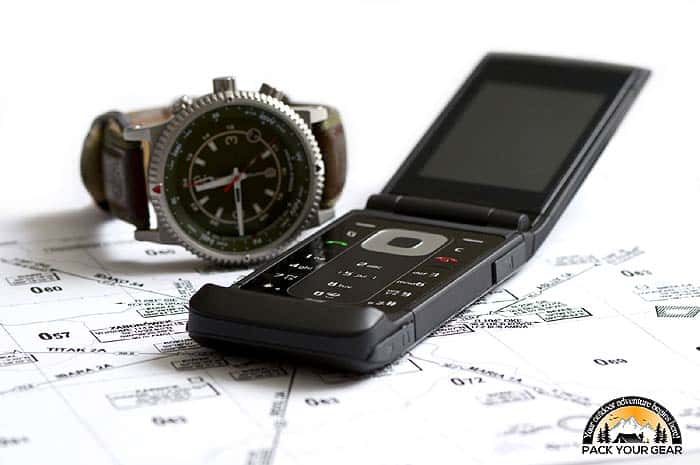 If you want to record your location while hunting, GPS watches can do the job.
A good GPS watch can record your coordinates (latitude and longitude) to help you review the map.
Beyond that, if you have lost your way in the wild or can't find the direction to get to your tent, a GPS hunting watch can help you find your way.
So, when you have a GPS watch in hand, you probably won't forget which way you are going.
If you want to become a better hunter, all you need is a GPS watch in hand while hunting. This will guide you on the right path you want to take and help you get back to where you want to be.
Suggested Reading:

What to Look for?
Hunting is thrilling and exhilarating, but you need the appropriate equipment to get the most of it. This is why you should buy a reliable watch for hunting before you start gaming. Keep these essential points in mind as you read this review.
A) Battery Style
The most recent innovation in hunting gear is solar energy, which is ideal for those who spend a lot of time in the sun.
Many models now use this technology, which can be helpful in some instances but not in others. If you prefer a more conventional battery style or are concerned that it may not have the correct charging time, there are other options available.
Ensure you choose a battery that suits your lifestyle and also takes its lifespan into account.
Suggested Reading:

B) Special Features
Do you want a unit that only keeps track of time, or are you also looking for a GPS, thermometer, compass, moon phase, or calendar feature?
Depending on your location and hunting style, you may need a wide range of features. Therefore, be sure to check the functions of the watch before buying.
If you're looking for something a little more basic, you might not want superfluous bells and whistles to get in your way.
Suggested Reading:

C) Durability
The best watches for hunters are generally very durable and similar to military wristwatches, but they are not all the same.
Most models are waterproof, but some are fully water-resistant, while others can be immersed and used for snorkeling.
The longevity of the battery and the general materials it's made of also affect its life.

D) Comfort
Make sure you choose a model that is comfortable to wear.
You can determine this by measuring around the wrist and comparing it to the band's dimensions.
No matter how excellent a watch is, it will not work for you if it falls off or is too tight to fit. It's also important to check the band materials to make sure it fits comfortably in all respects.

E) Compass/GPS
There is a good chance that you will drift off course when you are out in nature. And that leads to unforeseen problems. However, having a compass/GPS on your hunting watch can go a long way. It ensures that you're moving in the right direction even if you don't have a guide with you.

F) Strap
The hunting watch strap must be robust. It must be able to withstand all the wear and tear caused by inclement weather and rough use. Watches with synthetic bracelets are therefore more suitable for hunting.
Suggested Reading:

G) Battery Life
Since the best watches for hunters often include GPS and barometers, they require more power to operate. Therefore, they must come with batteries that won't give up on users when away from home.

H) Weather Alerts
Weather alerts can be quite useful when hunting. There's a favorable climate for all the animals if they prefer to go out. And you have to ensure you catch them then. Therefore, watches with weather warnings are preferable for hunting.
Suggested Reading:

Best Watches for Hunters
Here are the top 6 best watches for hunters on the market place today:
1. Garmin Instinct Rugged Outdoor Watch
The Garmin Instinct Rugged Outdoor Watch has all the necessary features you need for hiking and hunting.
This watch is the lightest option on our list. So, for those who hate the feeling of wearing a watch, Instinct will solve this problem.
It is so comfortable and lightweight that you won't know you are wearing it. Although it's lightweight, it's incredibly durable and remarkably scratch-resistant.
These Garmin watches come with everything you need for an off-trail hunting watch, including waypoint, marking, ABC (altimeter, barometer, and compass), Galileo and GPS plus GLONASS, moon phase calendar with moonset and moonrise times, sunset and sunrise times, storm alerts, current temperature, and weather forecast.
Also, it has an integrated heart rate monitor, stress and activity monitor, pedometer, sleep monitor, estimated calorie consumption monitor, and music control for fitness and hiking purposes.
This hunting watch is compatible with the dog tracking apps available on the Garmin App Store.
The dog tracker app shows your dog's location information if you've paired a GPS compatible dog tracker collar with your watch.
Dog tracker is an attractive feature for many hikers and hunters because a dog is a man's best friend, as we all know.
Pros
Lightweight design
Durable in all weather conditions.
GPS, GLONASS, and Galileo capability.
Heart rate/fitness technology
Smartphone compatible
Barometric altimeter and triaxial compass.
Cons
People with sensitive skin may react to the strap.
Check Price on Amazon

2. Casio G-Shock Men's GD-120CM Camo Sport Watch
For many hunters, camouflage clothing is their favorite outfit when out hunting to hide from their targets.
If you are one of those hunters who prefer sports camouflage, you can also add the Casio G-Shock GD-120CM Camo Sports Watch to your hunting equipment.
Like any G-Shock watch, these best outdoor watches have many helpful features, but it has some cool features, especially for hunting.
And it is one of the most affordable watches for hunters on the market. Besides its hunting-friendly design, G-Shock's characteristic impact resistance makes it more durable, as does its sturdy construction, which consists of a mineral glass dial, resin case, silicone strap, and a water-resistance of about 200m.
To get up early and start the hunt early, you have an alarm to help you stay on time.
Pros
Backlight for nighttime viewing.
Timer and stopwatch feature.
Calendar and daily alarm.
Shockproof and waterproof
Cons
Slightly short strap for a wider wrist.
Check Price on Amazon

3. SUUNTO Core Outdoor Watch
If you're searching for an affordable watch for hunting, this SUUNTO Core Outdoor Watch with a sleek design and a handful of features is for you.
This hunter watch checks all the boxes of a hunting smartwatch. It has an altimeter that you can use to track your vertical movement.
A barometer associated with a weather trend indicator will help you plan your activity.
You can also get the most out of this watch with the smart storm alarm sensors that can alert you.
The SUUNTO Core has two unique functions that distinguish it from lower-class watches. One of which is its ability to record descent and ascent.
Descent and ascent are challenging to keep up with when you are out in nature. Mainly when you are keeping track of a target and your mind is on other things.
Another reason is the ability to display sunset/sunrise in over 400 locations. Those 400 locations may be a lot, but saving a few dozen locations can go a long way. If you are hunting every year, you will be amazed at the number of locations you can collect.
It's good to have a record of them and the associated sunrise and sunset times. The replaceable strap allows you to adjust the strap's size to get the ideal fit for your wrist.
The all-matte black design and water resistance make the SUUNTO Core Outdoor Watch one of the best watches for hunters.
Pros
Smart storm alarm sensors.
Replaceable strap
Weather trend indicator
Check Price on Amazon

4. Casio Men's Pro Trek PRW3500 Watch
The Casio Men's Pro Trek PRW3500 Watch is a remarkably durable watch that is sure to withstand harsh hunting conditions thanks to its resin case and strap, mineral crystal dial window, and water resistance of up to 200 meters.
In combination with the compact and sturdy design, this unit is suitable as a useful friend for hiking, hunting, and many other outdoor activities.
Its compass, GPS, barometer, altimeter, and color map functions, as well as position memory, make it perfect for hunting.
This hunting watch is compatible with Android 4.3 and higher versions. Also, it's compatible with iPhone 5 and above with iOS 8.2 or beyond.
One fantastic feature that makes these watches one of the best watches for hunters is the LED lighting and backlighting.
Once the auto light feature is activated, turning your wrist will activate the LED lights automatically for better viewing at night or in low light conditions.
However, the alarm tone of this unit may be too low for some people to hear. The energy storage device can also lose power quickly after multiple charges and shorten the time between charges.
Pros
Triple sensors for thermometer, barometer, altimeter, and digital compass.
Solar energy powered
Auto light functions and LED backlight.
Sunset and sunrise data.
Directional markers
Check Price on Amazon

5. TAG Heuer Men's WAZ1110.FT8023 Formula 1 Stainless Steel Watch
The Tag Heuer's Formula 1 watch collection is an example of the brand's belief in excellence in terms of elegant aesthetics and precise timing.
Inspired by the McLaren Formula 1 team, these watches are the ultimate testament to Tag Heuer's superior craftsmanship and technological expertise.
It features a black dial aesthetic and details that stand for the Formula 1 collection paired with a black rubber band. This makes this watch perfect for hunters who always want to stay stylish.
These hunting and fishing watches take their name from the renowned motorsport and is therefore specially designed to challenge the natural elements.
Longevity, combined with the latest materials, makes the Formula 1 line an excellent option for a first Swiss watch.
The case is made of stainless steel, which in some editions is coated with titanium carbide to ensure durability and a sporty look.
Pros
Sporty and elegant design.
Casual rubberized band for comfort.
Durable construction
Easy to read dial.
Check Price on Amazon

6. SUUNTO Traverse Alpha
The Suunto Traverse Alpha watch is specially designed for hunting, fishing, and hiking.
Users can choose between hiking, fishing, and hunting in the menu settings to take advantage of the best features depending on their activities.
This unit is the best hunting watch, as it is the only watch from a manufacturer with special hunting functions.
One of its most crucial hunting functions is automatic shot detection. This feature remembers where and when you pull the trigger and records GPS coordinates so you can see and track where your best hunting areas are.
We selected this watch as the best watch for hunting because it has the most accurate and reliable GPS we have ever seen on a watch.
These Suunto watches are so precise that they can tell which side of the street you're walking on. We all know that running the GPS function on a watch drains your battery much faster than turning it off.
The Suunto Traverse Alpha allows users to quickly save their location and then turn off GPS to save battery power.
This hunting watch includes GPS, flashlight, ABC (altimeter, barometer, & compass), moon phase calendar with sunset and sunrise times, storm alarm, step count, and waypoints for capacity marking.
The ability to mark landmarks is a great benefit when hunting or traversing large swathes of land. Simply place a marker at your starting point, and this unit will guide you using its automatic navigation route.
Pros
Shot detection
Long battery life
Backtrack and GPS
Durable construction
Smartphone compatible
Cons
Slow to acquire GPS signal.
Check Price on Amazon

Top-Rated Watches For Hunters
Our Pick
Our pick for the best watches for hunters is the SUUNTO Traverse Alpha.
This Suunto hunting watch features a reliable GPS function and various tools for hunters and anglers.
Users will appreciate the convenient design, size, and access to beneficial information such as navigation, maps, and weather trends.
Plus, you can track your phone without having to pull it out of your pocket all the time.
With so many options, choosing the best watches for hunters can be challenging. Some models have GPS technology and are compatible with smartphones, while others are durable and simple.
Based on the potential uses, make sure you select a unit that does what you need yet is comfortable. A watch should be something to be proud of. Each of these fantastic options on our list offers a wide variety of features while also looking great.

Key References
"HowStuffWorks "How GPS Watches Work" | HowStuffWorks". Accessed February 03, 2021. Link.