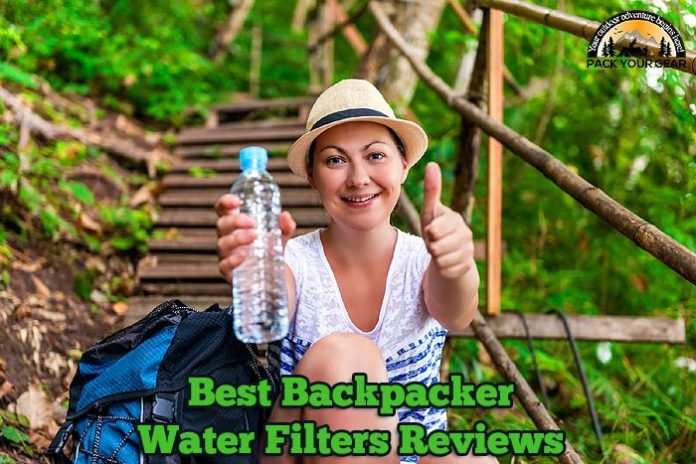 Whether you are a nature enthusiast, backpacker, hiker, cross trainer, or runner, you know water is a difficult challenge on the trail. You just have two choices when it comes to water: you can either find a water source wherever you find yourself or carry it with you. However, filtration is a convenient and lightweight choice for any outdoor adventure.
Sale
Best Backpacker Water Filter
Our Pick
Our top pick for the best backpacker water filter is Survival Filter PRO Water Filter. It is an affordable yet very capable backpacker water filter. Its compact size and lightweight design make it great for use in the backcountry. The ultrafilters and carbon filtration will ensure your water is free from parasites, bacteria, virus, and reduce most heavy metals, chemicals, and taste.
We ♥ honesty! Pack Your Gear earns a commission through the following hand-picked links at no extra cost to you.
This guide will walk you through some essential factors to look for when shopping for the best backpacker water filter and leave you with some recommendations for your next adventure.
Why Do I Need a Water Filter While Backpacking?
Viruses and parasites live in the rivers and lakes that you depend on to stay hydrated. The most common is Giardia and can cause vomiting, diarrhea, nausea, and abdominal cramping. Some people believe you don't really have to filter where fresh snow-melt feeds streams, but consider if humans, wildlife, or livestock can get to an area, so can those contaminants have transferred through fecal matter. Contamination levels rise as more people explore wild places. The best backpacker water filter offers you an excellent option for treating your water while you are on your adventure.

What to Look for?
A) Filtration vs. Purification
It is important to know the difference between filtration and purification. The difference between a water purifier and a water filter is the size of the microorganism each can fight. Filtration removes bacteria, while purification eliminates viruses. A primary concern within Canada and the USA is bacteria in water sources. At the same time, waterborne viruses' protection is essential for international travel. Also, filtration removes silt and debris, making the water more pleasant to drink, while purification doesn't.

B) Type of Backpacker Water Filter
Some filters only require simple setup and let you relax while the water is filtered. Other filter models need active participation – so you have to filter the water physically, typically by either pumping or squeezing. Also, it is crucial to consider that some backpacker water filters are ceramic and can't be exposed to freezing temperatures.

C) Speed of the Backpacker Water Filter
Some filters are fast, while others take some time. Also, it is vital to consider the number of people you will be filtering the water for, as more people will require more time. Using chemicals such as iodine or chlorine to purify your water can take around 4 hours, while filters can do the job within minutes. If you are on a backpacking trip, time is critical. Remember, you are exploring the outdoors, and you won't want a time-consuming treatment method.

D) Weight of the Backpacker Water Filter
Weight is a vital factor you need to consider for your gears, and filters are not excluded, especially when you are on a long-distance trip. Although there are always exceptions, there is a tradeoff between the speed and weight of filtering. Generally, the lighter and smaller the filter, the longer the filtration process.

E) How Clear is Your Water Source?
Various elements can murk up water in different ways, such as leaf debris, glacial sediment, or/and mud stirred up by a rainstorm. If you want to use chemicals, you will have to bring something to act as a filter to help remove debris and dirt before filtering. Depending on the water congestion level, a simple bandana can sometimes work as a pre-filter.

Top 7 Best Backpacker Water Filter
Here are the top 7 best backpacker water filters on the market today:
Purewell Water Filter is crafted using materials that are free of BPA as well as other harmful chemicals.
It comes with a replaceable filter and can clean up to 3, 000 gallons of water.
This backpacker water filter can effectively remove 99.9% of waterborne bacteria and protozoan, as well as heavy metals and chlorine.
Its microfiltration system contains a hollow fiber UF membrane, PP cotton, activated carbon rod, and antibacterial beads.
Also, it features a built-in straw and a spill-proof lid for your convenience.
This portable system has a fast flow rate of 1400ml per minute so you can get purified water whenever you need it.
With its versatile and lightweight design, Purewell Water Filter is the perfect water filter for your backpacking and hiking adventures.
Pros
Lightweight and versatile
Environmentally friendly
High filter capacity
Easy to replace the filter.
Cons
It can be difficult sipping water from the straw.
Check Price on Amazon

2. Katadyn Hiker Pro Water Filter
The Katadyn Hiker Pro Water Filter is small enough to comfortably fit in your backpack, and it is incredibly lightweight.
Thanks to its effective filtering system, this unit can filter up to 11 ounces of water every minute.
It comes with charcoal filters that remove most of the unpleasant smells and tastes, making the water good-tasting and drinkable.
The filter's pump works very fast, so you need not put a lot of water when pumping the water.
This water filter comes with an inlet and an outlet hose that measures 36-inches each, as well as a plastic clip that easily attaches the tube to the bottle.
The clip prevents the bottle from falling as you fill it.
Pros
Small and lightweight
Easy and fast to pump.
Comes with a carry bag and bottle adapter.
Cons
It doesn't work well with muddy water.
Check Price on Amazon

3. miniwell Gravity Water Filter
The miniwell Gravity Water Filter is the perfect water filter system for a group of people when they are on the go.
This gravity-based water filtration system is easy to setup.
It comes with stress strap for effortless hanging from a tree – the right solution when you can't find an appropriate height branch.
This unit uses 0.1-micron ultrafiltration membranes as a filter media, and the ultra-low-pressure layers ensure a fast flow rate.
It can filter up to 2, 000 liters of water using no chemicals.
The slide-lock design with wide-mouth opening ensures quick and easy filling.
The miniwell Gravity Water Filter comes with a comfortable and convenient carry handle.
Pros
Versatile and ultra-light
Comes with a pocket-sized filter and a tree strap.
High flow rate
Easy to carry
Check Price on Amazon

4. Survivor Filter PRO Water Filter
The Survivor Filter PRO is a compact and small water filter that can remove most contaminants in your water.
Thanks to the dual hollow fiber membrane and carbon filtration, this water filter will remove up to 99.9% of the viruses, parasites, protozoa, and bacteria in the water.
Also, the filter will remove about 99.5% of heavy metals that contaminate water frequently.
We liked how fast the water pump filters the water.
The filter can purify up to 17 ounces of water per minute.
This unit comes with all the required accessories to make the filtering process straightforward and easy.
The Survivor Filter PRO is made of heavy-duty ABS material, and it is BPA free.
Pros
Good flow rate
Small and lightweight
Improves water taste and odor.
Cleanable ultrafilters
Cons
Dirty lines can easily contaminate the clean ones.
Check Price on Amazon

5. Sawyer Products Select Series Water Filter and Purifier
The Sawyer Products Select Series Water Filter and Purifier combine an innovative foam membrane and hollow fiber filter to remove almost all contaminants found in water.
No products found.
The foam membrane reduces pesticides and chemicals significantly and also helps eliminate odor and taste.
Besides filtering out pesticides, chemicals, protozoa, and bacteria, the foam membrane also reduces heavy metals such as mercury, arsenic, and copper.
Combined with the Micro Squeeze filter, this filtration process will ensure that microplastics, pathogens, and particulate above 0.1 microns are filtered out of the water.
The hollow fiber membranes are fully sealed and encased to keep them protected.
The Sawyer Products Select Series Water Filter and Purifier are ideal for backpacking, camping, and hiking.
Pros
Super lightweight
Easy to clean
Highly affordable
No products found.

6. Platypus GravityWorks Water Filter
The Platypus GravityWorks Water Filter is a simple to use filter system for quickly filtering large water quantities.
This versatile gravity filter system is compatible with a wide range of hydration vessels, including water bottles and hydration bladders from Camelback, Hydroflask, Klean Kanteen, Nalgene, MSR, and more.
The replaceable micro-filter cartridge filters about 1, 500 gallons of water.
Also, it meets NSF and EPA guidelines for removal of bacteria and protozoa.
The water filtration system is straightforward to use virtually anywhere.
Water flows through the bundled fibers walls at a rate of 1.5 liters per minute, leaving impurities behind.
It is also easy to maintain, backflushing in just 4 seconds to clean as well as restore performance.
The Platypus GravityWorks Water Filter comes with a 2-liter bottle, 2-liter dirty water reservoir, hoses, hollow-fiber filter, universal bottle adapter, and a storage bag.
Pros
Clean and dirty reservoirs are permanently and clearly marked.
Quick filtering ability
Easy to backflush while in the field.
No pumping required
Cons
On the expensive side for some.
Check Price on Amazon

7. Barley Dean's Hiking Water Filter
The Barley Dean's Hiking Water Filter is made from military-grade BPA-free material, which makes it very durable.
No products found.
The filters can pull water from hard to reach sources, making them useful in the backcountry.
The filtration system can remove up to 99.99% of bacteria, odors, sediments, suspensions, insects, rust, sand, protozoa, metals, and chemicals.
The bottle of this unit is built to withstand squeeze filtering and hauling water from a source to another.
The Barley Dean's Hiking Water Filter can be used to drink water directly from a freshwater source, pumped into a portable hydration pack, or pumped into an attached cup.
Pros
Durable construction
Fast flow rate
Ultra-lightweight
Perfect for large group gatherings.
Cons
The filter gets clogged easily.
No products found.

Sale
Top-Rated Backpacker Water Filter
Our Pick
Our top recommendation for the best backpacker water filter is Survival Filter PRO Water Filter. It is an affordable, compact size and lightweight design make it excellent for use in the hiking or camping.
Now you know some of the best options for a backpacker water filter as you set out on your next adventure. All the water filter systems reviewed in this guide are very effective at purifying your water.
We recommend choosing a model with a carbon filter because it gives you the assurance that water is safe and good-tasting.

Key References
"Giardia infection (giardiasis) – Symptoms and causes – Mayo Clinic". Accessed April 05, 2020. Link.
"Water Filtration vs Purification: Whats the Difference?". Accessed April 05, 2020. Link.
"Choosing Home Water Filters & Other Water Treatment Systems | Drinking Water | Healthy Water | CDC". Accessed April 05, 2020. Link.