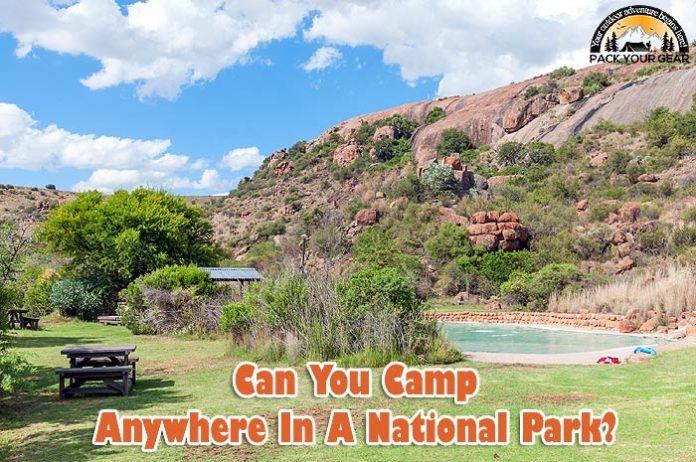 Natural parks will be some of the most attractive places for campers. You get beautiful nature to enjoy and a sense of freedom like no other.
But should you camp anywhere in a national park, or are there norms that you have to follow? This is a common question of most people who want to explore such sites and set up their tent right in the heart of a national park.
Can you camp anywhere in a national park?
The truth is that rules are different from one national park to another. So, your best bet is to get in touch with the authority of the park and see what their regulations are. If the national park has a website, you might find all the information you need there as well.
The thumb rule is that almost every national park has an area designated for camping, and some offer even more such sites.
You might find areas that have all the camping facilities, including access to water and electricity. Still, you will also find national parks that offer dispersed camping sites. If you choose a dispersed camping site, you should know that it comes with no facilities.
You are responsible for your comfort, and the only advantage is that you are allowed to set your tent in that specific location. Other than that, you will have to bring all you need with you and pick everything up as you leave.
If you want to enjoy some solitude, choosing a dispersed camping area might be your best option as you will be away from other campers. These locations also tend to come at lower prices since they don't offer the facilities a developed camping area would suggest.
If you choose to go camping in a developed area within a national park, you will need to get in touch with the authority of that park and make a reservation. Without a booking, you will only be allowed to camp at the available dispersed areas.
Even if you choose to go for a dispersed camping area, it is only wise to check the area first by taking a look at the map on the park's website. This will help you know what you should bring with you, so you don't interrupt your camping trip to get to a store, for instance.

An important thing to keep in mind is that some national parks require a camping permit as well. You might find out that you need a permit, especially if you are going to camp with a large group.
However, you should still check this aspect before packing up for your next camping trip to a national park.

Key References
"NPS.gov Homepage (U.S. National Park Service)". Accessed April 06, 2020. Link.