BEST Trail Runners for Backpacking: During the warmer months of the year, backpacking is a great way to spend your time! You can backpack for a short amount of time by doing a hike in your hometown, or you could plan an expedition with other hikers and backpack for days or weeks at a time.
Best Trail Runners For Backpacking
Our Pick
Our pick for the best trail runner for backpacking is the La Sportiva Men's Ultra Raptor Trail Running Shoe. It is weather-resistant (Gore-Tex sole), offers ankle support, and stabilizes your heel for trail running.
We ♥ honesty! Pack Your Gear earns a commission through the following hand-picked links at no extra cost to you.
No matter which kind of backpacker you are, you'll need the perfect pair of shoes to wear!
What are trail runners?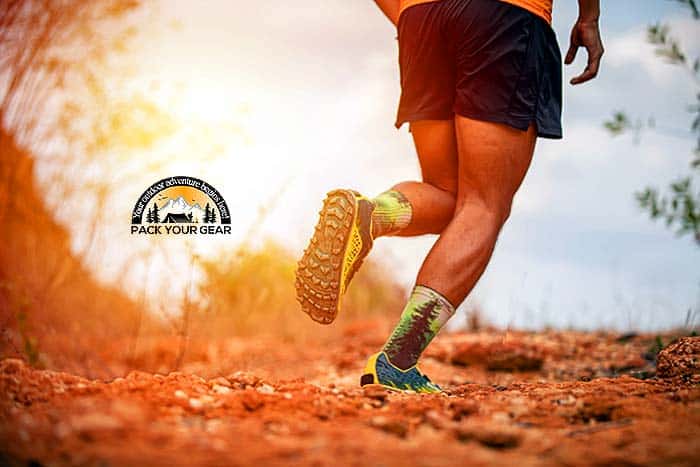 A trail runner is a type of shoe for backpackers and hikers alike.
There's an age-old debate about whether to choose hiking boots or trail runners, but each type of shoe provides its benefits. In this guide, we are going to dive into trail runners!
Trail runners are known for being the lighter alternative to hiking boots but are still just as great of a shoe for hiking.
Why should you consider trail runners for backpacking?
For backpacking, you should consider trail runners because they tend to provide more comfort and traction than regular hiking boots. They are also known for having a wider variety of design options, for those of you who care about your fashion sense while backpacking!
What to look for?
When purchasing a pair of trail runners, there are loads of features to look for. Below are the most important ones to consider when trying to find the best pair just for you.
Durability
When it comes to backpacking, you're going to want a pair of shoes that last. Look for a pair of trail runners that are durable, and you won't have to worry about them falling apart just because you had to backpack through nasty terrain for a day.

Protection
You don't want your toe to be stubbed by every possible rock in your way, do you? No, of course not! A great pair of trail runners will have at least some sort of protection for your foot.

Flexibility
The downside to hiking boots is that they tend to not be flexible. They're sturdy, which can be useful, but you want a pair of shoes that will be able to quickly move around. Try to find a pair of trail runners that have flexible insoles, which will also add to your comfort and overall hiking experience.

Waterproof
Though this can be more a personal preference, it's best to try to purchase a pair of shoes that are waterproof or weatherproof. This way, you can hike no matter the weather, and you won't have to worry about your feet getting soaked. A versatile trail runner is an excellent trail runner!

Comfort
When backpacking, you don't want to feel every rock you're stepping on. You want a shoe that is going to provide comfort with the right level of padding. Many trail runners will come with an exceptional level of comfort, especially with their insoles, so try to find one of those pairs.

Traction
Trail runners are known for their traction. They have a lugged sole on the bottom, meaning that they usually have a pattern of some sort that will stop your foot from slipping and sliding while you're backpacking. Be on the lookout for a shoe with proven traction!
These are all features to heavily consider when purchasing a pair of trail runners for your next outdoor excursion.

Best Trail Runners for Backpacking
Here are the top 10 best trail runners for backpacking on the market place:










Your backpacking and hiking experience would not be complete without the ultimate pair of trail runners. A pair of these shoes will allow your feet to be more flexible and lightweight compared to your average hiking shoe.
Next time you're preparing for an outdoor adventure, purchase a pair of trail runners.

Key References
"Merrell | What's Inside A Hiking Shoe? Blog". Accessed July 27, 2020. Link.
"Our Product Ranges | GORE-TEX Brand". Accessed July 27, 2020. Link.