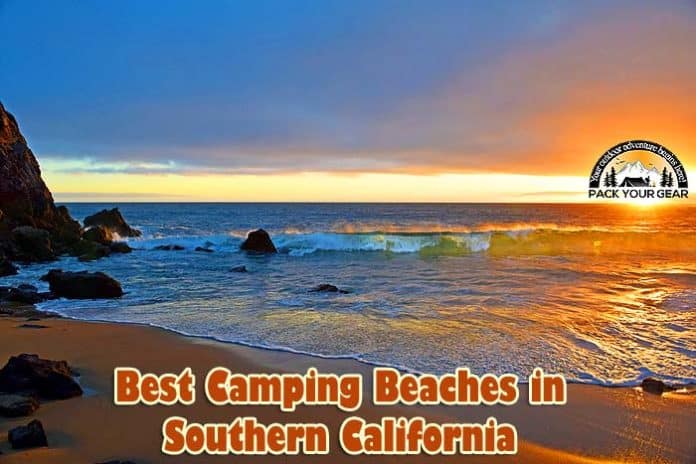 Let's face it, Camping in the woods just is not as fun as camping on a beach.
Just imagine it: you wake up to the sound of waves, and you step out of your tent to see the marvelous view of the sun rising over the beach. You make yourself a cup of coffee and walk down to the water to dip your toes in while you fully wake up.
Suggested Reading:
After, you rent a surfboard to go surfing and go on a hike with some great coastal views. You even go swimming for a bit in an excellent tide pool along the water.
You just can't do that in the woods with conventional camping!
Luckily for you, Southern California is home to an abundance of fantastic camping beaches. Let this be your guide next time you're looking to camp on the beach in Southern California!
Best Camping Beaches in Southern California
Here are the top 10 best beach camping in Southern California!
1. Leo Carillo State Park, Malibu, CA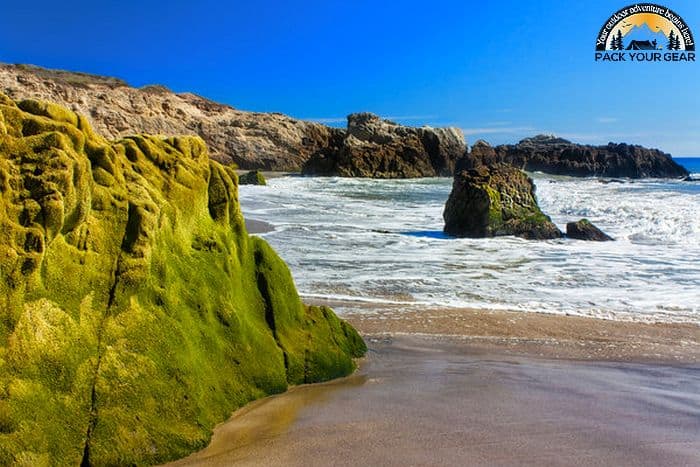 Though Leo Carillo State Park may be one of the busier parks on this list, it shouldn't be overlooked! It's commonly known for its pure beauty and the greenish-hue of its water.
This beautiful beach has over 1.5 miles of water that can be used for several activities, including swimming, fishing, surfing, and scuba diving!
There are also multiple tide pools, reefs, and pools that feel a bit more secluded than the beach itself.
Not a huge fan of water activities but still want to camp on the beach?No worries, consider using one of the many hiking trails or do some geocaching!
In addition to there being restrooms right on-site, there's also a camp store for any of your needs. This location is not short of amenities for its campers.
There's even an abundance of picnic area sand programs meant just for families with children.

2. Doheny State Beach, Dana Point, CA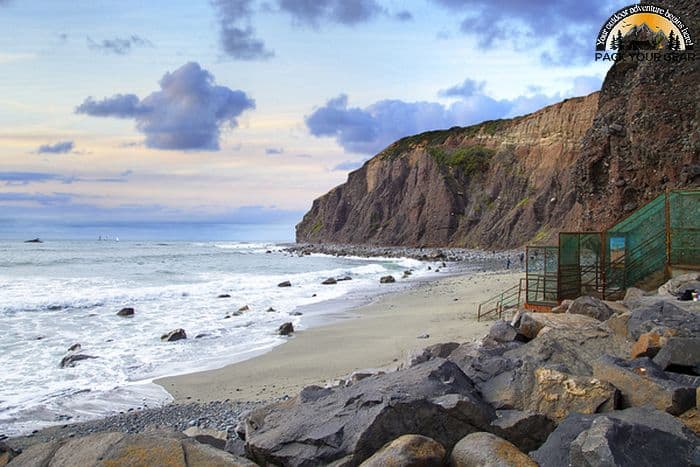 Doheny State Beach is one of Southern California's most popular beaches, but don't let that deter you from camping there. It's known as one of the best surf spots in SoCal!
There's an abundance of awesome things to do at Doheny State Beach. You can go swimming, geocaching, hiking, biking, and surfing, of course.
There are family programs and a visitor learning center as well if you'd like to learn more about the area. The visitor center even has an aquarium!
If you need a fire ring for your night camping, try to get to the beach early. These are first-come, first-serve! You don't want to show up and find that there aren't any left.
This awesome beach even has a spot for volleyball and other outdoor sports. There's also a snack bar and an abundance of tables for all your outside eating needs.

3. Moro Campground at Crystal Cove State Park, Laguna Beach, CA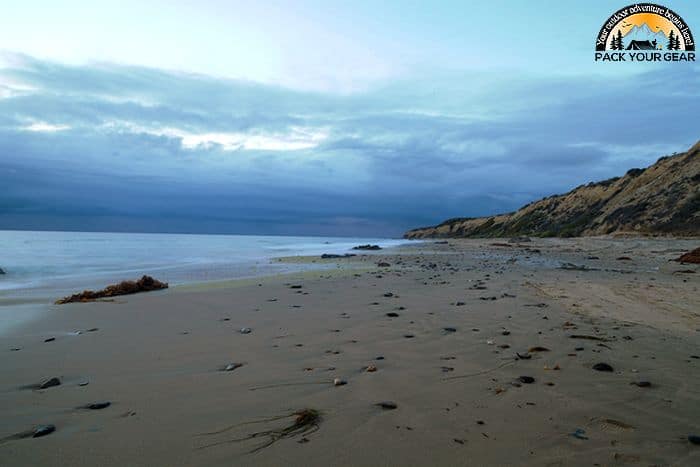 At Moro Campground, there are over 3 miles of just beach! If you genuinely want to experience camping right on the water, then this should be the beach you choose to go camping at.
There are both tent and RV spots available, so no matter what kind of camper you are, you'll be able to camp here!
Of course, since Moro Campground is right on the water, you can go swimming, snorkeling, and surfing. You can also go hiking since there's a lot of hiking trails right in the area.
This is one of the best beach camping in California. Some people say that the best sunrises and sunsets are right over this beach!
First-time campers who aren't the best at packing will also find that the location of Moro Campground is convenient. Within a 10-minute drive is a multitude of shops, including Trader Joes, Starbucks, and a bunch of other restaurants and stores for picking up last-minute supplies.
Even though there's a lot in the area, Moro Campground feels super secluded and quiet. The campground can get busy around holidays, so keep that in mind when planning your stay!

4. Emma Wood State Beach, Ventura, CA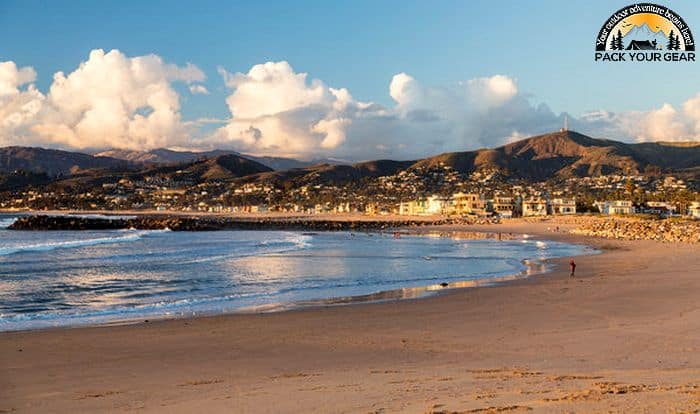 Though it's more of a primitive camping spot, Emma Wood State Beach is perfect for any WWII history buff! There are ruins of WWII coastal artillery that you'll for sure see during low tide if you camp out at this beach.
At this campsite, there are picnic areas, bike trails, beach areas, and hiking trails. Keep in mind that this beach in particular only allows RVs, not tents, because it's a primitive campsite.
At the beach, you can go swimming, fishing, and even surfing.
This beach, in particular, offers excellent photo opportunities for photographers or wildlife fanatics. You can often find songbirds and other wildlife near the marsh on the beach.
Occasionally, you can even spot whales and dolphins in the water.
Reservations at this campsite can only be made during the summer. Otherwise, it's on a first-come, first-serve basis, so you'll want to get there earlier in the day if you can.

5. Refugio State Beach, Goleta, CA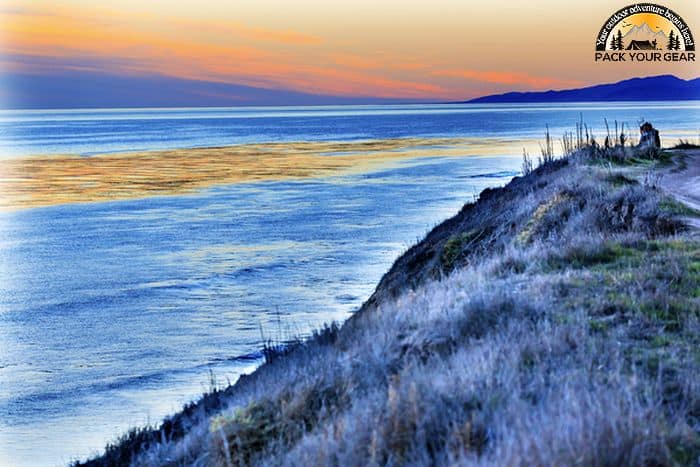 Refugio State Beach stands out among other beaches in Southern California because it looks unique. There is a multitude of palm trees planted around the beach, and the beach itself is protected.
There are always lifeguards patrolling the beach and its areas. If you visit during the summer months, you may even be able to go on one of the awesome kayak tours that the lifeguards of the beach offers!
A kayak will give you a very different view of the beach itself. You might even learn a lot more about the area! These tours are offered for kayakers of all levels, so don't worry if you're not the best kayaker.
In addition to kayak tours, this beach has hiking and biking trails, lots of areas for geocaching, and of course, family programs. Refugio State Beach is an excellent place for swimming, surfing, and windsurfing.

6. Silver Strand State Beach, Coronado, CA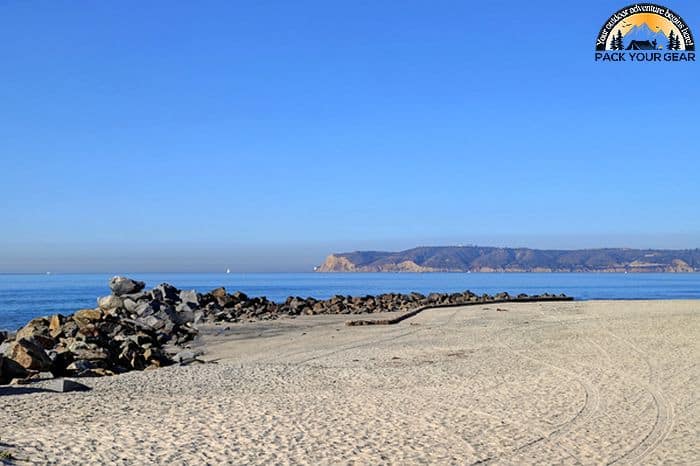 If you're looking for what's considered one of the best views of the Pacific Ocean, then you'll want to spend a night or two camping at Silver Strand Beach.
There is an abundance of fun outdoor activities for all age levels at Silver Strand State Beach, so you'll be able to keep yourself busy! You can play volleyball, go water-skiing, enjoy surfing, go paddle-boarding, and more.
There is an area that you can rent kayaks or purchase surfing lessons if you've never surfed before. Also, this beautiful beach has a café, so if you forget to pack some food, you'll be able to purchase some there.
If you're wondering why Coronado sounds familiar, it's because Marilyn Monroe filmed "Some Like it Hot" in the area. You could easily visit some of the areas her film was set at during your stay at the Silver Strand State Beach.
Suggested Reading:

7. San Mateo Campground at San Onofre State Beach, San Clemente, CA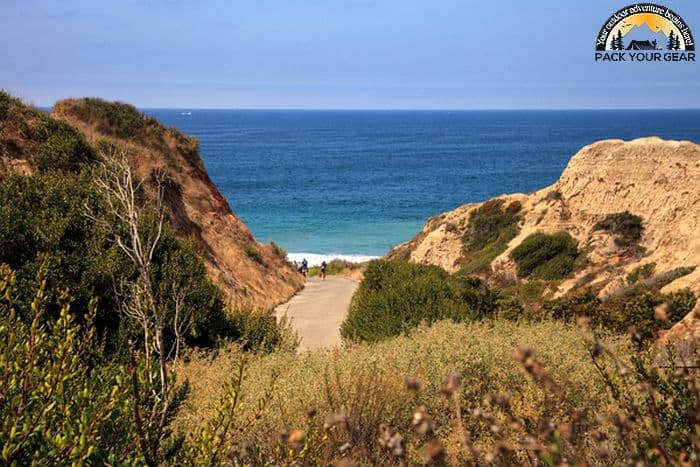 San Mateo Campground is commonly referred to as one of the best camping beaches in Southern California for a good reason! This beautiful campground has over 150 campsitesand is only 3.5 miles from San Onofre State Beach, or a 1.5-mile hike from surfer's paradise, Trestles Beach.
This has been a famous beach for surfers for the past 80 years!
Every camper gets a decent amount of space to themselves, so you won't feel like you're on top of your neighbor. This is especially good if you want to camp, have your privacy, and feel like you're at least escaping everyday life for a little bit!
Not only can you surf and swim near this awesome campsite, but you can also even run into some rare species which live in the nearby habitats. Other activities include biking, snorkeling, hiking, and bird watching if that's your thing.
Your campsite will come with a table and a fire pit, which makes for a great night with family or loved ones.
As an added benefit, San Mateo Campground also has public restrooms and showers that campers are free to use!

8. Gaviota State Park, Goleta, CA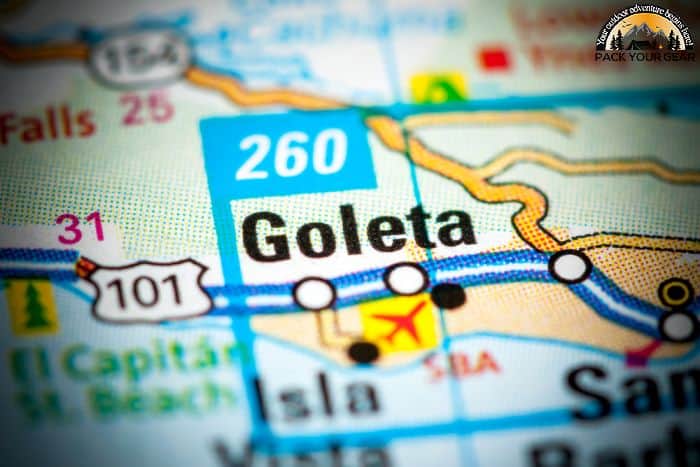 Gaviota State Park is truly one of the most beautiful camping beaches in Southern California, and it's one of the most unique!
This state park, in particular, is considered to have one of the "geological gems"since geologists have done a lot of work on the beach and found a piece of the Monterey Formation.
Geologists were able to find lots of fossils in the area as well! You can't say that about every camping beach in Southern California.
Since Gaviota State Park is right on the water, you can go boating, swimming, surfing, and fishing. There's also a lovely observation point that you'll want to check out!
Gaviota State Park has picnic areas, hiking trails, and horseback riding trails! Hiking trails include Gaviota Peak, the hike to the Gaviota Hot Springs, and more.
Compared to other campgrounds on this list, Gaviota State Park has a lot fewer campsite spots. At only 39 sites, you'll feel secluded an away from civilization while camping here, which is great for a weekend getaway.
If you end up wanting to take a day trip to a busier place, take a trip to Santa Barbara. It's just south of Gaviota State Park!

9. San Clemente State Beach, San Clemente, CA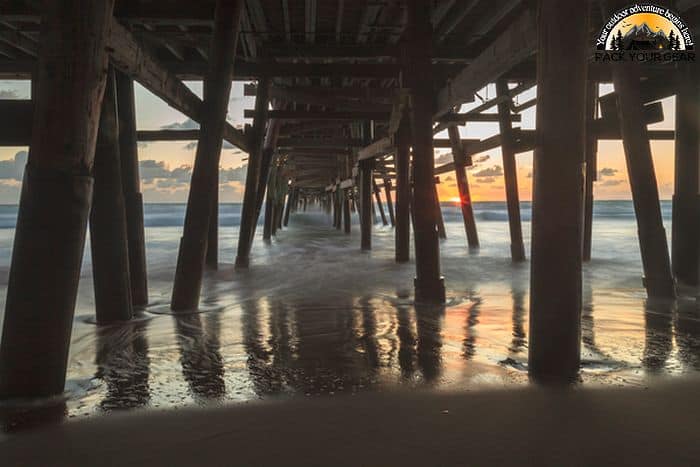 How could you not want to camp at a beach in a city that has the slogan "Spanish Village by the Sea"? San Clemente State Beach is commonly visited by those who love doing outdoor water activities.
This beach has spots for fishing, scuba diving, snorkeling, windsurfing, swimming, and hiking! There are also family programs and historical sites along the beach. There's even occasional whale-watching!
Despite all that, San Clemente State Beach is most well-known for its surfing culture.
At only $40 a night for a tent, San Clemente State Beach is one of the more budget-friendly camping beaches on this list. RVs cost slightly more, so keep that in mind when reserving your stay.
San Clemente State Beach is also only a short drive to town, so if you forget anything or want to go out to eat, you easily can! There's a multitude of restaurants in the area that are great for a night out.

10. Morro Bay State Park Campground, Morro Bay, CA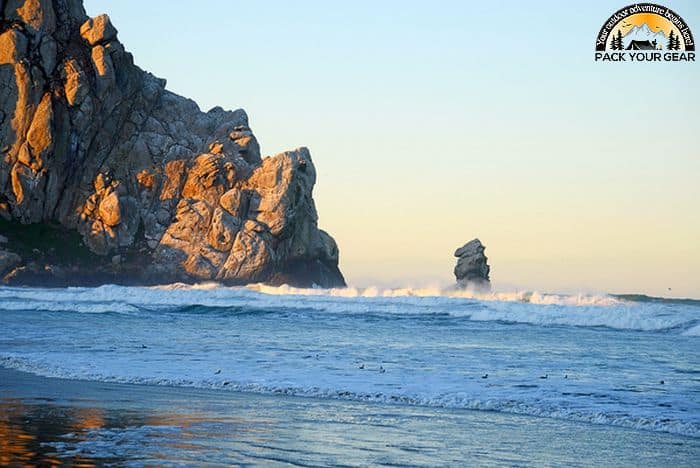 Morro Bay State Park Campground offers a very different perspective on beach camping than every other beach on this list! This campground, in particular, offers unique activities, including an 18-hole golf course that you're free to use.
There's also a museum that covers a lot of the area's history and oceanography. The beach even has a large bird population, so this is a great place to go if you're a bird watcher.
In addition to all those awesome activities, there are also geocaching areas, viewpoints, exhibits, and of course, a beach for surfing, swimming, fishing, and more water activities. This state park also offers boat rentals, so you don't have to bring your own to go out on the water.
The highlight of Morro Bay State Park Campground is Morro Rock. It's a giant rock right in the middle of the bay that you can't miss! It provides for a very unique landscape and looks perfect in pictures.
Suggested Reading:

Hopefully, this list has convinced you to go beach camping in Southern California! No matter what kind of camper you are, it's always a fun change of pace and scenery to camp at the beach.
Keep in mind that this is in no way a definitive list of the best camping beaches in Southern California, but it is some of the most interesting ones!