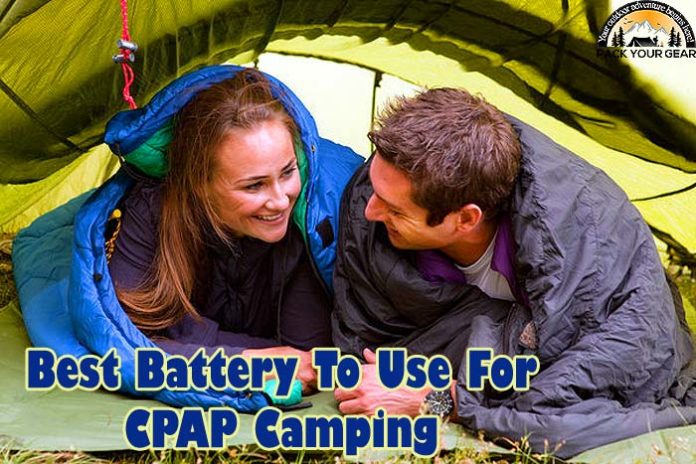 Best Battery To Use For CPAP Camping: If you are one of the sleep apnea sufferers, then planning for your next camping adventure begins with a CPAP battery. With the best battery to use for CPAP during camping, you can do your therapy on the go or in nature.
Sale
Best Battery To Use For CPAP Camping
Our Pick
Our top pick for the best battery to use for CPAP in camping is ROCKPALS 300W Portable Power Station. It offers an excellent balance of charging power and portable size. Its high-power capacity can conveniently power your CPAP machine as well as other electrical appliances.
We ♥ honesty! Pack Your Gear earns a commission through the following hand-picked links at no extra cost to you.
However, the primary reason for the availability of a CPAP battery is that you now have the option of taking your CPAP therapy with you whenever you need it.
Whether you are ready to hit the track or want to have a CPAP backup battery on hand, now is the time to make sure your therapy doesn't miss a beat.
Best CPAP Battery Source For Camping – Comparison Table
Battery Capacity (watt-hour)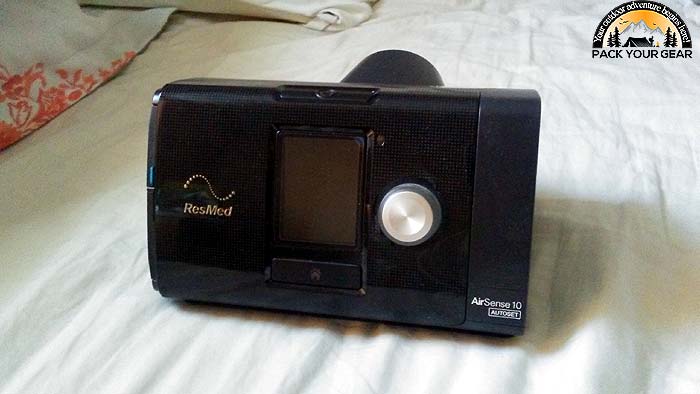 CPAP stands for continuous positive airway pressure. The devices help people with sleep apnea to breathe more comfortably and more regularly every night in their sleep.
A CPAP device helps to increase the air pressure in the throat to prevent the airways from collapsing while you are inhaling. It also reduces snoring.
The device has a small water tank and a filter that basically functions as a humidifier.
There's a tube that connects the device to a mask that is placed on the face while sleeping, as well as a chin strap that holds it in place.
There is a better version of CPAP machine called APAP machine (Automatic Positive Airway Pressure) and it works the same way as CPAP but efficiently.
So, how to power cpap machine while camping? Read on.

Importance of Using CPAP Every Day
Well, the CPAP machine is the most efficient and effective non-surgical treatment for sleep apnea, and it is also the most popular. Over time, it lowers blood pressure, reduces daytime sleepiness, and reduces heart problems in people with heart disease.
If you have Sleep apnea and camping without CPAP is not advisable. To be fresh and active for all your outdoor activities during camping, you will need a better night sleep. That would be possible only when you carry your CPAP machine with battery option.

How Do I Use My CPAP without Electricity?
When you are in outdoors, you can't use your CPAP machine unless it has a built-in battery. If not, then you will need a reliable battery source that you can carry with you during camping. The battery power pack for CPAP machine ensures that you get a good night sleep and stay active for the next day adventures!
Especially when you are in outdoors, go for CPAP battery source that has runs longer like 2 to 3 nights in a row without having to recharge it.
Suggested Reading:

How many watts does a CPAP machine use?
In general, the CPAP machine requires a peak power rating of around 200 watts for the proper functioning of the device. However, depending upon the patient's air pressure, use of a humidifier, Bi-level, or APAP settings, the CPAP device may require additional power. For a typical running of CPAP machine, it needs about 40 watts or less.
Suggested Reading:

How many watts does a ResMed CPAP use?
There are several models of CPAP/APAP/BiPAP machines from ResMed. The general AirSense 10 model requires about 104 watts at peak power consumption. For continuous running throughout the usage, ResMed AirSense 10 requires about 53 watts.
See the ResMed manual for AirSense 10 (Page-16) for power consumption details: PDF

How to use a CPAP while camping?

There are two options:
If your CPAP machine has a provision for external battery kit, then consider buying one.
You can invest on the best CPAP power supply for camping as recommended on this guide. Just carry the CPAP in your backpacks and plug it into the power station and have a good night sleep while camping.
Note that having a power station, it not only helps with the CPAP device but also other small appliances such as cell phone, mini fridge and many more while camping.

How Long Will A CPAP Run on A Car Battery?
If you're thinking of using your car battery to power up your CPAP during camping, then consider these points:
As you know, CPAP machine has air pressure setting which is usually set by your sleep doctor depending on how severe your condition is. If the air pressure is set at the higher ranges like 120+, then your CPAP machines will use more power.
With the car battery option, it is estimated that the CPAP machine may run up to 8 hours.
If you are car camping with low-battery juice, ensure that you don't drain the car battery all night with CPAP usage because you will need your car to be functional for moving around places. That's where carrying a dedicated power source for CPAP is a good idea!
Suggested Readings:

If you're tight on budget but still want to use your CPAP machines when backpacking, then renting the CPAP battery kit is another option.
There are companies in your state/region where you can rent CPAP batteries for days/weeks/months depending upon how long you plan to stay outdoors.
The rental price varies from $10 per night to $200 for the whole month. Also, remember that you will need to pay the insurance fee when renting CPAP batteries for any damages on parts.
This is where owning your own CPAP battery source pays off in the long run. When you go for the best one on the market, it is a just 1-time investment that you can use many years to come without spending a dime!
Suggested Reading:

What are the Problems for CPAP Users When Camping?
One problem for CPAP users when camping is how to charge the CPAP machine in outdoors. If you're a regular CPAP user, then having the best CPAP machine power supply is must. The CPAP machine without a built-in CPAP power pack can only be charged in a wall outlet. If you do not have access to the electrical outlet during your multi-day vacation, consider using a marine battery to power your CPAP device. You can also talk to your equipment supplier about charging options and where to get it.

CPAP pressure and humidification can affect your battery performance. For example, some CPAP machines offer a power of up to 13 hours. However, with humidification on, it is almost 4 hours. So, it is essential to know:
The amount of power the CPAP battery offers?
If you can use two batteries at the same time to increase your power.
If you can probably do without using humidification outdoor (depending on the weather condition).
Also, there are CPAP machines with built-in battery options. For example, if you can use RESMed CPAP machines, they sell separate RESMed CPAP battery for camping. Although it is convenient, you will need to recharge it often. With the external battery source option, you will get a longer usage for several nights and you can use other appliances too like mini-fridge, laptop or music systems during camping.

Your filter has probably picked up much more dust particles and allergens outdoors than in your room. Be sure to go with an extra filter before you go camping and replace it on the day you return home.

How to Overcome the CPAP Power Source During the Outdoors?
If you want to overcome your CPAP power source problem during the outdoors, you have several options.
A) Deep Cycle Marine or Car Battery
You can use a marine or car battery to power specific CPAP devices. Car batteries are deep-cycle lead-acid batteries that have much more capacity than lithium-ion batteries. Car batteries can supply power for days.

An inverter converts the direct current supplied by the battery into alternating current that your machine can use. Some CPAP machine models require a particular type of inverter known as a pure sine wave. If you do not use this inverter, it can damage your machine.

Battery for CPAP machine is lighter and cheaper than ever before, and this is one of the main reasons they are becoming increasingly popular. The best battery to use for CPAP outdoors serves as a backup to ensure an uninterrupted night's sleep. The battery life varies between 10 and 40 hours, depending on the individual pressure setting.

What to Look for in the Best Battery for CPAPs?
Here are the factors to consider when purchasing the CPAP battery source for camping:
Average run time
Charge time
CPAP Compatibility
Portability
Warranty

Resmed Airsense 10 Battery for Camping
If you're specifically looking for a battery power bank for Airsense 10, Resmed S9, Aircurve 10, or System One Z1 machines, we recommend MAXOAK CPAP battery backup.
Though this CPAP battery backup has long-lasting power, we recommend you turn off the humidifier and heater options in your APAP/CPAP/BiPAP as they could consume more power juice. But, of course, if you're camping in fall/winter time, then turning off would not be an option. In that case, carry the secondary backup source so you can use it on alternate days while outdoors.
This CPAP battery pack has additional functions to charge LED bulbs, fans, smartphones, tablets, or laptops.
This lightweight CPAP battery backup is only 4.1 lbs, and it is easy to fit into your backpacks when camping or traveling.
The built-in safety feature in this battery pack for CPAP machine is made from a "Samsung battery cell", which handles over/low voltages and high/low temperatures for extra protection for you and your devices.
Most importantly, this best battery for Resmed Airsense 10 comes with several cables for the popular CPAP machines such as DC to Airsense/Aircurve 10 cable, DC to Dreamstation cable, and a few other brands.
Check Price on Amazon

Best Battery to Use for CPAP Camping
Here are the 5 best battery for CPAP on the market today:
1. BALDR Portable Power Station
The BALDR Portable Power Station is a powerful battery to use for CPAP camping.
With a massive 297Wh, this battery offers enough power to run most CPAP machines on the market.
This CPAP camping power supply's lightweight design (7.6 lbs) makes it perfect for camping as it will easily fit in your travel bag.
Charging this power station is very convenient and hassle-free thanks to its multiple charging options.
Additionally, the output ports supported on this unit cover a wide variety of Watts and Volts requirement.
The built-in SOS LED light, and wireless charging makes the power station perfect for emergency situations.
This battery pack for CPAP camping has overheating, over-current, and short-circuit protection to ensure battery longevity.
Pros
297Wh battery capacity offers quick charging.
This cpap portable battery has multiple charging options.
Lightweight design
2 years warranty
Cons
The unit does not automatically stop charging when full, which may cause overcharging.
Check Price on Amazon

2. PROGENY 280W Portable Power Station
If weight and size are a concern for you, the PROGENY 280W Portable Power Station is a great choice.
The 280 watts means there is enough power to run all your devices throughout your camping.
Unlike other weak CPAP batteries, this unit can power your CPAP machine for up to 3 nights when using DC and fully charged.
Its lightweight (5.7 lbs) design makes it easy to transport from one place to another. This 280 watt power supply comes with a convenient carrying handle for easy travel.
Additionally, this portable battery pack for CPAP machine does not produce vibration or noise to help maintain a quiet outdoor environment.
This PROGENY 280w generator portable power station is easy to recharge, simply plug the charger into a wall outlet or use a 100 watts solar panel.
The ability of the PROGENY 280W Portable Power Station to generate both DC and AC makes this CPAP battery power supply suitable for powering a wide range of devices.
Pros
Long-lasting power supply
This best camping battery for CPAP is highly portable.
Great for multipurpose use.
Quick charging
Check Price on Amazon

3. DenGaWa Portable Power Station
With a power capacity of 250Wh, the DenGaWa Portable Power Station can easily power most CPAP machines.
This best CPAP battery for camping can also charge laptops, cellphones, mini-refrigerator, and other small devices.
This best power station for CPAP features a large LCD screen that displays the power stating, providing accurate readings so you can plan your power usage.
This CPAP backup power's pure sine wave power makes it safer for running sensitive devices.
Additionally, this CPAP power supply for camping ensures that overcharging, overvoltage, over-current, and overload protections help keep dangers away.
With its lightweight design (4.6 lbs) and portable size, you can easily take the DenGaWa Portable Power Station with you on your camping trips.
Pros
Lightweight and compact
Multiple safety protections
Large LCD display
Cons
Can't support devices over 250 watts.
Check Price on Amazon

4. ROCKPALS 300W Portable Power Station
The ROCKPALS 300W Portable Power Station is equipped with a 280Wh rechargeable lithium battery.
This best portable power station for CPAP has enough power to run both heavy-duty and small electronic devices.
As well as powering up your CPAP device, this portable battery for CPAP can also power a laptop, fans, an LCD television, a mini-refrigerator, and many more appliances.
The 10 different ports on this device give you the freedom to connect with many devices while camping.
Each port section has LED displays that show current selection, a dedicated button for turning the device on, as well as other indicators like power usage.
Weighing just 7.3 pounds, this battery has a compact size, making it one of the most portable options on the market.
The ROCKPALS 300W Portable Power Station supports solar charging and comes with MC4 cables.
This CPAP backup power satisfies the CPAP power requirements for all major brands.
Pros
Compact design
Huge 300 watts power capacity.
Compatible with the most CPAP devices.
Different ports for simultaneous powering of various devices.
Cons
Solar charging takes time.
Check Price on Amazon

5. PRYMAX Portable Power Station
The PRYMAX Portable Power Station is one of the lightest CPAP batteries on the market.
With a 300 watts power rating, this battery can power most CPAP machines on the market.
This CPAP camping power pack is powerful enough to charge your smartphones, laptops, TVs, mini-refrigerator, and other small appliances.
Its pure sine wave design will ensure that it powers your sensitive devices safely.
This portable CPAP battery station comes with several output ports from which many devices can draw power from at the same time.
Because of its limited power output, you can't power electrical devices like a rice cooker or blender.
Still, this RESMed power station can power your CPAP device for up to 34 hours.
The PRYMAX Portable Power Station is a very portable battery pack that weighs just 6.5 lbs.
Due to its several connectivity options, this CPAP portable battery for camping is compatible with most electrical appliances.
Pros
Aesthetic design
Lightweight and portable
600W surge power
Built-in cooling fans
Cons
Some users report overheating battery.
Check Price on Amazon

Sale
Best Battery For CPAP Camping
Our Pick
Our top pick for the best battery to use for CPAP camping is ROCKPALS 300W Portable Power Station. This CPAP battery pack for camping features high-power charging capacity, which can conveniently power your CPAP machine all night as well as other electrical appliances.
We hope you are now ready to take your CPAP battery with you for your next camping adventure. When you are hitting the trail, you can't go wrong with the best CPAP battery source that we have recommended above.