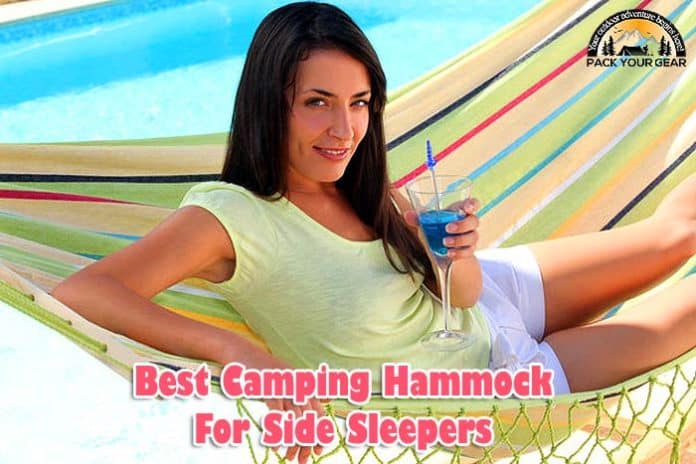 As a camping nerd, you know that sleeping outdoors isn't as comfortable as sleeping at home. This is particularly true if you like to sleep on your side. However, with the best camping hammock for side sleepers, you can be sure that you will sleep well on a campsite.
Sale
Best Camping Hammock For Side Sleepers
Our Pick
The Wise Owl Outfitters Double and Single Camping Hammock is our top choice for the best camping hammock for side sleepers. It features a lay-flat design that makes it ideal for side sleepers. The design helps to keep the edges down so side sleepers can sleep more comfortably.
We ♥ honesty! Pack Your Gear earns a commission through the following hand-picked links at no extra cost to you.
All you need to know is how to choose the right hammock for your needs, and we (Pack Your Gear team) can help with that.
Best Camping Hammocks For Side-Sleepers – Comparison Table
What are the Different Types of Hammocks?
Many hammocks made today still look like the traditional hammocks of the old days but offer modern amenities that make things more functional and comfortable. Different hammocks are one thing, but the fact that there are different types of hammocks makes it interesting. Here are some popular types of hammocks available.
A) Rope hammocks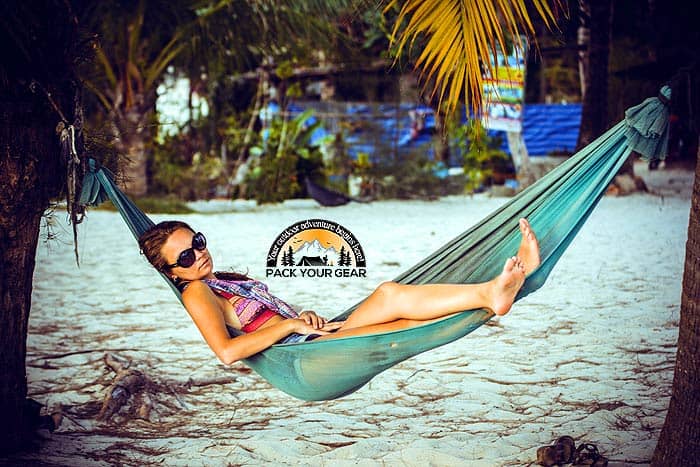 The first time you read the word "hammock" at the beginning of this page, an image probably popped up in your head. It was probably the rope net tied between two trees, waiting for someone to come in and take a nap. That would be the rope hammocks.
Rope hammocks are typically made from polyester or cotton ropes. To prevent the user from twisting too much, a spreader bar is attached at both ends to keep the shape flat instead of bunching.
Of the 2 materials, polyester is considered more durable, but cotton is more comfortable. Polyester won't grow mildew or mold, while cotton can absorb water and hold it until it causes problems.
Since the fabric's primary body is crafted from netting, a rope hammock is not a good family-size hammock.

B) Padded hammocks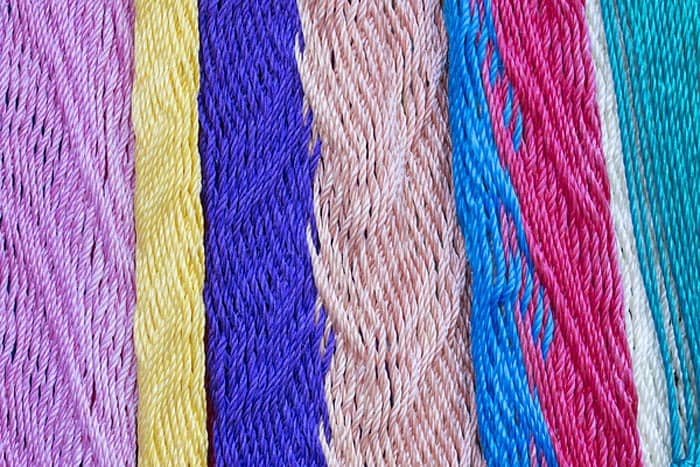 The padded hammock comprises two layers of fabric filled with soft padding. Since everything is made of fabric, these hammocks are not the best for the outdoors, but they are quite comfortable.
If you want to go all in one, a padded hammock maybe your best option for an indoor hammock bed. However, keep in mind that while the padded hammock is soft, it is not as flexible as a Mayan hammock or one of its variations.
For a longer hammocking, the padded hammock might not be the best option. You'd be better choosing one of the other styles or adding your layer of softness with the use of a thick blanket or sleeping bag.

C) Mayan hammocks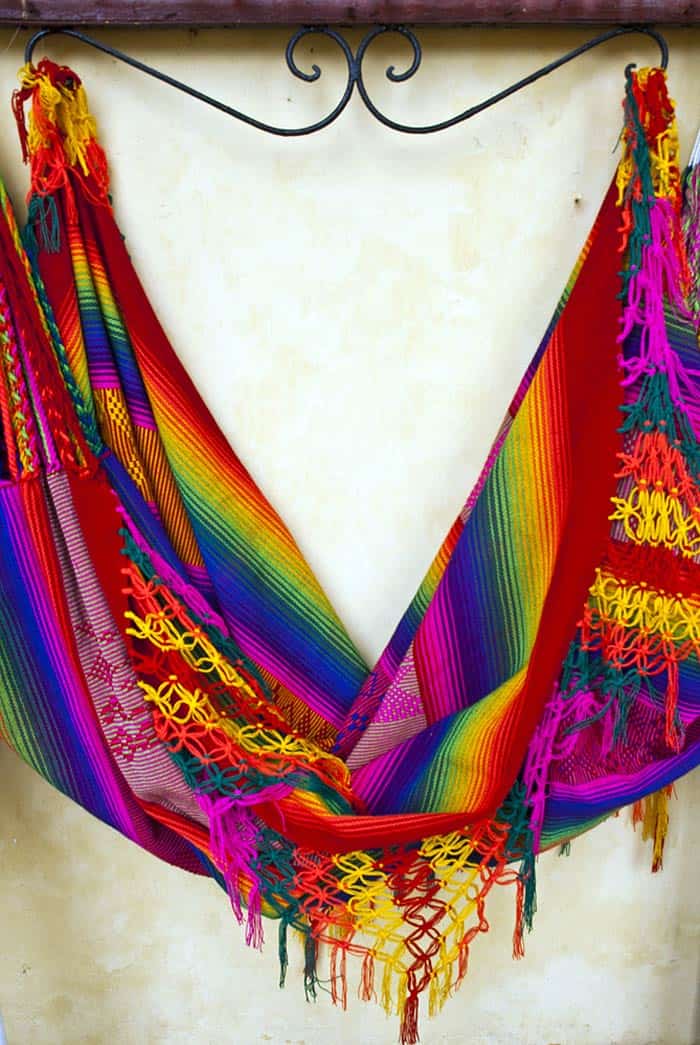 Traditional Mayan style hammocks are of great value. Their construction allows them to support large amounts of weight while adapting more quickly to the curves of those who sleep in them.
And since they do not have a spreader bar, they are effortless to transport. Some of these would make suitable hammocks for camping. Also, this is helped because Mayan hammocks can be used in any weather. However, they last longer when kept away from the elements.
They can be suitable for travel, but they also work well for indoor bedroom hammocks.

D) Nicaraguan and Brazilian Hammocks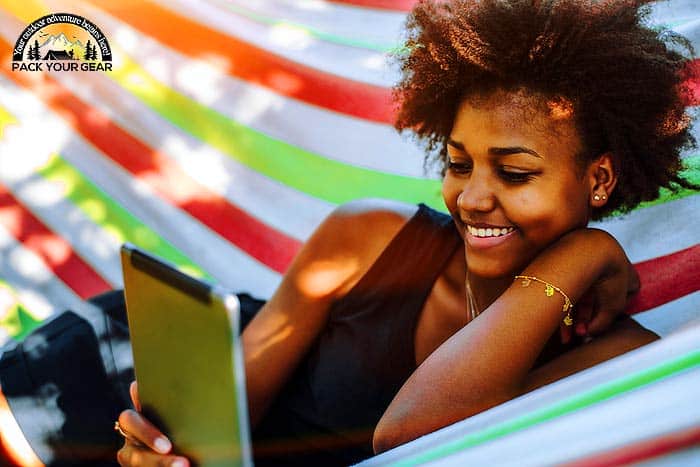 These 2 varieties of hammocks are very similar to the Mayan hammock. They are made of several fibers on a loom and are therefore very strong and durable.
Also, they do not come with spreader bars that make them very portable. However, some Brazilian models come with spreader bars if someone wants one.
The Nicaraguan hammocks use a particular fabric type that makes them a bit stronger and less prone to breaking than a hammock-like the Mayan.
As with the Mayan hammocks, both would make great hammocks for camping.

Are Hammocks Good for Side Sleepers?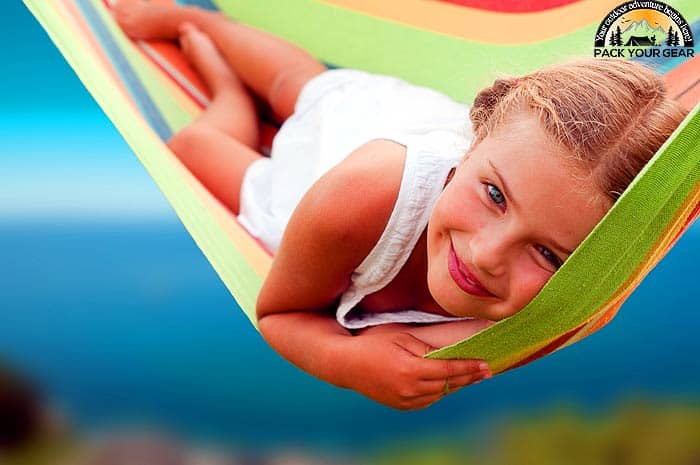 Some hammocks can be used to create an almost flat hammock surface that opens up a variety of sleeping positions that would otherwise not be possible in a regular hammock.
With the best camping hammock for side sleepers, you can sleep comfortably on their side in the hammock, just like you can in any bed. You can even bend your legs slightly when sleeping in a fetal position.
Suggested Reading:

How do I Stop my Hammock from Swinging?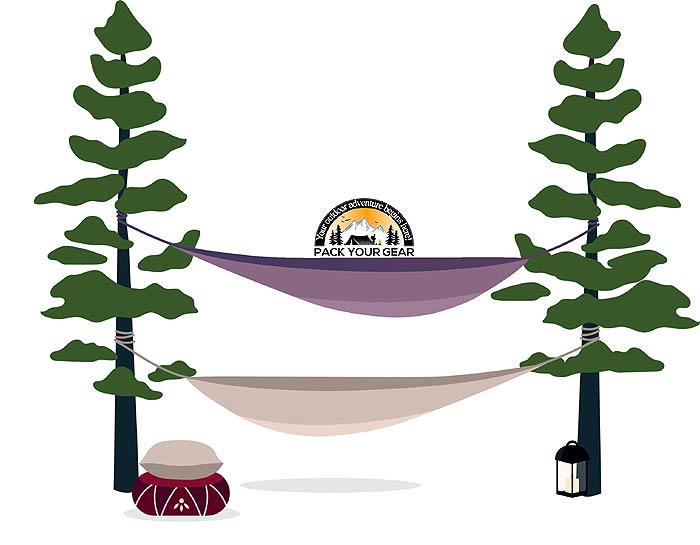 We have found that just tying the hammock's backside with a shock cord will help stop the swinging very quickly.
Just apply a little tension so that the hammock is pulled back slightly when hanging.
A shock cord means that it is not in the way at the front when getting in and out or when moving under the tarpaulin.
It doesn't work as well as two shock cords, but it reduces the swinging very quickly.
Suggested Reading:

What to Look for?
Here are 3 important factors to consider in hammocks for side-sleepers.
A) Flat Hammock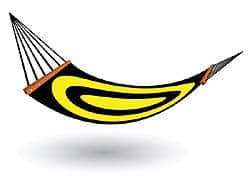 When you decide to buy a hammock that suits your sleeping style, look for a hammock with a flat hammock that does not act as a cocoon all over the body. Choose a unit that gives you enough space to sleep. A very spacious hammock can meet your needs for sleeping on your side.

B) Spreader Bar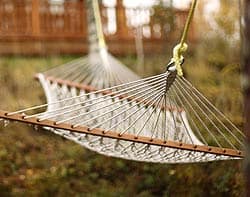 A spreader bar is quite helpful when you don't want to sleep on your back. Check if the hammock has a spreader bar or if you can buy one separately and attach it to your new camping hammock. This feature is essential so that the hammock's ends do not hug you or overload your body. You need enough space to sleep in the corner where you are more comfortable.

C) Durability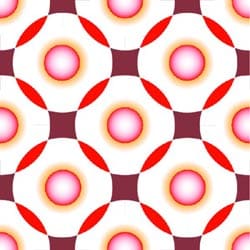 The most important thing is to choose a camping hammock for side sleepers that are very durable and crafted from top-quality materials. Regardless of how perfect a camping hammock is for sleeping on your side, everything will be in vain if the hammock can't support your weight or is easily damaged.
Suggested Reading:

Best Camping Hammock for Side Sleepers
Here are the top 7 best camping hammocks for side-sleepers on the market today:
1. Sunyear Single & Double Camping Hammock Review
The Sunyear Single & Double Camping Hammock is a compact and lightweight parachute hammock that comes in an elegant bag with all the necessary installation tools.
This best double hammock is made from high-quality parachute nylon materials, making it very durable.
The spacious and comfortable design of this Sunyear hammock makes it perfect for side sleepers.
Thanks to the reversible design, you can rotate this hammock and turn it into a day bed to relax.
Besides being an ideal hammock for side sleepers, this side sleeping hammock also protects you from insect bites.
The mosquito nets protect you from all the creepy crawlers, meaning a more comfortable and safer camping trip.
With a maximum capacity of 500 pounds, the Sunyear Single & Double Camping Hammock can support even the most demanding camping needs.
Pros
Ultra-resilient and comfortable
Can withstand up to 500 pounds weight.
Heavy-duty nylon fabric
Guarantees ample sleeping space.
Check Price on Amazon

2. BriSunshine Camping Hammock Review
The BriSunshine Camping Hammock is made from a durable 70D nylon taffeta cloth that can support up to 440 lbs.
Its breathable surface and large space guarantee adequate air circulation and extra comfort, making it perfect for side sleepers.
This best camping hammocks for side sleepers comes with two clips and an interior pocket for lights as well as other small items. This unit comes with a waterproof rainfly cover to keep you dry when raining while also blocking the sun or snow.
Additionally, the bug net helps keep pesky bugs and mosquitoes at bay in the summer.
This folding sleeping hammock is ultralight, making it perfect for backpacking. All the necessary installation tools are in the zipper bag for easy and quick setup.
Pros
Heavy-duty construction
Breathable surface and large space.
Compact and lightweight design.
Smooth zipper for easy access.
Cons
It might be pricey for some campers.
Check Price on Amazon

3. Wise Owl Outfitters Double and Single Camping Hammock Review
The Wise Owl Outfitters Double and Single Camping Hammock are crafted from parachute nylon materials for optimal comfort and durability.
The unique tree tent design makes this hammock perfect for side sleepers. It is lightweight and has a compact pouch for easy transport.
It features a triple-stitched interlocking mechanism that prevents you from falling.
The package includes everything needed to hang this product, including 8-foot nautical grade straps and carabiners.
The carabiners are made from aircraft-grade aluminum, which makes them rust-free.
The Wise Owl Outfitters Double and Single Camping Hammock come in a wide variety of color combinations to suit your style.
Also, this best compact hammock comes with carabiners with a set of ropes that makes it easy to hang.
Pros
Durable and lightweight
Breathable and comfortable bed.
Reasonably priced
Wide range of color options.
Hardware included
Check Price on Amazon

4. Legit Camping Double Hammock Review
The Legit Camping Double Hammock is a lightweight option that comes with all you need to hang it.
This best sleeping hammock is a double-sized hammock, so it can fit two side sleepers.
Additionally, the military-grade nylon fabric makes this hammock a comfortable and durable bed for two people.
This lightweight hammock can be folded to a compact size for easy transport.
This Legit camping hammock comes with all the clips and cords that make it easy to attach to a tree.
The Legit Camping Double Hammock is made from durable parachute materials that can withstand the rigors of rainy nights, windy days, as well as the wear and tear that comes with camping outdoors.
Furthermore, the included 8-inch polyester end strap allows for maximum strength.
Pros
Breathable and durable material.
Holds up to 400 pounds.
Triple stitched seam
Many color-options
Cons
The straps are relatively short.
Check Price on Amazon

5. HongXingHai 3-in-1 Hammock
This camping hammock with rainfly cover offers protection from rain and wind. Also, the long hem of its outer tent is designed to rain from entering it.
The distance between the hammock and the outer tent is over 7.9 inches, guaranteeing airflow.
This best hammock for sleeping comes with a bug net that helps you sleep soundly as it keeps you away from insects and mosquitoes.
The lightweight design of the HongXingHai 3-in-1 Hammock makes it ideal for backpacking.
Thanks to the adjustable tree straps and hook holder, this side sleeper hammock is comfortable to set up.
Additionally, it is equipped with aluminum alloy studs and strong rope, so you need not worry about rolling over.
Pros
440 pounds weight capacity.
Waterproof rainfly cover
Lightweight and ample space.
Easy to setup
Check Price on Amazon

6. AEETT Camping Hammock
Made from high-quality 210T nylon Taffeta, the AEETT Camping Hammock has more breathable material and is easier to dry.
The panels also have reinforced triple stitching that offers extra durability and safety.
This best hammock for camping can hold up to 660 pounds, so it can fit two side sleepers comfortably.
The dense and small net can prevent the harassment and bites of mosquitoes and insects.
Thanks to the hammock tarp, the car camping hammock can be used on rainy and sunny days.
Additionally, the rain fly is spacious enough to prevent rain from leaking.
With this versatile camping hammock, you need not worry about mosquito bites either.
Pros
Durable parachute material
Portable design
Rainproof and waterproof
Solid steel carabiners
Weight capacity of 660lbs.
Cons
The mosquito net is a bit cumbersome.
Check Price on Amazon

7. Hennessy Hammock – Expedition Series
The Hennessy Hammock Expedition Series is designed for campers who want to sleep in various angles, whether on their side, stomach, or back.
It's made of high quality, high-density 70D nylon, which makes this product very durable.
With this camping hammock, your nights at your campsite are safe, and you can sleep on your side peacefully.
This best hammock for sleeping features an asymmetrical design that allows you to stretch out easily and lie freely.
The Hennessy Hammock – Expedition Series has a practical and functional design and is highly recommended for side sleepers.
However, its 6ft height limit and 250lbs weight capacity limit its use to smaller body frames.
Pros
Portable design
Complimentary webbing straps
Superior sleeping comfort
Rain tarp made of 70D ripstop polyester.
Cons
No variety of colors.
The 250lbs weight capacity may not be enough for some campers.
Check Price on Amazon

Sale
Best Camping Hammock For Side Sleepers
Our Pick
Our top pick for the best camping hammock for side sleepers is the Wise Owl Outfitters Double and Single Camping Hammock.
It has the right layout, accessories, and set up to be the most helpful.
This high-quality hammock is guaranteed to offer great sleep to side sleepers because of its unique tree tent design.
If you sleep in a camping hammock, ideally, you need to lie on your back. If you are not used to this position and still prefer to sleep on your side, you should choose the camping hammock for side sleepers that best suits your sleeping preferences.