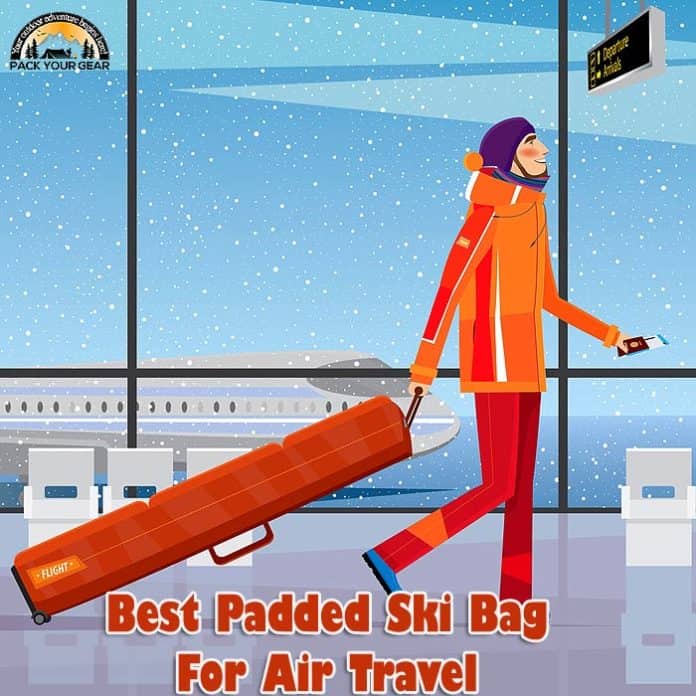 Ski bindings, tails, and spikes are prone to damage while on the move, so fully padded ski bags are ideal for air travel. Additionally, skiers and snowboarders dream of stepping into the rocking Aspen's après, slaying Park City pow, and Whistler's white room.
Best Padded Ski Bag For Air Travel
Our Pick
When it comes to results, the Thule RoundTrip Ski Roller Bag is the best-padded ski bag for air travel. This foam-padded kit contains everything you need for your next ski trip via flights.
We ♥ honesty! Pack Your Gear earns a commission through the following hand-picked links at no extra cost to you.
To reach these legendary winter destinations, you often have to navigate busy airports with bulky gear bags. But don't allow travel challenges to stop you from taking the ski trip of your dreams. The best padded ski bag for air travel ensures that you arrive in style.
Best Padded Ski Bags – Comparison Table
How do you Pack a Ski Bag for Air Travel?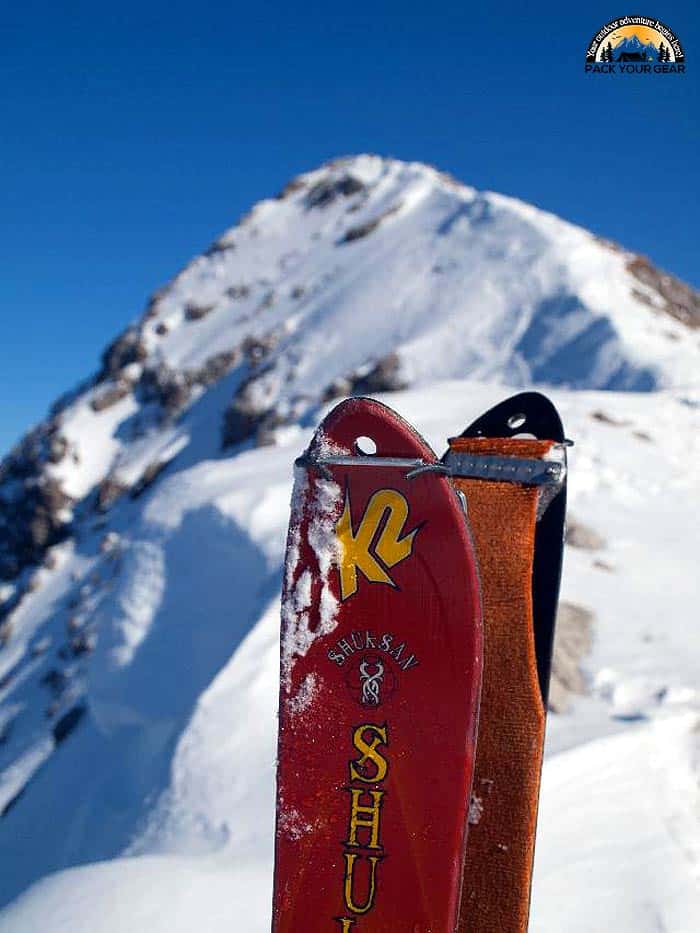 Since ski equipment is relatively easy to break, expensive, and can damage the rest of your luggage, it is essential that you properly pack it before heading to the airport.
When it comes to packing ski gear for air travel, using a ski bag is basically the only smart choice. You have several options for ski boots and other equipment like gloves or helmets.
The easiest thing to do is buy a ski bag (like the Thule RoundTrip Roller Ski Bag) big enough to hold your ski poles and skis and your ski boots and other miscellaneous gear.
You can also buy a special ski boot bag or pack your boots and other gear in a regular travel bag.

Do I Need a Padded Ski Bag?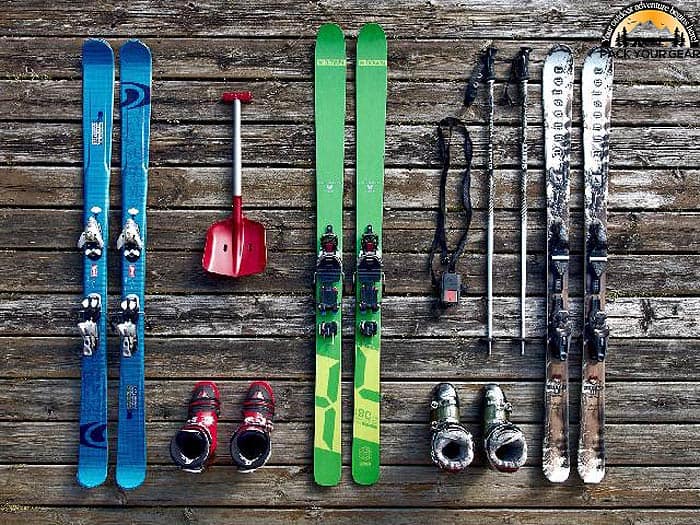 While not all ski travel bags offer the same protection level, which does not mean low-end bags are unnecessary or should be ignored.
These usually offer adequate protection at very reasonable prices. Usually, you find that the cheapest bags come with a thick canvas that is very durable and offers excellent protection from scratches and the like for your gear. Still, it doesn't have a lot of padding.
You have ski travel bags that combine the two where the ends are padded, but not so much the bag's center.
A fully padded ski bag generally costs more due to the extra protection that surrounds it. A cheaper nylon bag can absolutely do the job if all you want to do is tie your skis to the roof rack and head out.
However, if you decide to fly, we recommend looking for something such as the best padded ski bag for air travel that offers enough cushioning, as we are sure you probably know that baggage handlers are not always that gentle.
Suggested Reading:

Can I Pack Clothes in my Ski Bag?
Yes, you can pack clothes in your ski bag.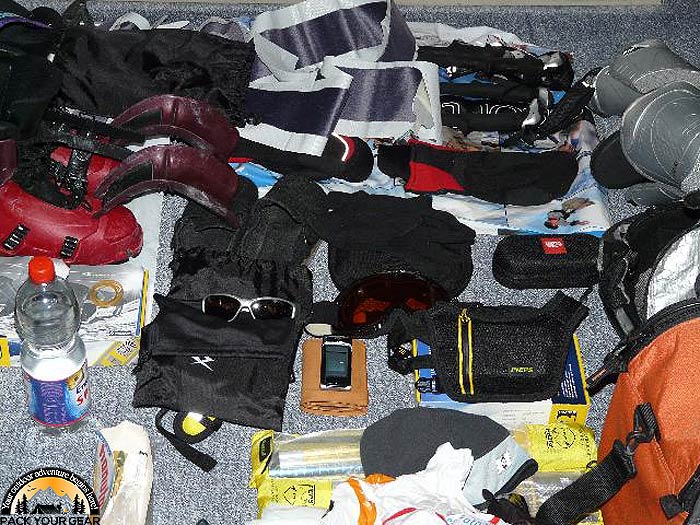 However, we recommend going for the bigger ski bags as they allow skiers to pack bulky items like clothes, gloves, outerwear, and many more.
They allow skiers to pack more clothes and other ski gear along with their ski and snowboard.
Not only is fitting a ski bag with all your clothes more efficient, but it also offers extra padding for your ski equipment.
Suggested Reading:

What to Look for?
A) Handles and Straps
You want to be nervous when you ski, not when you travel. A travel bag for skiing with a padded crossbody shoulder strap makes it easy to carry a ski bag. A bag with different handles also makes it easy to snatch up ski luggage and offers a wide range of carrying positions.

B) Compression and Gear Straps
A ski travel bag with internal straps ensures that your gear does not rag-doll on the way to its destination and prevents snowboards, skis, and other equipment from being damaged, broken, and scratched during the trip.
Also, the outer compression straps are a great way to ensure your gear stays in place. There are many uses for ski straps, and preparing for your next trip is no exception.
Strap your skis, so they do not move in your ski bag during transport and protect the bases from impacts.
Strapping poles to skis is also a smart way to protect them from overly enthusiastic baggage carriers.

C) Pockets
If you plan on using your bag for more than snowboards and skis (and you should), well-placed pockets can make the difference between a leisurely ride or the arrival of a Jerry. Some ski bags even have special pockets for gloves, heated ski socks, glasses, or neck warmers.

D) Weight
Often, the more bells and whistles a ski bag has, the more it weighs. Pockets, zippers, padding, and wheels add weight. This is especially important if you are flying and don't want to pay for an oversized or extra bag. Ski gear travel bags and ski boot travel bags are considered one item by most airlines, although their total weight should generally be less than 50 lbs.

E) Wheels
When carrying the ski bag, especially for air travels, look for the ski bag with wheels on them. The wheels in the ski bag help you quickly move in and around the airport with ease since you don't have to physically carry them on your shoulder.

US Airlines with Ski bag policy requirements
Here are the top US airlines and their ski bag policies. Note that ski bags are considered specialty items due to their disproportionate size. All airlines may charge an oversize fee if the total weight goes beyond 50 lbs.
| | |
| --- | --- |
| American Airlines | American Airlines allows a ski equipment bag as 1 checked-in bag. The ski bag can include 1 pair of skis with poles, bindings, and 1 Ski helmet. They strictly forbid traveling with lighters/torches for applying ski wax.Read more: American Airlines Ski Bag Policy |
| Delta Air Lines | Delta airlines permit ski and snowboard equipment bags as checked baggage. One Ski or Snowboard Equipment item per person is defined as one ski/pole bag, one snowboard bag, and one boot bag are accepted per person. Read more: Delta Airlines Ski Bag Policy |
| Southwest Airlines | Southwest Airlines permits snow ski equipment that includes one pair of skis or one snowboard, one set of poles, and one pair of ski/snowboard boots encased in a container/bag acceptable to Carrier. Read more: Southwest Airlines Ski Bag Policy |
| United Airlines | United Airlines accepts one item of ski or snowboard equipment per customer as a checked bag. These include up to two snowboards in one bag and one snow boot bag, up to two pairs of snow skis and associated equipment in one bag, and one ski boot bag. Read more: United Airlines Ski Bag Policy |
| Air Canada | Air Canada does not charge a fee for checking in a ski bag as long as it is carried along with skis or snowboard. It contains only ski/snowboard equipment such as boots, helmets, and goggles. However, your boot bag would be counted as a separate piece of checked baggage if it contains – or is designed to contain – other items, or it's not carried along with a snowboard or set of skis. Read more: Air Canada Ski Bag Policy |
| Alaska Airlines | Alaska airlines permit 1 piece of ski/snowboard equipment is defined as 1 pair of skis with poles or 1 snowboard, plus 1 boot/helmet bag. If boots/helmet are checked in a bag containing clothing or additional items, standard checked baggage fees will apply to the bag. Read more: Alaska Airlines Ski Bag Policy |
| JetBlue Airways | JetBlue Airways allow 1 item of snow ski or snowboarding equipment will counted as a checked bag. Read more: JetBlue Airways Ski Bag Policy |
| Spirit Airlines | Spirit Airlines also considers ski/snowboard equipment bag as one (1) checked bag. It includes 1 pair of skis, 1 pair of ski poles, and 1 pair of ski boots, or 1 snowboard and 1 pair of snowboard boots. Read more: Spirit Airlines Ski Bag Policy |
| WestJet Canada | WestJet Canada accepts ski equipment bags per guest, including helmets, skis, boots and poles, snowboard and boots, or a pair of water skis. Read more: WestJet Canada Ski Bag Policy |
| Volaris Mexico | Volaris Mexico also allows skis, snowboards, and fishing rods per passenger that includes skis, boots, poles. Read more: Volaris Mexico Ski Bag Policy |
| Frontier Airlines | Frontier Airlines permits skis, ski poles, and ski boots. One pair of boots (in a boot bag) may be checked separately from the ski bag but still, count as one item as long as the boot bag does not exceed 25 pounds. If the boot bag is more than 25 pounds, it will be considered a second bag. Read more: Frontier Airlines Ski Bag Policy |
| Allegiant Air | Allegiant air permits snow ski equipment encased in a container or bag that is acceptable to Carrier and including no more than 1 pair of skis or 1 snowboard, 1 pair of ski boots, and 1 pair of ski poles. Read more: Allegiant Air Ski Bag Policy |
| Hawaiian Airlines | Hawaiian Airlines accepts any skiing equipment baggage item that includes a pair of skis as a Standard Bag provided that the Outside Linear Dimension is not more than 115 inches (292 cm), subject to any overweight baggage fees. Read more: Hawaiian Airlines Ski Bag Policy |

Best Padded Ski Bag for Air Travel
Here are the top 5 best padded ski bags for air travel on the market today:
1. Athletico Padded Two-Piece Ski and Boot Bag Combo
If you're on a budget and looking for a padded bag to carry your ski gear, including ski boots, the Athletico Padded Two-Piece Ski and Boot Bag Combo is perfect for you.
Both the ski bag and boot bag are made of water-resistant 600D polyester. As the product name suggests, both bags are padded, which makes them perfect for air travel.
The padding is made of dense foam with a thickness of 5 mm.
The ski bag, which is available in four different colors, fits most skis up to 200 cm in length and has a roll-up design that allows you to adjust the length of the bag to the length of your skis.
Also, there is enough space in the bag for accessories, clothes, and many more. The boot bag fits most ski boots up to size 13.
The Athletico Padded ski and boot bag for air travel is a solution that will correctly do the job at a budget-friendly price, without having to buy a ski bag and boot bag separately.
Pros
High-density foam padding
Fits ski up to 200cm.
Ski and boat bag combination.
Adjustable for shorter skis.
Padded handle
Cons
The boot bag can be more spacious.
Check Price on Amazon

2. Thule RoundTrip Ski Roller Bag
If you plan to frequently travel with your skis and look for a practical and durable, you should look at the Thule RoundTrip Ski Roller Bag.
You can tuck two pairs of skis and a few clothing items in your bag, and a pair of boots.
It has padded ski bags, reinforced bottom and top to prevent sagging, and a pair of zippered pockets to store your accessories.
The pair of wheels makes it easy to carry around at the airport. The bag is made of 600D polyester and is available in two colors – black and blue.
There are also two sizes: one for skis up to 192 cm in length and one for skis up to 175 cm.
Overall, if you ski once or twice a year, or even less, the Thule RoundTrip Ski Roller Bag is likely overkill. However, it could be an excellent investment if you tend to do a few ski tours a year.
Thule ski bags come with a wheel for easy transportation at the airport.
Pros
Structural reinforcements
Removable and padded sleeves for organization.
Durable and lockable zippers.
Smooth wheels for comfortable transport.
Moving wheels
Check Price on Amazon

3. Unigear Reinforced Double Padding Bag
The Unigear Reinforced Double Padding Bag is a fully padded bag with thick EPE dense foam of about 10mm.
The bag is tough and made from 600d lightweight material, so it is built to last. This ski bag is tear-resistant and wear-resistant, thanks to its tightly woven structure.
Additionally, the interior lining is crafted from woven polypropylene that is water-resistant and high-impact resistant.
The padded handle and removable shoulder strap make it easy to carry sideways or on the shoulder.
It features a durable zipper that won't come off the track or snag, making it smooth to use.
The Unigear Reinforced Double Padding Bag is spacious enough to accommodate your skis, ski poles, boots, jackets, helmets, and other ski accessories.
Pros
Fully padded for 360 degrees protection.
Durable construction
Wear and water-resistant
Ergonomic shoulder strap
Cons
Not ideal for skis longer than 175 cm.
Check Price on Amazon

4. Athletico Dynamic Adjustable Length Padded Ski Bag
The Athletico Dynamic Adjustable Length Padded Ski Bag is a fully padded, high-performance ski bag that provides the highest protection level for your ski equipment.
It is a durable bag made of waterproof 600D polyester, 5mm high-density protective foam, and a circumferential zipper for easy loading and unloading of your skis, ski poles well as other ski gear.
This ski bag is padded throughout with a dense foam padding of 5mm to protect your gear from damage during luggage check-in.
It is available in sizes 170 cm and 190 cm for different ski poles' lengths and offers enough space for your jacket, pants, and glasses.
The padded handle on this bag allows for a comfortable grip without digging too much into the hand.
Also, this ski case has two buckled compression straps. The compression straps let you secure devices of all sizes and quantities in the bag without jostling or rattling.
While there is no separate shoulder strap, the handles are long enough to hang over most people's shoulders.
Pros
Heavy-duty construction
Double exterior compression straps.
Waterproof backing
Double carrying handles
Cons
It is not an option for skis over 190 cm.
Check Price on Amazon

5. Dakine Fall Line Double Ski bag
The Dakine Fall Line Double Ski Bag offers almost everything you need for a ski bag.
Dakine ski bag has a durable exterior, the right amount of space, and is easy to handle.
This ski bag offers space for 2 pairs of skis, boots, and poles in the central interior compartment and various accessories in the outer zippered bag.
You can store your boots in the removable boot bag to keep smelly boots separate.
This Dakine fall line ski roller bag is made from tear-resistant Cordura nylon. It is fully padded to provide additional protection for your precious skis.
The large, sturdy wheels are ideal for transporting the bag to the airport or on the road.
The bag is available in 2 sizes, 175 cm, and 190 cm, as well as in different models.
Pros
Durable construction
Spacious enough for all your gear.
Lockable zippers for additional security.
Adjustable shoulder straps for easy carrying.
Cons
It lacks internal webbing or straps to hold your skis in place.
Check Price on Amazon

Top-Rated Padded Ski Bag For Air Travel
Our Pick
Our top pick for the best padded ski bag for air travel is the Thule RoundTrip Ski Roller Bag.
The foam padding keeps your skis and other gear safe, and the roll down bag allows you to store children's or shorter skis without the risk of damaging your equipment.
You can fit in Alpine Skis up to 192 cm along with its poles.
The spacious ski bag has room for hats/helmets and extra layers in the internal zippered pockets.
Internal and external compression straps keep the skis in-tact during air transits.
Most importantly, it comes with smooth wheels for quick navigation around the airport during the travel.
With intelligent preparation and the ideal ski travel bag, you will slide through airport security, get on your flight, and get to your hotel just as quickly as in the mountains. The most important thing is that you save the bumps for the ski slopes!
Wherever you choose to go this season, travel with confidence by tucking your poles into one of the best padded ski bags for air travel.