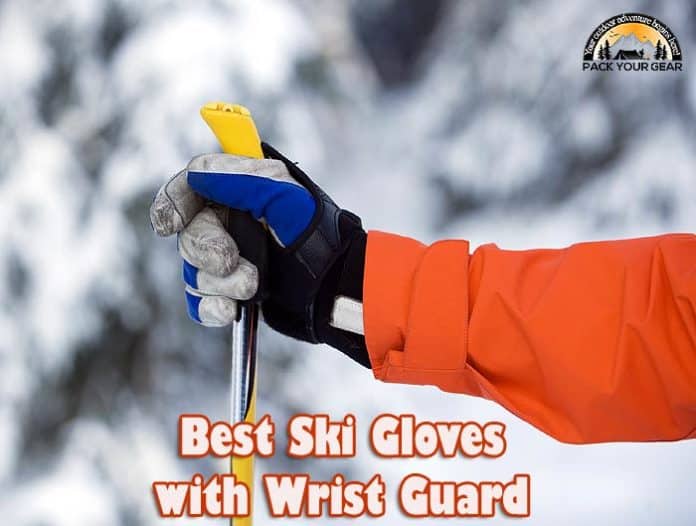 Did you know that there are 95,000 snowboard wrist fractures worldwide every year? Investing in a ski glove with a wrist guard is a must if you enjoy skiing or snowboarding. Along with your sense of adventure and enthusiasm, you need to ensure your body is safe before hitting the ski slopes.
Best Ski Glove With Wrist Guard
Our Pick
The Dakine Unisex Wristguard Gloves have a sophisticated, patented, dry-insulating construction that ensures dryness and warmth on the ski slopes, making it our top pick. It is unisex, so it can work for anyone's overall skiing gear.
We ♥ honesty! Pack Your Gear earns a commission through the following hand-picked links at no extra cost to you.
This wrist guard avoids the consequences of a severe and painful injury, which can take a while to resolve. The wrist guards absorb shocks and help you get up without painful injuries.
However, it can be a little tricky to find the right pair of ski gloves with a wrist guard. Your safety should be your number one priority. To save you time, we have conducted research to put together enough information on the market's best options.
Best Ski Glove with Wrist Guard – Comparison Table
Title
Level Half Pipe XCR Snowboard Gloves
WindRider Rugged Waterproof Winter Gloves
Devembr Advanced Ski Gloves
Level Fly Snowboard Gloves
Dakine Unisex Wristguard Gloves
Insulation
200g Polyester Thermolite
Shell Material
87% polyester, 2% goat leather, 11% PVC
What are Ski Gloves with Wrist Guards?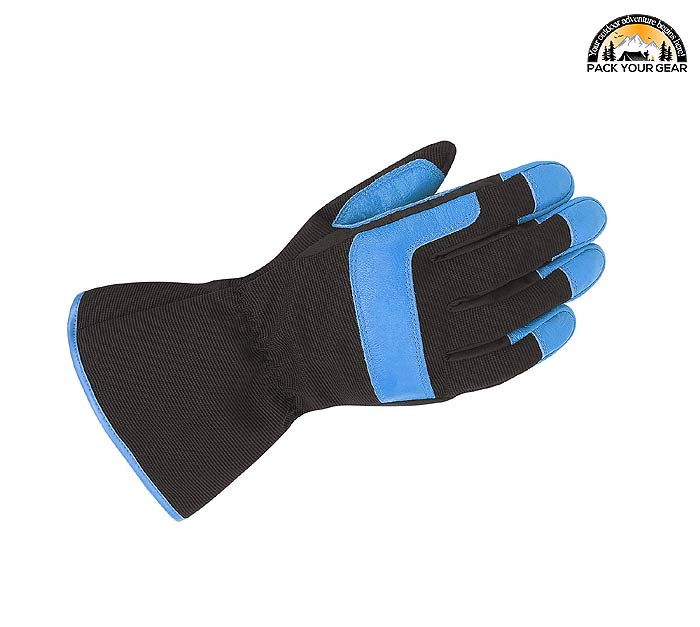 Ski gloves with wrist guards protect the hands from strains, fractures, bone dislocations, as well as other painful injuries. The wrist guards stabilize and protect your wrists in the event of a fall. Heavy, strong falls are common in winter and extreme sports such as snowboarding and skiing. This is why choosing the right protective equipment is essential to protect your hands and arms safe.
Suggested Reading:

Do Wrist Guards Go Over or Under Gloves?
Gloves should always be under your wrist guards so that the plastic sliding plates can slide smoothly in the event of a crash. Plus, it's more convenient to have them under your gloves. If you need to take off the glove, you don't have to take off the guard either.
Suggested Reading:

Importance of Wrist Guards in Skiing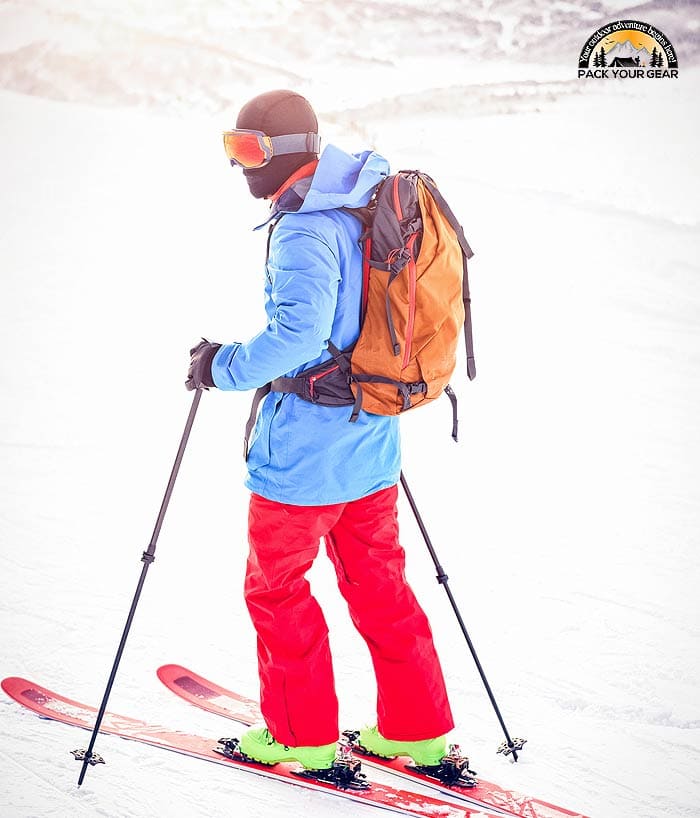 Unsurprisingly, you often fall while snowboarding. And often your falls can be quite spectacular.
With both boots attached to your board and both feet in the boots, you typically fall forwards or backward. Instinctively, you reach out your hands to slow your fall.
Unluckily, this puts the wrists at high risk of injury. An essential advantage of wearing gloves with integrated wrist protection is that they are designed as a built-in system.
The strap, guard, liner, and glove work together. This generally makes ski gloves more effective than free-standing wrist guards worn under regular snowboard gloves.
Furthermore, we have found that the comfort, feel, and fit of ski gloves with wrist guards are superior.
Finally, you don't have to worry about keeping track of separate pieces and parts. If you wear the gloves and use them correctly, you are protected.
Suggested Reading:

Do Wrist Guards Prevent Fractures?
Yes, ski gloves with wrist guards prevent fractures. They absorb shock and reduce the impact on the wrist and arm bones to protect against painful fractures.

Is it Better with Mittens or Gloves for Skiing?
Many ski gloves with wrist guards are available in a mitten version with similar wrist protection. The choice of mittens or gloves depends on your preferences. Here are some things to keep in mind:
Mittens have a reputation for keeping the fingers warm. There is no space between each finger for cool air to circulate, reducing heat loss.
Gloves offer you some manual dexterity. Thus, it is easier to handle zippers, buckles, and clips.
Ultimately, the most crucial factor in keeping the hands warm is the quality of the construction and the gloves or mittens' materials.
Suggested Reading:

What to Look for?
There are a few key factors to consider when checking out different ski gloves with wrist guards. Use the following criteria to evaluate different models and choose the best ski gloves for your situation:
A) Fit and Comfort
For ski gloves with wrist guards to be effective, you must wear them correctly. Therefore, it is vital to choose ski gloves that are the appropriate size for your hand and comfortable enough to wear all day.

B) Dry Technology
To keep the hands warm, they must remain dry. Wet hands = cold hands. GoreTex is the gold standard, which should be sought in high-quality gloves. There are other drying technologies available, but make sure you know if the gloves are "water-resistant" or "waterproof". In cold and humid climates, you need waterproof technology in your gloves.

C) Thermal Technology
Besides hand drying, the membrane's quality and the insulation determines the amount of heat retained in the gloves. Look for specific thermal ratings to make sure the gloves keep your hands warm on chilly days.
Suggested Reading:

D) Removable Liner
Having the ability to remove the inner liner is extremely important for these three reasons. First, it allows you to dry the liner and gloves much faster. Second, it is straightforward to clean the liners when you need them. Finally, a removable liner allows you to take the glove on and off more easily without turning it over.
Suggested Reading:

E) Ventilation Slots
Vents are not very common, but they are an essential design element. The vents keep your hands dry by absorbing sweat and moisture from the gloves.

F) Shell Material
The shell material of a ski glove with a wrist guard is key to its durability. You shouldn't have to replace ski gloves every season. Still, they take a lot of abuse with board grips, work bindings, carrying your board, and many more. The shell material must be of acceptable quality for the gloves to last for several seasons.

G) Lining Material
The lining material is crucial for warmth and comfort. You want the inner lining of your ski gloves with a wrist guard to be soft and warm. Also, the lining material must be durable and moisture-wicking.

H) Durability Details
This includes details like Kevlar fingertips or palms, high-quality workmanship, double-stitched seams, and thoughtful details that extend the gloves' life for several seasons. Inexpensive ski gloves with wrist guards are not cheap when you have to buy new gloves every season.

Best Ski Glove with Wrist Guard
Here are the top 6 best ski gloves with wrist guard feature for better protection while skiing.
1. Level Half Pipe XCR Snowboard Gloves
The Level Half Pipe XCR Snowboard Gloves have a Biomex plus with double density so that your hands are optimally protected.
This will help prevent wrist injuries when using your hands to cushion the impact while snowboarding.
It is more effective compared to splint design gloves. The Polartec fleece linings can be removed at any time.
These help the warmth in the glove to circulate properly and ensure optimal warmth for your hands.
Despite the fleece lining, the gloves are relatively lightweight. Even in frigid temperatures below 22°F, you can keep your hands from getting cold.
Another feature is the shell technology, which makes the gloves waterproof. A Gore-Tex shell is used, which is advanced material.
This material keeps snow and moisture away from the gloves and allows sweat or moisture that builds up inside to escape.
The fingertips and palms are reinforced with Kevlar rubber, which makes the glove more durable and gives you a firmer grip on your board.
The Level Half pipe gloves come with all the features you need on the ski slopes.
Pros
Uses rubber-reinforced Kevlar material for palm and fingers.
Better circulation and warmth.
Waterproof shell
Made of very durable material.
Can be used in temperatures below 22°F.
Check Price on Amazon

2. WindRider Rugged Waterproof Winter Gloves
Enjoy skiing and snowboarding more with the WindRider Rugged Waterproof Winter Gloves.
These ski gloves have a unisex design and sturdy construction that comprises 5 layers of protection.
The outer cover is made of Cordula nylon for long life, followed by a Hypora liner to make it waterproof. It is then equipped with 3M Thinsulate and foam insulation to keep the gloves warm.
Thanks to the last fleece lining that is soft to the touch, your hands will slide smoothly in and out of the gloves.
A unique feature is the fingertip touchscreen that allows you to operate your phone without removing your gloves.
Also, the back of the gloves has small zipped pockets for additional storage space.
While the 5 layers make the gloves a bit bulky, they don't slip off easily, thanks to a looped hand strap and the elastic band that secures the gloves.
Pros
Durable and rugged construction.
A completely waterproof middle layer.
Comfortable and breathable
Foam insulation and 70g 3M Thinsulate provide additional warmth.
They offer a perfect fit and allow the wrist to be adjusted.
Cons
The outer layer is not waterproof.
Check Price on Amazon

3. Devembr Advanced Ski Gloves
Everything about Devembr Advanced Ski Gloves is excellent for the money, perhaps the best option for those on a budget.
They are level ski gloves with wrist protection. The wrist guards are even removable, and you can easily remove them whenever you want.
We like the most about this unit because the palm is reinforced with high-quality PU leather to make them even more durable and achieve high resistance to abrasion.
Thanks to its 3M Thinsulate insulation, your hands can stay warm enough during your snowboarding activities.
The wrist straps are crafted from high-quality velcro, which is very easy to adjust.
Another great feature of these ski gloves is the touchscreen compatibility design.
Touchscreen phones rarely respond to gloves. However, this feature eliminates the need to remove your gloves when you need to use your cell phone.
These gloves are also made of a non-slip rubber that fits between your thumb and forefinger so you can hold the board firmly. It has an excellent waterproof function that prevents moisture from entering the glove.
So, if you're looking for the best budget-friendly ski gloves with wrist guards, the Devembr Ski Gloves is a top choice.
Pros
Waterproof design
Touchscreen support
Durable and easily adjustable wrist straps.
3M Thinsulate insulation
Keeps the hands warm even in very chilly weather.
Check Price on Amazon

4. Level Fly Snowboard Gloves
The Level Fly Snowboard Gloves are equipped with a smart 4-way solution for your protection while on the slope.
The protection system in these Level Fly snowboard gloves with wrist guards involves the use of a dual-density material for greater strength and comfort. Additionally, the dual-density material also absorbs shock, so the gloves can reduce shock and improve fit.
The new ergonomic flat tail design also increases comfort while facilitating maneuvering and hand movement.
Also, the liner at the other end is equipped with the self-adjusting Biomex mechanism so that the wrist muscles remain comfortable every time, even during difficult snowboarding maneuvers.
The Level snowboard gloves with wrist guard's palms and fingers are reinforced with eyeglass cleaner, polyurethane film, and nose cleaner to enhance functionality.
Pros
Biomex wrist protection for optimal safety.
Finger Patch for safety glasses and nose cleaner.
Membra-Therm Plus waterproof membrane.
Adjustable and wide shoulder strap.
Check Price on Amazon

5. Dakine Unisex Wristguard Gloves
The Dakine Unisex Wristguard Gloves have a sophisticated, patented, dry-insulating construction that ensures dryness and warmth on the ski slopes.
These ski gloves with wrist guards have a waterproof polyurethane membrane coated with Dakine Dry DWR to provide strong protection and ensure your hands are dry throughout the day.
Also, the polyurethane membrane has high breathability to improve air circulation.
This pair of wrist guard snowboard gloves feature 230 grams of fill insulation that demonstrates warmth on a level 4 scale.
To ensure maximum functionality, these gloves are equipped with a wrist guard for additional support for the hand's palm and back.
The Dakine wrist guard gloves also protects and supports your movements, prevents discomfort, and keeps your hands dry and warm.
Pros
Rubbertec palms with palm padding for a comfortable grip and improved insulation.
Removable nylon plate for palm support.
Durable water-repellent coating on the outer layer of the glove.
Check Price on Amazon

6. Burton Men's AK Tech Glove
The Burton Men's AK Tech Glove features fully loaded Dry Ride material and 2.0 technology for breathability and double waterproofness.
And even while heating up to apply the snowboard powder, you can keep up with your circle or even snap timeless pictures. Thanks to the screenshot magic, you can seamlessly control the touchscreen with all fingers.
The fabric microfibers in these Burton wrist guard gloves offer unique breathability by wicking moisture away from your body heat.
The removable, low-profile inner support provides maximum protection and prevents external injuries.
Thermacore insulation provides greater warmth to weight without the typical amount of insulation that restricts mobility to ensure maximum insulation.
Pros
Soft and brushed microfiber lining.
Touch-grip palm for better screen grip and touchscreen control.
Discreet and ergonomic internal support system for maximum protection.
Cons
Can be a little bulky when worn under thinner ski gloves.
Check Price on Amazon

Top-Rated Ski Glove With Wrist Guard
Our Pick
Our top pick for the best ski glove with wrist guard is the Dakine Unisex Wristguard Gloves.
These ski gloves will give you warmth and comfort while on the slopes.
The wrist guard offers additional support for the palm and back of the hand.
Thanks to its versatile sizing, it can fit various hand sizes.
The best ski glove with wrist guards will help you improve your favorite winter activities, as you can safely enjoy these activities.
In the event of a fall, these wrist guards absorb shocks while also reducing the gravity of the impact, so you can enjoy the fun without serious injury.
All the gloves on our list are designed to give users maximum safety while exploring the slopes.

Key References
"Wrist Injuries and their Prevention During Snowboarding – Expert Treatments". Accessed February 02, 2021. Link.
"How to Choose Snow Gloves and Mittens" – REI. Accessed February 02, 2021. Link.