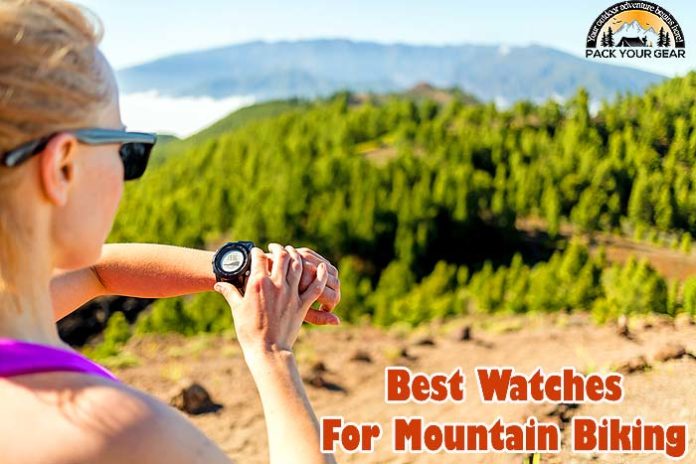 For serious mountain bikers, a handlebar-mounted bike computer was the only reliable option for storing correct ride data and GPS route tracking until recently. However, with technological advancements, you can now find watches with biking-specific features and those with compatible biking apps and a dedicated cycling mode.
Sale
Best Watches For Mountain Biking
Our Pick
Our top pick for the best watches for mountain biking is SUUNTO Ambit3 Peak Watch. With its wide range of features, excellent navigation, improved battery life, and off-road styling, this watch is a cracking mountain biking watch. The watch is designed to be durable and comfortable with a sleek design that utilizes comfortable and robust materials.
We ♥ honesty! Pack Your Gear earns a commission through the following hand-picked links at no extra cost to you.
The best watches for mountain biking are versatile and have additional body metrics. Some can track your heart rate while others can measure optimal and V02 max recovery time. In this guide, we have included everything from the very affordable watches to the high-end options.
Best Mountain Biking Watches – A Comparison Table
Water Resistance (meters)

What to Look for?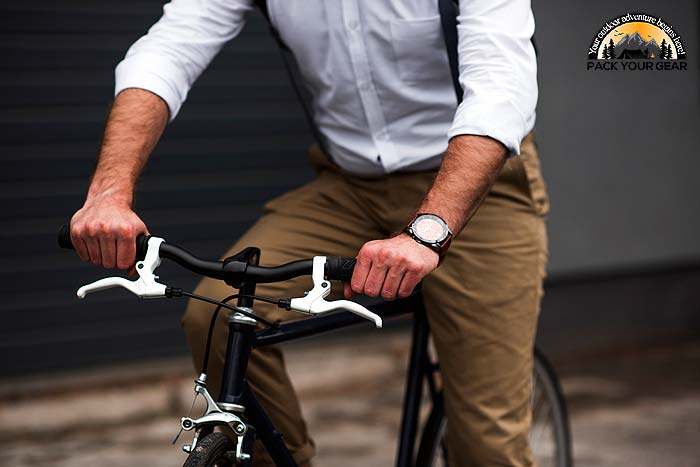 Most best smartwatch for mountain biking bands are made of rubber or silicone for ultimate comfort. However, for classier and sleeker design, some options would still come with fabric and leather bands. Whichever you decide to go for, ensure the band is breathable even during cycling, and it fits you well.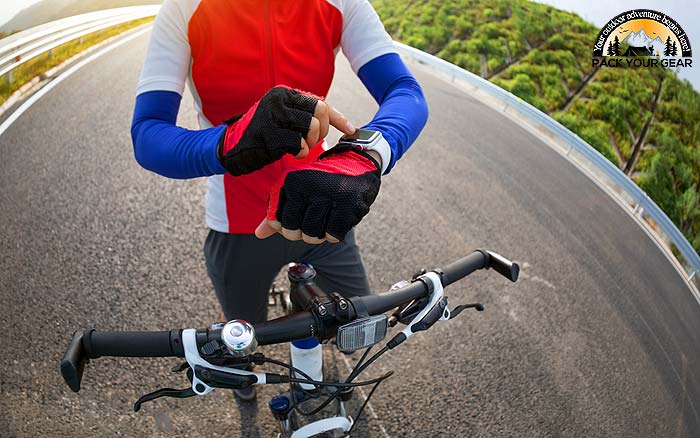 Given all the features the best watches for mountain biking must-have, battery life is an essential factor that every rider must consider.
Can your watch match your lifestyle, or will it turn off suddenly in the middle of the ride? Most watches claim their battery lasts up to 5 or 7 days.
However, it is vital to check its battery life when it is "inactive" or when the GPS and other features that drain batteries heavily are in use.
Suggested Reading: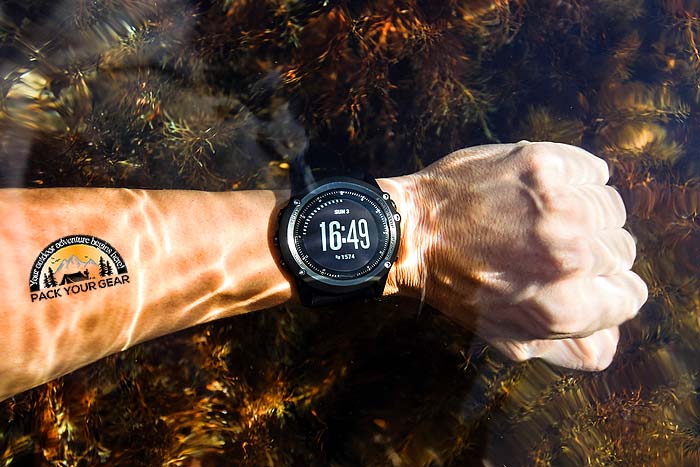 The best mountain bike watches should be water-resistant. Since you would be using this watch for mountain biking, we advise that you choose a water-resistant option. A water-resistant option is very convenient in case you get caught in the rain while on the trail.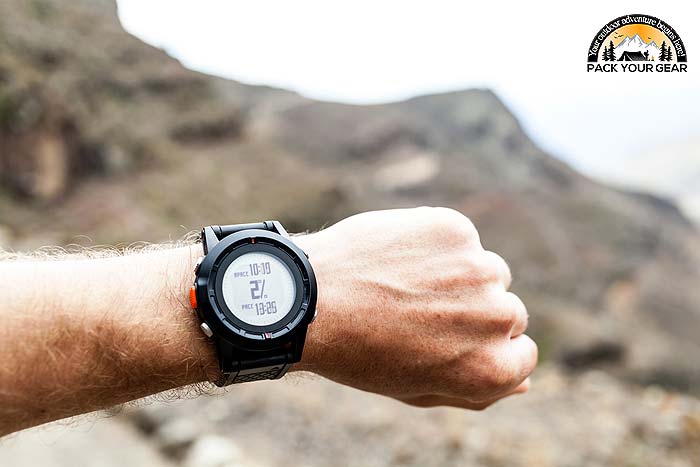 Since the screens of these watches are usually small, it's important to check this aspect (particularly for riders with fat fingers).
Make sure the user interface of the mountain bike watches the screen size and the size of your fingers, so it can be less frustrating to use.
Since you had already considered the water-resistance of the watch, it is also vital to examine if the touchscreen will still work even when it's wet.
Suggested Reading: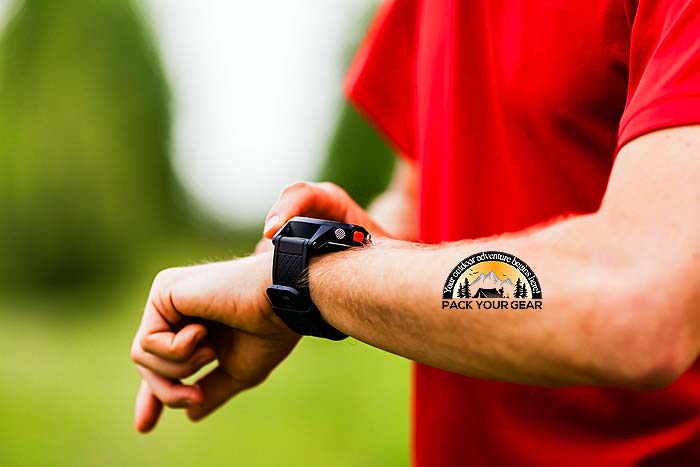 The screen of your watch must be readable; otherwise, all the data it displays are worthless. Its size doesn't matter significantly, provided that the design of its user interface fits well. Also, it should be easy to read in the dark or under the bright sun.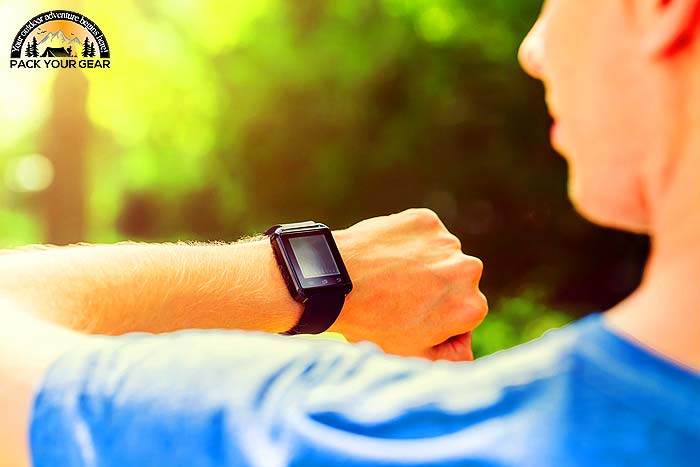 Similar to snowboarding and skiing, an important feature you would look for as a mountain biker is a reliable GPS that will enable you to easily navigate around your trail. Some high-end watches come with breadcrumb style navigation, which helps riders trace back their route to the starting point.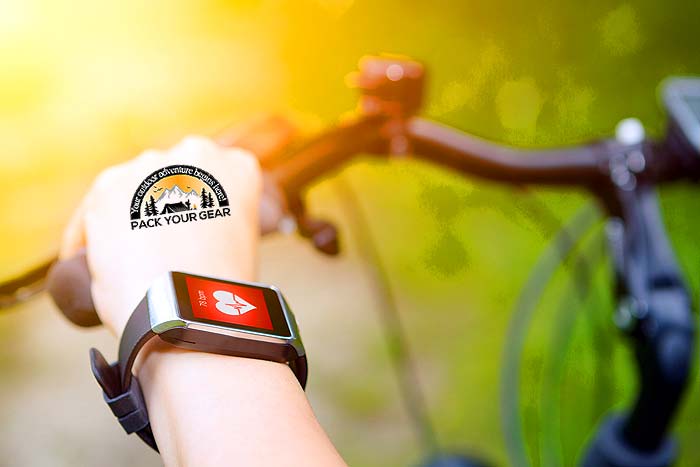 Optical heart rate sensors are now a standard feature you will find in the best watches for mountain biking. This feature is majorly wrist-based, so some readings may be incorrect, especially when you are riding over rugged terrains, or the watch is not tightly worn. Make sure that the best fitness tracker for mountain biking has health vital monitoring features.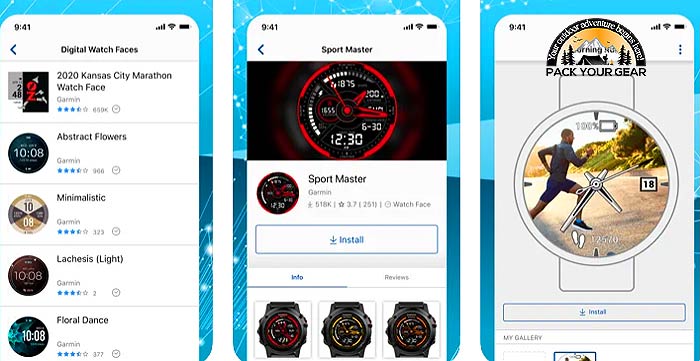 Both Garmin and Suunto watches come with an exciting apps that you can download from the AppStore (for iPhones) or GooglePlay store (for Samsung phones).
You can track your mountain biking adventures, such as getting insights on trail biking, training calendar, personalized music streaming services during cycling, your favorite biking heatmaps, and more cool statistics.
One of the biggest complaints from the SUUNTO app is the connectivity and sync issues. On the other hand, the Garmin app excels with tons of features and functions.

Best Watches for Mountain Biking
Here are the top 6 best watches for mountain biking on the market today:
1. Garmin Instinct Outdoor Watch with GPS
The Garmin Instinct Outdoor Watch is an affordable, adventure-focused watch that is housed in a rugged- and good-looking package.
This best Garmin watch for mountain biking has a crisp white and black display.
Thanks to its military standard (MIL-STD) 810G credentials, it is super rugged and waterproof to 100 meters.
These Garmin watches are a bit different as it comes with many of the features you would typically associate with Garmin's Fenix Series, such as 14-day battery life, navigation tools, and GPS tracking.
Plus, this Garmin Instinct mountain biking watch includes a wide range of tracking and sensors tech, including an altimeter, a 3-axis compass, and a heart rate monitor.
There is also Bluetooth and ANT+ connectivity, so users can connect the watch to their phone and other external sensors.
The Garmin Instinct Outdoor Watch is well-built and robust, as you would expect from a device that is made to accompany you on different outdoor expeditions.
Pros
Lots of outdoor features.
Affordable
This Garmin watch mountain biking has superb battery life
Rugged MIL-STD design
Check Price on Amazon

2. Garmin Forerunner 645 GPS Watch
Despite its name, Garmin Forerunner 645 GPS Watch is more than just a running watch.
This best GPS watch for mountain biking is a very comprehensive activity tracker with four sports modes: cycle, run, run indoor, and other.
Just like other sports watches, this Garmin watch for biking allows you to see your time, distances, heart rate, and calories.
These Garmin watches are housed under chemically strengthened glass and is very easy to read, even in direct sunlight.
One key feature it boasts is the maximum volume of oxygen or the V02 Max Reading.
This Garmin Forerunner 645 is a crucial indicator of your progress and current fitness level.
With up to 12 hours in GPS mode and 7 days battery life in smartwatch mode, the Garmin Forerunner 645 GPS Watch is the biking partner that can keep up with you.
Pros
This best Garmin watch for mtb is easy to use
Lightweight design
Awesome activity metrics
Cons
Prone to error device pairing.
Check Price on Amazon

3. SUUNTO Core Outdoor Sports Watch
SUUNTO Core Outdoor Sports Watch is a timepiece specially designed for outdoor activities.
These best mountain biking watches feature a sturdy, water-resistant casing, and its design combines the modern and dynamic look with the reliability of SUUNTO watches.
This best SUUNTO for cycling is characterized by a digital display and round bezel protected by a scratch-resistant crystal window.
Combining a barometer, altimeter, and a compass, it will bring out the adventurer in you.
The altimeter will help determine your current elevation, track your descent or ascent, and gauge your progress on a climb.
By keeping a close eye on the air pressure trend, the barometer in this best SUUNTO watch for mountain biking forecasts sudden alterations in the weather.
Additionally, the compass will help you navigate and pinpoint locations to find your way in whiteout conditions and through wilderness safely.
Pros
This best mountain bike smartwatch has easy to read display.
Good battery life
Rugged and durable design.
Stylish designs, variations, and color.
Cons
No GPS
Lacks heart rate monitor.
Check Price on Amazon

4. Garmin Vivoactive 3 GPS Smartwatch
The Garmin Vivoactive 3 GPS Smartwatch is a durable and attractive watch that hits the sweet spot between smartwatch functionality and fitness tracker.
This best fitness watch for mountain biking design reflects its smart yet sporty credentials, as it appears more like a watch than a fitness tracker.
In keeping with the sports tech legacy of Garmin, this best watch for mtb has GPS tracking, a heart rate sensor, and a wide range of built-in apps dedicated to helping you keep tabs on your activities while on the trail.
Thanks to the Elevate wrist-based heart rate technology, this watch allows you to monitor vital aspects of your fitness.
This Vivoactive 3 mountain biking is also waterproof, and the screen comes with Gorilla Glass 3, so this best smartwatch for mountain biking is scuff and scratch-resistant.
The Garmin Vivoactive 3 GPS Smartwatch is comfy to wear and lightweight, and it is packed with practical features.
Pros
Great battery life
Lightweight design
24/7 heart-rate monitoring
Cons
Lacks onboard music storage.
Check Price on Amazon

The Coros Pace GPS Watch attempts to fill the niche between consumer-oriented trackers and high-end GPS watches.
This best mountain bike watch has a screen that is big enough for a quick glance at critical metrics while riding, but not too big that it becomes so uncomfortable.
Thanks to the choice of materials, it is also lightweight: the case is made of plastic material, and the band is made of a silicone material that is ventilated to minimize sweat and soft to the touch.
While it's plastic, this watch has a reliable build quality.
The glass is scratch-resistant, and the housing is durable.
The PACE has a built-in heart rate monitor that records while riding.
This best mtb watch features a barometer which uses the atmospheric pressure of the earth to determine your altitude, making it great for mountain biking.
With the Coros Pace GPS Watch, you need not worry about charging your watch continually as the battery can last up to 30 days in smartwatch mode.
Pros
Lightweight design
Outstanding battery life
Reasonably priced
Cons
No music controls or playback.
Check Price on Amazon

6. SUUNTO Ambit3 Peak Watch
SUUNTO Ambit3 Peak Watch is a great all-round watch. Its GPS capability, combined with its accuracy, makes this unit one of our favorites.
While tracking your typical speed, distance, and duration, this watch goes one step further as it allows users to monitor heart rate and plan routes.
Also, this best watch for mountain biking gives you extra help by providing storm alerts as the weather is changing and daylight hours, so you don't get stuck in the dark.
There is also the FindBack feature that navigates the rider back to the starting point, so they don't get lost.
This best watch for biking is both highly accurate and durable, allowing riders to feel secure wearing this watch.
SUUNTO Ambit3 Peak Watch is relatively easy to use and provides useful features with a clear and simple display.
Pros
Easy to use
Comfortable
Measures elevation, barometric pressure, and altitude.
Rechargeable battery
Cons
A bit pricey for some mountain bikers.
Check Price on Amazon

Sale
Top-Rated Watch For Mountain Biking
Our Pick
Our top recommendation for the best watches for mountain biking is SUUNTO Ambit3 Peak Watch. This GPS watch features excellent navigation, improved battery life, and off-road styling, and it is a cracking watch for mountain biking.
Having a watch with biking activity tracking apps and built-in cycling features can make your mountain biking more enjoyable. Being to track your heart rate or access GPS while riding your bike gives you additional convenience.
Hopefully, our review of the best watches for mountain biking has helped you to make an informed decision.

Key References
"Using Fitness Trackers and Smartwatches to Measure Physical Activity in Research: Analysis of Consumer Wrist-Worn Wearables". Accessed March 15, 2020. Link.