Selma To Montgomery National Historic Trail
Park Information
The climax to the decades-long voting rights crusade in Alabama erupted in March 1965 as Civil Rights activists converged on Selma, Alabama.
The final push to achieve a nationwide solution to the disenfranchisement of African Americans came as the result of three strategically planned marches, the first of which took place on March 7.
Nearly 500 marchers proceeded through the streets of Selma and across the Edmund Pettus Bridge where they were faced by scores of Alabama State troopers.
The troopers attacked the non-violent marchers, leaving many of them bloodied and severely injured, on a date forever ensconced in history as " Bloody Sunday". A second march ended in a prayer session at the point of Sunday's confrontation.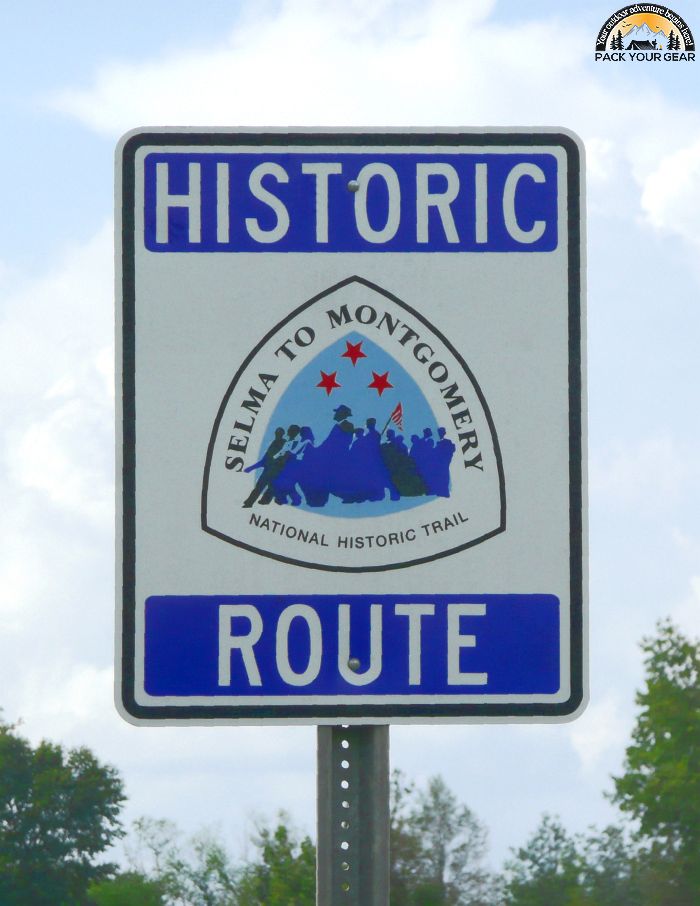 When an injunction circumventing the march to the Alabama State Capitol was reversed, a plan was devised to conduct the monumental trek on Sunday, March 21, 1965. Thousands of people, representing many races and nationalities, moved before the eyes of the world in demonstration to guarantee the right to vote.
The five-day/four-night event covered a 54-mile route along state Highway 80 through chilling weather and rain. The result was the personal triumph of those who participated in the historic trek and the signing of the Voting Rights Act on August 6, 1965.
Today, the Selma to Montgomery National Historic Trail stands as a testament to the sacrifices made in the triumph to preserve the ?right to vote? as the bedrock of American democracy.
Agency Name:
National Park Service
Directions
Plane – Visitors may fly into the Montgomery Regional Airport. The airport is on the trail route. Exiting the airport, go east on Selma Highway/Hwy 80 to Selma, AL or west to Montgomery, AL.
Car – From Birmingham, AL follow I-65 south and take Exit 212 to Clanton. From Clanton take Hwy 145 to Hwy 22 and follow Hwy 22 for 45 minutes to Selma. From Atlanta, GA take I-85 south to Montgomery, AL. Merge onto I-65 south and get off on Exit 167 to Hwy 80 west. Continue for 43 miles to Selma. The start of the trail is located at Brown Chapel, A.M.E. Church in Selma located on Martin Luther King, Jr. Street. Follow Trail markers to scenic Highway 80 through Lowndes County, AL. Continue on Hwy 80 to Montgomery terminating at the Alabama State Capitol in Montgomery located on Dexter Avenue.
Contact Info
1212 Old Montgomery Road
Tuskegee, AL
36087
Additional Info
"Bloody Sunday – Selma To Montgomery National Historic Trail (U.S. National Park Service)". Accessed April 26, 2020. Link.
Near By Parks
Jimmy Carter National Historic Site
Selma To Montgomery National Historic Trail
Anniston Museum Of Natural History
Warm Springs National Fish Hatchery (Georgia)
Clay Creek
Andersonville National Historic Site
Perry Lake
Sutton Lake
Center Hill Lake
Carters Lake
West Point Lake
Near By Campgrounds
Amity (AL)
Bluff Creek (AL)
Chilatchee Creek (AL)
Gunter Hill (AL)
Hardridge Creek (AL)
Prairie Creek (AL)
Six Mile Creek (AL)
White Oak (CREEK) Campground (Al)
Cotton Hill (GA)
Holiday (GA)
R Shaefer Heard (GA)
Whitetail Ridge (GA)