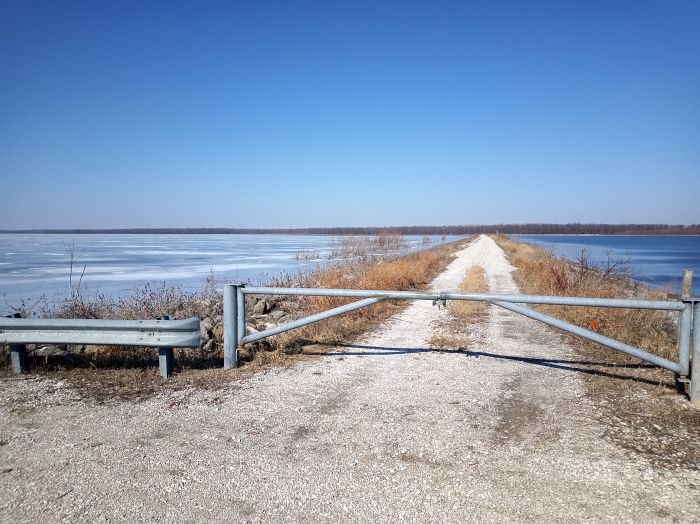 Chautauqua National Wildlife Refuge
Park Information
Chautauqua National Wildlife Refuge was established in 1936 by Executive Order 7524, which authorized the purchase of lands owned by the defunct Chautauqua Drainage and Levee District.
The refuge extends from Illinois River mile 124.0 to 129.5. It is an important link in the chain of resting, feeding, and wintering areas for waterfowl and other migratory birds in the Mississippi Flyway.
Under pristine conditions, this segment of the Illinois River floodplain was composed of a series of backwater lakes. In the early 1900s, like many floodplain wetlands, the area was diked, drained, and converted for agricultural production.
During the 1930s, a series of navigation locks and dams were built on the Illinois River for barge traffic. Commercial navigation and the diversion of Lake Michigan water down the Illinois River exacerbated the effects of agricultural uses by raising the low mean water levels by about four feet.
Chautauqua National Wildlife Refuge is the headquarters of the Illinois River National Wildlife and Fish Refuges Complex, which includes Emiquon and Meredosia refuges.
Agency Name:
Fish and Wildlife Service
Directions
Chautauqua Refuge is located 8 miles north of Havana, Illinois, and 30 miles south of Pekin, Illinois, on the Manito Blacktop. Turn onto 1950E. Travel one mile to 2110N to the visitor center or continue on 1950E for another 1.5 miles to the Eagle Bluff Access Area for fishing and wildlife viewing opportunities.
Contact Info
19031 E. County Road 2110N
Havana, IL
62644
Additional Info
"Home – Chautauqua – U.S. Fish and Wildlife Service". Accessed May 17, 2020. Link.
Near By Parks
Davenport Museum Of Art
Great River National Wildlife Refuge
Port Louisa National Wildlife Refuge
Canton Lake
Clarence Cannon National Wildlife Refuge
Near By Campgrounds
Argyle Lake State Park
Beaver Dam State Park
Clinton Lake State Recreation Area
Coon Creek (IL)
Dam East (DAY USE) (Il)
Dam West (DAY USE) (Il)
Delabar State Park
Eagle Creek State Recreation Area
Edward Madigan State Fish And Wildlife Area
Fishermans Corner (IL)
Forrest W. Bo Wood (DAY USE) (Il)
Forrest W. Bo Wood (IL)
Hidden Springs State Forest
Illini State Park
Jim Edgar Panther Creek State Fish And Wildlife Area
Johnson Sauk Trail State Recreation Area
Jubilee College State Park
Lithia Springs (IL)
Lone Point (DAY USE) (Il)
Lone Point (IL)
Marshall State Fish And Wildlife Area
Moraine View State Recreation Area
Nauvoo State Park
Opossum Creek (IL)
Pere Marquette State Park
Prophetstown State Park
Ramsey Lake State Recreation Area
Rock Island Quad Cities KOA
Sand Ridge State Forest
Sangchris Lake State Recreation Area
Siloam Springs State Park
Spillway (IL)
Starved Rock State Park
Weinberg King State Park
Weldon Springs State Park
Wilborn Creek (GROUP CAMP) (Il)
Wolf Creek State Park
Clarks Ferry (IA)
Geode State Park
Shady Creek (IA)
Shimek Forest Campground
Wildcat Den State Park
Bluffview (MARK TWAIN LAKE) (Mo)
Frank Russell (MO)
John Spalding Rec Ar (MO)
Mw Boudr Group Use (MO)
Spillway Recreation Area (MO)
Bootleg (UT)
Cats Paw Camp (UT)