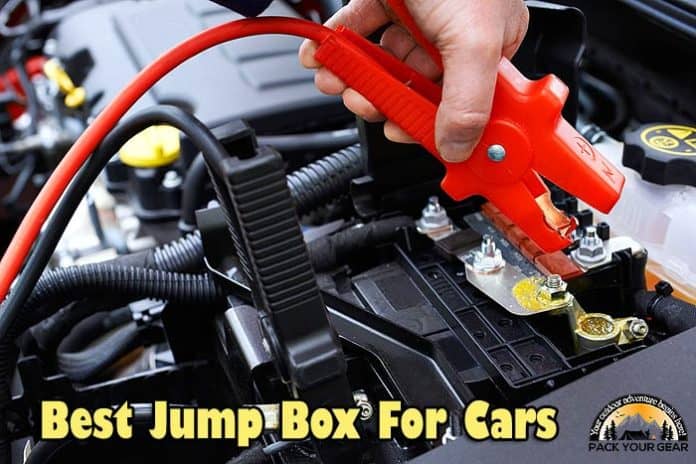 When you are car camping, you need to be fully equipped for any type of uncertainty. Batteries are a very common problem in cars. If the battery is dead, you need to seek help from other people or find the nearest mechanic.
Sale
Best Jump Box For Cars
Our Pick
Our top pick for the best jump box for cars is the NOCO Boost HD GB70 Jump Starter. This ultra-compact and portable jump box will safely start a dead battery in no time. Although it may be more expensive to buy, it offers remarkable value for money.
We ♥ honesty! Pack Your Gear earns a commission through the following hand-picked links at no extra cost to you.
To be prepared for this problem, you need to have a jump box in your car's tool kit. You never know when your car's battery will run out. Having a car starter during camping with you can provide your car battery with the right amount of power it needs to restart anywhere, anytime.
Here is our guide to some of the best jump box for cars on the market, ranging from extremely lightweight and compact jump box up to heavy-duty models.
Best Jump Box For Cars – Comparison Table
Times can jump start per charge
Why we Need Jump Box During Camping?
A jump box for cars is a handy tool for those who are camping in remote locations. It is inexpensive insurance against accidental battery discharge. And it can also be used as a backup charger if you need backup power for your digital devices.

How I Choose a Jump Starter for my Car?
Many people have problems with their car batteries. Instead of buying a new one after the old one underperforms, consider buying an outstanding quality jump box. Here are some factors to consider when shopping for a jump box for cars.
Cranking power refers to the number of amps the device can supply if additional cranking is required.
Modern jump starters typically have a starting power of around 400 amps.
Peak power indicates the maximum power that a jump box can deliver.
The most popular is around 1000 amperes; however, there are many options with varying peak power.
There's no "best performance" power; it all depends on your needs and car battery type.

Modern technology has had a significant impact on jump starters. As a result, more and more models with different additional functions have emerged.
Some of the best are USB ports, air compressors, flashlights, and radios. Suppose you have a laptop, smartphone, or tablet. In that case, the USB charging ports can come in handy, particularly in low-battery conditions.
A jump box can be used anywhere as a quick charger. Some of the more versatile options have a built-in air compressor to help you in urgent situations.
It provides enough power to inflate your car tires until the next stop. With a flashlight built into a jump box for cars, you can use its quick start mode regardless if it is day or night.
The radio is useful when you are on standby. For instance, if you are waiting for towing service on a highway, it is better to turn on the built-in radio and save the car battery.
Suggested Reading:

Safety is of the utmost importance to these devices.
Even if high voltages aren't handled, the high amperage can be harmful and often even lethal.
The best jump box for cars should offer overvoltage protection, short circuit protection, over-current protection, overload protection, and overload protection.

The design of a jump box is the most significant symbol of durability.
For instance, if it's made from cheap plastic, you can't expect excellent durability.
In contrast, metal units can weigh a lot. So, try to find the right balance.
The key is finding a lightweight device with a sturdy design.

People on a tight budget don't have as many options as people on an unlimited budget. If you can find a reasonable price model, outstanding features, and a satisfying design, you have hit the lottery.

Will a Jump Starter Start a Dead Battery?
Yes, a jump starter can start a dead battery. Because the battery is not dead, it is just discharged. It wasn't kept charged by your car's electrical system or had difficulty starting in the cold.

How Long Should I Drive my Car After a Jump Start?
When your car starts, let it run for a few minutes to keep the battery charged. Unhook the clips in the reverse order that you attached to them. Ride for 30 minutes before you stop again to allow the battery to continue charging. Otherwise, you may need a different jump box.

Best Jump Box for Cars
Here are the top 6 best jump box for cars on the market today:
1. Clore Automotive Store Jump-N-Carry JNC660 Jump Starter
The JNC 660 is rated at 1700 amps with 425 cranking amps. There is also an integrated auto-charger for optimum convenience.
It features a Pro-Former battery technology that gives you extended cranking power and high performance for long life.
The heavy-duty 46-inch AWG cables in this jump starter are copper insulated for efficiency and durability.
The voltmeter shows the battery charge level, so you can see how healthy your car's battery is.
Also, there is a DC outlet to power 12-volt accessories, which can come in handy.
The DC input charges the internal battery very quickly.
Measuring 16 x 14 x 5 inches and weighing 18 lbs, this jump starter is slightly heavier than some other models on the market.
You won't have a problem finding a place to store it when not in use.
The JNC 660 Jump Starter is designed for years of trouble-free use.
Pros
Rugged cable design
Replaceable battery
Easy to use
Carrying handle
Cons
There is no on/off power switch.
Check Price on Amazon

2. NOCO Boost Plus GB4O Jump Starter
The NOCO Boost Plus GB4O Jump Starter is packed with various features that make it a versatile option for jumpstarting your car.
As a whole, the rated power is 1000 amps, so you can get up to 20 jump starts on a single charge.
Thanks to this unit's reverse polarity protection and spark-proof technology, you can continue to connect the lead-acid battery safely.
This starter includes a built-in LED flashlight that offers 7 different modes, including high, medium, low, flashing, and emergency SOS when you need to alert someone of an emergency.
With this device, you can charge a wide variety of mobile devices via the included USB port, including tablets, smartphones, and much more.
This device's LED flashlight gives you a high level of visibility in a power failure or poor visibility.
It's by far one of the best jump starters for cars out there with many useful and incredible features that you will love.
Pros
Durable and rugged design.
Reverse-polarity protection
Spark proof design allows for a safe jumpstart.
Fast and efficient performance.
Cons
The cables this device uses are a bit on the short side.
Check Price on Amazon

3. Imazing Portable Car Jump Starter
The Imazing Portable Car Jump Starter combines versatility, safety, and power into a convenient package.
This portable unit offers 1, 200 amps of peak power through its color-coded clamps and heavy-duty cables.
That is enough power to jumpstart a 6.0-liter diesel engine or 8.0-liter gas engine up to 30 times per charge.
It is equipped with a built-in LED flashlight that makes visibility possible in low-light situations.
Also, the SOS light signal is handy in finding help when a jump start isn't enough.
Furthermore, the dual USB ports allow you to charge most smartphones, tablets, and many more digital devices.
Its innovative safety technology protects from reverse polarity, over-voltage, overload, over-current, and over-charge.
The Imazing Portable Car Jump Starter has a compact design, making it easy to carry around.
Pros
Lightweight and compact design.
Advanced electrical safety features.
Powerful jump starter
Comes with a carrying case.
Cons
The clamps are a bit small.
Check Price on Amazon

4. NOCO Boost HD GB70 Jump Starter
This compact yet versatile unit is not only capable of jumpstarting cars but also RVs, trucks, boats, and even diesel pickups.
This unit can also lend a hand for charging your USB and 12-volt devices.
So if you have it, you definitely won't be worried about power anymore.
Boasting a patented safety technology that delivers a spark-proof connection along with reverse polarity protection, this unit ensures 100% safety every time you use it.
It delivers 2, 000 amps, which provide twice the power for a fraction of the size, and it's 40 times more jumpstarts per single charge.
The GB70 is further enhanced with an ultra-bright 400 lumen LED flashlight equipped with 7 light modes, including emergency strobe and SOS.
It has multiple luminosity settings that can immediately adapt to any situation to effectively assist you anytime, anywhere.
Pros
Up to 2000 amps of peak power.
Versatile and multi-functional
Relatively lightweight
Enhanced brightness with the 400-lumen bulb.
Cons
It could be expensive for some car owners.
Check Price on Amazon

5. JF.EGWO Car Jump Starter with Air Compressor
The JF. EGWO Car Jump Starter is a versatile option as it doubles as an air compressor.
The built-in air station is powerful enough to inflate a car tire in just 7 minutes.
This unit features 2 USB ports that can charge your smartphones, tablets, and other digital devices.
It is equipped with dual LED lights with three modes; constant, flash, and SOS.
The LED light can illuminate for up to 120 hours per single charge.
Apart from jumpstarting your car and recharging your digital devices, this device also has your safety in mind.
The smart chip jump start cable can detect when the device is about to discharge, overheating, short circuits, or damage the battery automatically.
Pros
Lightweight and compact design.
2 USB ports
Digital power indicator
Comes with a smart safety wire.
Cons
The battery can drain fast.
Check Price on Amazon

6. Schumacher SJ1332 Portable Power Jump Starter
Armed with a vast array of features that will prove extremely beneficial, this is the perfect compact unit you can take anywhere.
Equipped with 1200 peak amps, this unit will come in handy, especially during emergencies.
It can power any 4, 6, or 8 cylinder vehicles and comes with a 12 volt DC power outlet to take care of your electronics.
It also has a digital display that enables you to monitor the internal batteries charge level.
The LED flex light provides energy-efficient ultra-bright LED lights for your convenience.
A hook-up safeguard is also included to ensure that cables are correctly connected.
This jump box for cars is also equipped with a 100 psi automatic digital air compressor set to the desired pressure.
It will automatically stop once it reaches the setting.
The air compressor is quite handy for whenever you need to inflate your tires.
Pros
Outstanding cranking power
Sturdy and stable case.
Durable construction
Automatic charging system
Cons
Heavier than most jump box for cars.
Check Price on Amazon

Sale
Top-Rated Jump Box For Cars
Our Pick
Our top recommendation for the best jump box for cars is the NOCO Boost HD GB70 Jump Starter. It features an ultra-compact and portable jump box that will safely start a dead battery quickly. Although it may be more expensive to buy, it offers remarkable value for money, and it is highly recommended!
If traveling off-grid or camping is something you frequently do, it is wise to invest in cars' best jump box. These devices are lightweight and can save you the trouble of finding a neighbor if you discharge your battery accidentally.
Key References
"How many CCA do you REALLY need?". Accessed September 30, 2020. Link.
"You need to know what are jump start car battery safety features". Accessed September 30, 2020. Link.