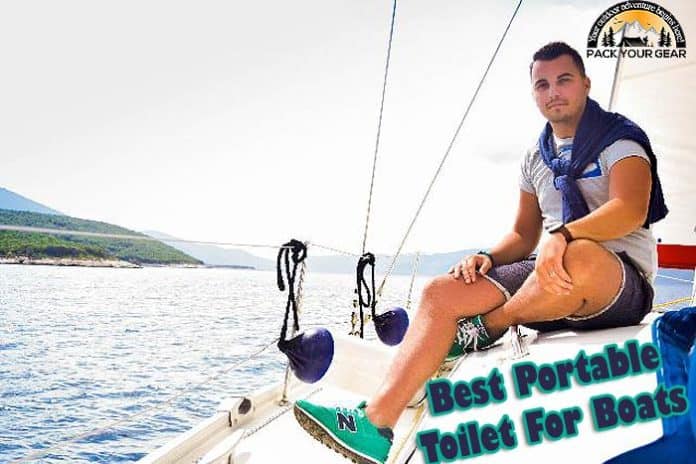 Best Portable Toilet For Boats: The last thing to think about when having fun on a boat trip is what to do when nature calls you. However, this is inevitable even when in nature. Fortunately, adding a portable toilet to your boat can be a useful addition to your gear. It will provide you with the best personal hygiene.
Best Portable Toilet For Boats
Our Pick
15 inches is the standard height for most portable toilets, but for more comfort, you will want a height of between 16 and 18 inches. The Alpcour Portable Toilets are the closest you will get when it comes to a comfortable outdoor toilet, making it our top pick for the best portable toilet for boats.
We ♥ honesty! Pack Your Gear earns a commission through the following hand-picked links at no extra cost to you.
We've compiled a list of the 6 best portable toilets for boats to help you decide which toilet design to take with you on your trip. These toilets have many different features that make a portable toilet convenient to use.
Portable Toilets For Boats – Comparison Table
Freshwater Capacity (Gallons)
Waste Water Capacity (Gallons)
Height Off Ground (inches)

How Does the Portable Toilet Work?
Portable toilets comprise 4 key components:
Toilet seat
Wastewater tank
Pressure system
Flushing mechanism
Portable toilets flush and transport waste like a conventional toilet. Still, the waste is not dumped into a sewer but transported to a storage tank below.
The tank is located in the portable toilet unit under the toilet seat. The storage tank contains chemicals that break down the solid waste, reduce toilet paper, destroy odors, and kill germs.
Portable toilets are flushed with water from a water tank hidden in the toilet or with toilet chemicals from the storage tank. This tank holds all waste and liquids, so standard portable toilets do not require a network drain or water supply.
The flusher works by using the foot or hand. The flushing system creates pressure that circulates the water or chemicals in the tank through a hose that is carried to the toilet bowl.
Suggested Reading:

What are the Common Issues with Portable Toilet in Boats?
One of the common issues for boat owners considering installing portable toilets is the potential for odor.
Luckily, there are high-quality products that treat sewage and maintain portable toilets.
E-Treat Concentrate is a biodegradable and non-staining formula for treating waste, disinfecting, and deodorizing.
Simply add 1 ml of Concentrate for every liter of tank capacity in the toilet bowl.
Suggested Reading:

Different Types of Portable Toilets for Boats
There are 3 main types of portable toilets for boats. They include the following:
A) Bucket-type Portable Toilets
In the broadest sense, a bucket-type portable toilet is essentially a pail or bucket used to collect feces.
These toilets are often a quick fix for emergencies or when you are on the go. Bucket toilets require neither electricity nor water to operate.
The biggest problem with these portable toilets is that feces and urine are collected in the same bucket, which creates many strange smells.
Some litter boxes can help remove odors and soak up liquids.

B) Portable Flush Toilets
Portable flush toilets are an upgrade of the simple bucket toilet designed to bring as much home-like comfort to your boats.
They usually come with toilet paper dispensers, freshwater flushes, and a toilet seat.
They are mainly equipped with two compartments, with the bottom for the waste tank and the top for freshwater.

C) Foldable Toilet Seats
An even more minimalist portable toilet is lighter than the bucket type. It is also known as a collapsible toilet or a backpack toilet.
The folding chair toilet essentially offers a comfortable seat for you to do your thing. A garbage bag is typically used to collect the excrement.
Foldable toilet seats can be installed in seconds and are quite flexible in terms of mobility.

Are Portable Toilets Sanitary?
Although the toilet seat contains a reasonable amount of germs, it passes the standard "hygienic surface" test.
Unlike plumbed-in toilets, portable toilets are not connected to sewage through pipes.
There is a storage tank under the toilet seat in which user's waste and excrement are kept.
The tank stores chemicals that kill germs in solid waste and eliminate foul odors.
Modern portable toilets use quaternary ammonium compounds or glutaraldehyde, which are harmless to human skin and offer fragrant, natural scents.
As soon as they are full, the storage tanks are emptied into sewage tanks or larger treatment plants.

Where Does Toilet Waste go on a Boat?
Traditionally, marine toilets work by dumping waste into a storage bin to be emptied ashore.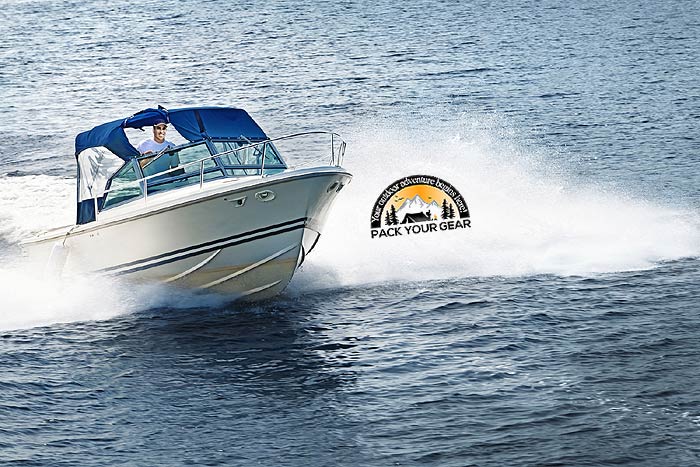 Luckily, there are now less intrusive, and cheaper storage and disposal means.
The law requires that accumulated waste be kept on board until it can be pumped to a land-based waste disposal facility.
If you are unsure where they are, ask your local marina or visit the relevant maritime authority in your state.
In general, untreated wastewater discharge is not permitted within one nautical mile of an island, reef, or mainland.

Is it Legal to urinate on a boat?
You can legally urinate on a boat as long as the urine is not kept in a container first. This turns the container into a Marine Sanitation Device (MSD). If you're observed urinating in water, your local marina can charge you with indecent exposure unless your body parts are not exposed.

What to Look for?
A) Toilet Size
The size of a toilet comes into play during transport and determines its comfort during use.
There are 3 main sizes and types of flush toilets:
The Standard Model: The standard model is designed for an average height person. If you are on the larger side, choose a portable toilet with a larger toilet seat.
The Deluxe Model: The deluxe model is a little more spacious than the standard model and has extra features such as toilet paper holders.
The Luxury Model: For those who can afford it, a luxury portable toilet is stylish and has the most typical household toilet features. Some options come with toilet roll holders and even surfaces to place your soaps and handwash.
For all portable toilets in general, ask yourself these questions:
Is the portable toilet seat comfortable enough for you to sit on?
Will the toilet fit in your boat?
If you are being mindful of your budget, make sure you choose the right size portable toilet for you. Do not suffer from greed if you can help it.

B) Number of People or Duration of Stay
If you are hosting a large group for a short period or a small group for an extended period, or a combination of both, consider the ease of maintenance and the load-bearing capacity of your portable toilet.
Portable toilets with large water and waste capacity are suitable for long periods and large crowds.
It is also cheaper to get small portable toilets for smaller groups or shorter periods. Look for models that have easy-to-read waste and water levels so you can determine when to dispose of the waste or get additional water.
Portable toilets that are water efficient and easy to clean are also more beneficial when it comes to weeklong camps or crowds of 100.
Suggested Reading:

C) Ease of Use and Portability
Choose a portable toilet for boats convenient to move around and meet your standards, particularly when it comes to space.
Some options weigh just 3 lbs and are easy to maneuver, while others weigh up to 13 lbs, making them more challenging to maneuver.
Also, consider how easy it is to take the toilet apart (if it is collapsible) and put it back together.
Take a look at which one works best for you. Portable toilets typically vary in weight due to the materials they are made from.
Choose models that are as light as they are, are strong enough to withstand harsh weather.
Suggested Reading:

D) Comfort
Remember that you'll use your portable toilet multiple times. So, before you buy, ensure you are comfortable with it.
Comfort criteria are never set, but a suitable portable toilet is easy to use because the toilet seat's height and size are right for you.
Finally, choose a portable toilet that offers you privacy, mainly if your group is large.

Best Portable Toilet for Boats
Here are the top 6 best portable toilets for boats on the market today:
1. SereneLife Outdoor Portable Toilet
SereneLife Portable Toilets are designed for your convenience. Still, they feature a spectacular box-shaped design with slots and holes for latches and handles.
It has most of the features of high-end portable devices, but the piston pump flushes and spins more.
This model's waste tank can hold up to 5.3 gallons of capacity, which will undoubtedly go a long way before it needs to be emptied.
The freshwater holding tank has a capacity of about 3.2 gallons or just over 50 flushes.
The integrated 3-way flush system ensures that your SereneLife toilet stays clean and sparkling.
Thanks to their strong and durable materials, SereneLife Outdoor Portable Toilet is equipped for difficult outdoor spaces.
The toilet is made of high-density polyethylene, which is inherently resistant to corrosion and easy to clean.
Pros
Has a piston pump discharge system.
Made of durable high-density polyethylene.
Firmly secures parts and can be easily disassembled if required.
Comes with a carrying case.
Cons
The drain outlet is unfavorably located at the top.
Check Price on Amazon

2. Alpcour Portable Toilet
-H3.
The Alpcour Portable Toilets are the closest you will get when it comes to a comfortable outdoor toilet.
This is an efficient sanitary toilet you can take anywhere and use with total comfort and ease as long as you have a few gallons of water.
This best portable toilet for pontoon boat also provides sufficient flushing for a large group. It offers a full 360-degree flush when flushing, and the anti-leak drain valve traps odors and dirt.
Thanks to the 5.3-gallon tank and natural deodorant components, you can go for a long time without emptying it.
When you finally empty it, you can do it hygienically and safely with the rotating spout and use the spray that comes with the toilet to clean the seat.
Also, the portable toilets are completely self-contained, no water pipes, electricity, or water hookups are required. Just put them in the included carrying case.
Pros
Removable tank
Carrying bag included
Sprayer for easy and quick cleaning.
It has large holding tanks.
Check Price on Amazon

3. SEAFLO Portable Toilets
The Seaflo Portable Toilets are one of the most budget-friendly flush toilets on the market.
This portable toilet for camping made from durable ABS plastic, has molded handles on each tank, and a waterproof cover on the waste bin for maximum convenience.
One thing we love about this unit is that you can choose between 2 different tank sizes.
The smallest tank is 2.6 gallons, and you also have the option of a standard 5.3-gallon tank.
There are locks on the toilet sides that allow you to easily install it in the tank. It has a 3.43-gallon holding tank for flushing and does not require electricity or connections to operate.
The seat on the SEAFLO Portable Toilet is big enough, making it comfortable for everyone.
Pros
Ergonomically shaped handles
The rectangular shape is discreet and elegant.
Two tank sizes available.
Cons
The tanks lack level indicators.
The lid does not lock into place.
Check Price on Amazon

4. Hike Crew Advanced Portable Outdoor Toilet
Made from high-density polyethylene, the Hike Crew Advanced Portable Outdoor Toilet is an extremely durable and safe unit that you will last for years.
The toilet has a robust design that provides a home-like comfort and perfectly secures the tank to the toilet with the side latches.
It is a versatile portable toilet recommended for boating, camping, and RVs, among others.
Plus, it's an easy-to-use unit with a powerful flush. The simple drain hose ensures efficient and painless water drainage.
The large water tank can handle up to 50 flushes and is therefore ideal for outdoor use.
Interestingly, the Hike Crew Advanced Portable Outdoor Toilet is easy to maintain and assemble as it is secured with clamps and latches.
Pros
Super powerful discharge spout.
Simple drain pipe
Double valve to stop odor.
High-density polyethylene construction
Cons
The toilet lid and seat are quite flimsy.
Check Price on Amazon

5. Camco 41541 Portable Travel Toilet
The Camco 41541 Portable Travel Toilet is an economical option that contains all the essentials to provide you with a home-like comfort on a boat.
You'll appreciate the functional two-piece configuration, lightweight, and compact design at a great price.
The manufacturer's decision to use a polyethylene construction for this toilet provides exceptional portability.
Camco portable toilet is compact and weighs just 11 lbs, making it easy to store and transport.
The two-piece design utilizes the 2.5-gallon wash tank on the top and the 5.3-gallon waste tank on the bottom, allowing maximum stability.
Also, this dometic portable toilet has latches to further secure the two tanks. Emptying the holding tank space is a breeze with this toilet. You only need to unlock it and transport it to a suitable disposal point using the provided handle.
A biodegradable toilet chemical is included with every purchase to help deodorize and dissolve the waste.
Pros
Similar to an everyday household toilet.
Easy to maintain and clean.
Manual lever for the discharge system.
Very durable construction; can carry weights of up to 330 lbs.
Easy to use and set up.
Check Price on Amazon

6. Campersville Portable Toilet
Do you need an easily portable and versatile toilet for boats; the Campersville Portable Toilet is ideal.
This portable boat toilet has a large 5.2-gallon capacity, making it ideal for convenient use. It is unnecessary to empty it often.
The good thing is that the toilet is very durable, thanks to the high-density polyethylene material.
This unit can support up to 440 lbs in weight. Other than that, it has a large water tank that allows for 60 to 70 flushes.
The Campersville Portable Toilet has a compact and slim design for convenient use, even in small spaces.
Emptying the toilet is easy using no tools; hence an exceptional choice for boats.
Pros
Supports up to 440 lbs weight.
Made of high-density polyethylene.
60 to 70 flushes water tank.
2.6-gallon waste tank
Compact and smaller design.
Cons
Leaks may occur over time.
Check Price on Amazon

Top-Rated Portable Toilet For Boats
Our Pick
Our top pick for the best portable toilet for boats is the Alpcour Portable Toilet.
You will fall in love with the many conveniences such as a comfy seat and flushing system.
Also, there are 2 integrated handles to allow for easy transport, a level indicator on the tank for accurate refill notifications.
In the sea of misinformation that exists in today's markets, a close look at everything about a product will help you select the best products.
Without a doubt, the best portable toilet for boats is an essential item while on a boating trip. We hope the above information will help you choose the best option for you.

Key References
"How do portable toilets work? | Andyloos". Accessed January 26, 2021. Link.
"Environmental Laws & Regulations : BoatUS Foundation". Accessed January 26, 2021. Link.