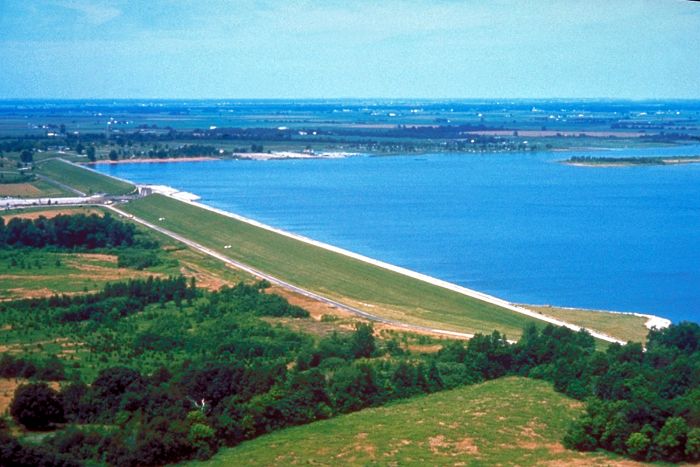 Carlyle Lake
Park Information
Carlyle Lake is located on the Kaskaskia River, approximately 107 miles above its mouth, near the community of Carlyle, Illinois.
Carlyle Lake is the largest man-made lake in Illinois, with over 26,000 acres of water and 11,000 acres of public land. The Carlyle Lake Project provides flood control, water quality control, and water supply to nearby communities, recreation, fish and wildlife conservation, and navigation.
Three marinas, 18 public boat ramps, a sailboat harbor, two State Parks, one with cabins, a resort with lodge, cabins and a restaurant, four beaches, five federal campgrounds, two state campgrounds, a visitor center, and numerous outlying areas provide a variety of opportunities for outdoors enthusiasts.
Agency Name:
US Army Corps of Engineers
Directions
Carlyle Lake is located approximately 50 miles east of St. Louis, Missouri on U.S. Highway 50. The lake area is well served by the existing highway system with U.S. 51 providing access from the east and Illinois 127 providing access from the west. Three major interstates, 70, 64, and 57 are within short driving distances from the lake.
Contact Info
801 LAKE ROAD
Carlyle, IL
62231-9703
Additional Info
"Carlyle Lake". Accessed May 17, 2020. Link.
Near By Parks
George Rogers Clark National Historical Park
Jefferson National Expansion Memorial
Ulysses S Grant National Historic Site
Clark County Museum
Great River National Wildlife Refuge
Marion Reservoir
Clarence Cannon National Wildlife Refuge
Near By Campgrounds
Beaver Dam State Park
Benton KOA
Boulder Day Use (IL)
Boulder Rec. Area (IL)
Casey KOA
Clinton Lake State Recreation Area
Coles Creek Day Use (IL)
Coles Creek Rec Area (IL)
Coon Creek (IL)
Dale Miller Youth (IL)
Dam East (DAY USE) (Il)
Dam East Rec. Area (DAY USE) (Il)
Dam East Spillway (DAY USE) (Il)
Dam West (DAY USE) (Il)
Dam West Area (DAY USE) (Il)
Dam West Day Use (IL)
Dam West Rec. Area (CAMP AND DAY) (Il)
Dam West Spillway (IL)
Eagle Creek State Recreation Area
Edward Madigan State Fish And Wildlife Area
Eldon Hazlet State Recreation Area
Ferne Clyffe State Park
Forrest W. Bo Wood (DAY USE) (Il)
Forrest W. Bo Wood (IL)
Fox Ridge State Park
Frank Holten State Recreation Area
Giant City State Park
Gun Creek (IL)
Hamilton County State Fish And Wildlife Area
Hidden Springs State Forest
Horseshoe Lake Madison State Park
Jim Edgar Panther Creek State Fish And Wildlife Area
Keyesport Rec. Area (IL)
Lake Murphysboro State Park
Lincoln Trail State Park
Lithia Springs (IL)
Lone Point (DAY USE) (Il)
Lone Point (IL)
Lotus Group Area (IL)
Mcnair Group Area (IL)
North Marcum Day Use Area (IL)
North Sandusky Campground (IL)
North Sandusky Day Use (IL)
Opossum Creek (IL)
Pere Marquette State Park
Ramsey Lake State Recreation Area
Randolph County State Recreation Area
Red Hills State Park
Sam Dale Lake State Fish And Wildlife Area
Sam Parr State Fish And Wildlife Area
Sangchris Lake State Recreation Area
Shagbark Group Area (IL)
South Marcum Campround (IL)
South Marcum Day Use (IL)
South Sandusky Campground (IL)
South Sandusky Day Use (IL)
Spillway (IL)
Stephen A. Forbes State Recreation Area
Trail Of Tears State Forest
Walnut Point State Park
Washington County State Recreation Area
Wayne Fitzgerrell State Recreation Area
Weldon Springs State Park
Wilborn Creek (GROUP CAMP) (Il)
Wolf Creek State Park
World Shooting Complex
Harmonie
St. Louis N.E. I 270 Granite City KOA
St. Louis West Historic Route 66 KOA
Bootleg (UT)
Cats Paw Camp (UT)