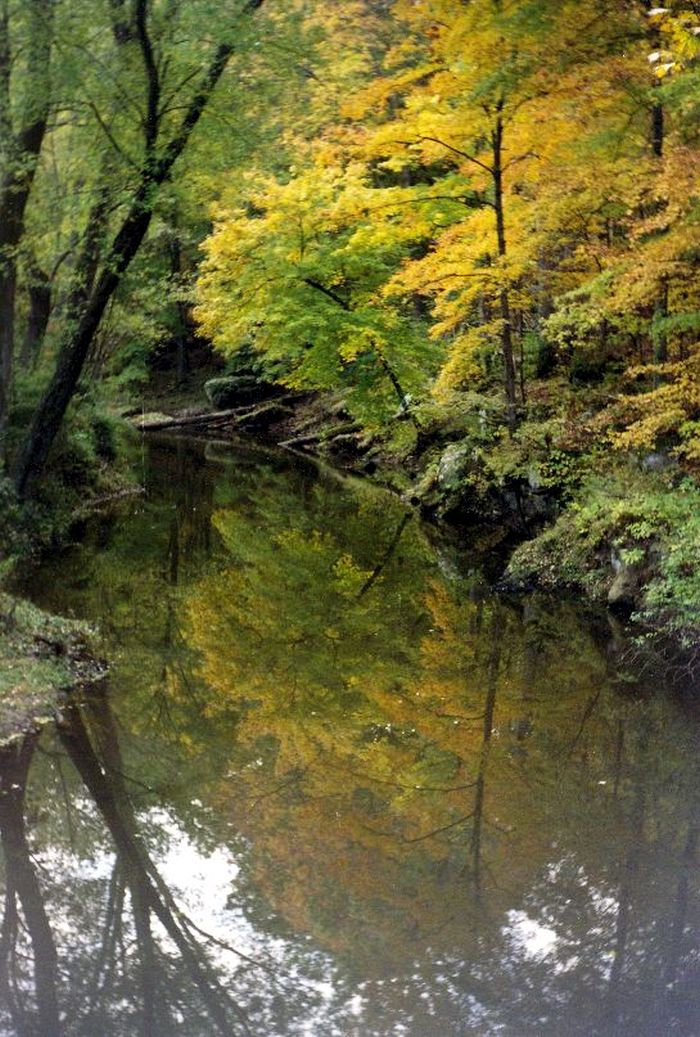 Crab Orchard National Wildlife Refuge
Park Information
Crab Orchard National Wildlife Refuge's 44,000 acres of land and water contain a wide diversity of flora and fauna. Major habitat types on the refuge include hardwood forest, agricultural land, grazing units, brushland, wetlands, and lakes.
The refuge provides significant resting areas for migratory birds utilizing the Mississippi Flyway. Wintering numbers of Canada Geese can peak at 200,000.
A total of 700 plant species, 245 bird species, 33 mammal species, 63 fish species, and 44 reptile and amphibian species have been documented on the refuge.
The western 24,000 acres of the refuge provide a wide range of recreational opportunities and also includea 4,050-acre wilderness area. The eastern portion, 20,000 acres, is a wildlife sanctuary, and public use is limited.
Cooperative farming, permittee grazing, and moist soil units are the primary management tools used to provide feeding and loafing areas for migrating and wintering waterfowl.
The topography of the refuge varies from gentle rolling slopes through most of the refuge to slopes exceeding 24% in the southern portion. There is a wide spectrum of recreational opportunities on and around three man-made lakes on the refuge.
Present annual visitation is approximately 1,000,000 visitors. Industrial activities on the refuge range from manufacturing and storage facilities to administrative offices.
Many buildings now housing industries were used in the manufacturing of explosives during World War II, and they are still used for military ordnance production today. The concrete igloos built for munition storage are now leased to private industry for storage of many types of products.
Agency Name:
Fish and Wildlife Service
Directions
Crab Orchard National Wildlife Refuge is located five miles west of Marion, Illinois, and five miles south of Herrin, Illinois, on State Route 148. From I-57 in Marion, go west on Illinois Route 13 about three miles to Illinois Route 148. Turn left (south) and go two and one-half miles. The refuge Visitor Information Center is located on the left.
Contact Info
8588 Route 148
Marion, IL
62959
Additional Info
"Home – Crab Orchard – U.S. Fish and Wildlife Service". Accessed May 17, 2020. Link.
Near By Parks
Jefferson National Expansion Memorial
Ulysses S Grant National Historic Site
Clarks River National Wildlife Refuge
Lake Isom National Wildlife Refuge
Mingo National Wildlife Refuge
Reelfoot National Wildlife Refuge
Kentucky Lake
Lake Barkley
Marion Reservoir
Near By Campgrounds
Benton KOA
Boulder Rec. Area (IL)
Coles Creek Day Use (IL)
Coles Creek Rec Area (IL)
Dale Miller Youth (IL)
Dam East Rec. Area (DAY USE) (Il)
Dam East Spillway (DAY USE) (Il)
Dam West Area (DAY USE) (Il)
Dam West Day Use (IL)
Dam West Rec. Area (CAMP AND DAY) (Il)
Dam West Spillway (IL)
Dixon Springs State Park
Eldon Hazlet State Recreation Area
Ferne Clyffe State Park
Fort Massac State Park
Frank Holten State Recreation Area
Giant City State Park
Gun Creek (IL)
Hamilton County State Fish And Wildlife Area
Horseshoe Lake Alexander State Fish And Wildlife Area
Horseshoe Lake Madison State Park
Keyesport Rec. Area (IL)
Lake Murphysboro State Park
Mcnair Group Area (IL)
North Marcum Day Use Area (IL)
North Sandusky Campground (IL)
North Sandusky Day Use (IL)
Randolph County State Recreation Area
Red Hills State Park
Sam Dale Lake State Fish And Wildlife Area
Shagbark Group Area (IL)
South Marcum Campround (IL)
South Marcum Day Use (IL)
South Sandusky Campground (IL)
South Sandusky Day Use (IL)
Stephen A. Forbes State Recreation Area
Trail Of Tears State Forest
Washington County State Recreation Area
Wayne Fitzgerrell State Recreation Area
World Shooting Complex
Harmonie
Cadiz (KY)
Canal (KY)
Columbus Belmont State Park
Eureka (KY)
Hurricane Creek (KY)
John James Audubon State Park
Kenlake State Resort Park
Kentucky Dam Village State Resort Park
Kentucky Lake/I 24/Paducah KOA
Kentucky Lakes Prizer Point KOA
Lake Barkley State Resort Park
Linton (KY)
Old Kuttawa (KY)
Pennyrile Forest State Resort Park
Eagle Point Recreation Area (MO)
Greenville Recreation Area (MO)
Highway K (MO)
Markham Springs (MO)
Peoples Creek (MO)
Redman Creek Recreation Area (MO)
Silver Mines (MO)
St. Louis N.E. I 270 Granite City KOA
Bumpus Mills (TN)