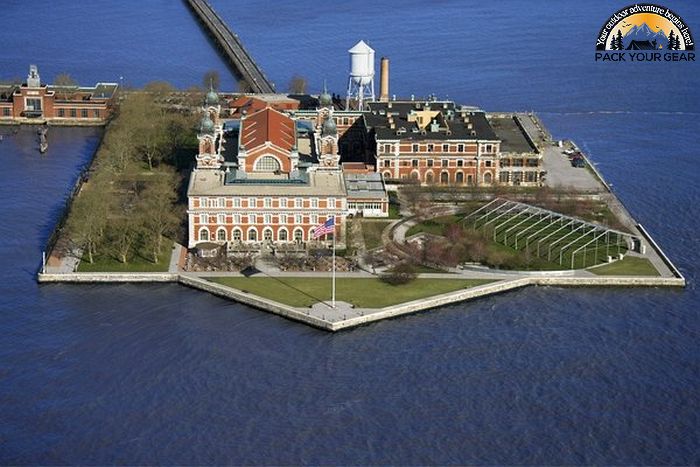 Ellis Island National Monument
Park Information
Ellis Island was incorporated as part of the Statue Of Liberty National Monument on May 11, 1965.
Between 1892 and 1954, approximately 12 million steerage and third class steamship passengers who entered the United States through the port of New York were legally and medically inspected at Ellis Island.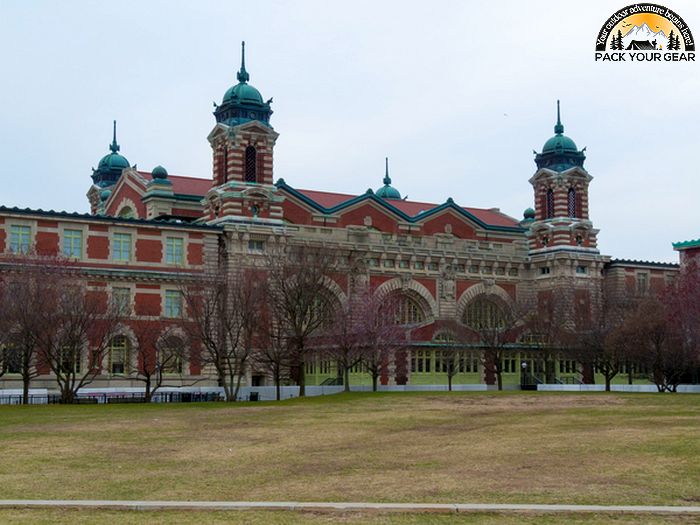 Reopened on September 10, 1990 after a massive restoration, the Main Building on Ellis Island is now a museum dedicated to the history of immigration and the important role this island claimed during the mass migration of humanity in the late 19th and early 20th centuries.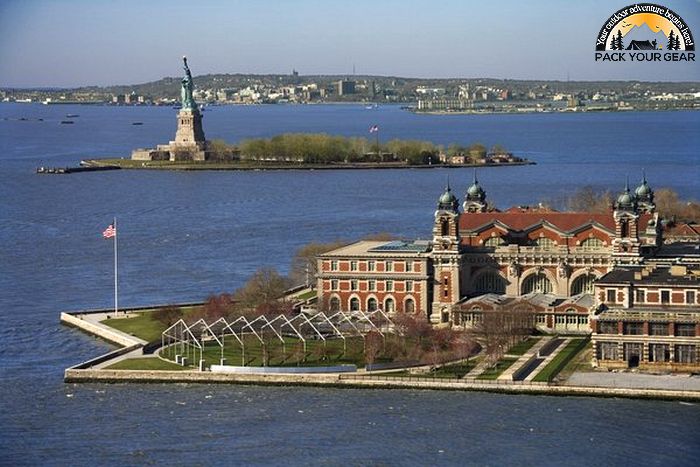 Ellis Island is Federal property within the shared territorial jurisdiction of the States of New York and New Jersey.
Agency Name:
National Park Service
Directions
Plane – The New York City metropolitan area is served by three major airports: Newark-Liberty International, LaGuardia, and JFK International.
Car – Liberty Island is accessible by Circle Line-Statue of Liberty Ferry, Inc. ferries only. One round trip ferry ticket includes visits to Liberty and Ellis Islands. Round trip ferry tickets cost $10.00 for ages 13+, $8.00 for senior citizens (62 and over), and $4.00 for children 3-12.
ADVANCED TICKET PURCHASES CAN BE MADE ON-LINE OR BY CALLING 1(800)600-1600; OR (301) 784-9023 OUTSIDE THE U.S. AND CANADA. To visit their on-line web-site click on "MORE INFORMATION".
Ferries depart from Battery Park in New York City and Liberty State Park in Jersey City, New Jersey. Battery Park is located at the Southern tip of Manhattan, off the West Side Highway South or the FDR Drive South.
Parking is limited and can be expensive. Using Public Transportation is recommended. Please contact the ferry company at (212) 269-5755 for ferry schedules. Liberty State Park in New Jersey is located off exit 14B of the New Jersey Turnpike. Please contact the ferry company at (201) 435-9499 for ferry schedules and parking information.
Public Transportation – There are a variety of ways to reach the Statue of Liberty ferry by public transportation. Please contact the MTA New York City Transit Authority at (718) 330-1234 for subway and bus directions to Battery Park.
For information on reaching Liberty State Park in New Jersey via public transportation, contact New Jersey Transit at (800) 626-7433.
Contact Info
Statue of Liberty National Monument
Liberty Island
New York, NY
10004
Additional Info
"Ellis Island Part of Statue of Liberty National Monument (U.S. National Park Service)". Accessed June 27, 2020. Link.
Near By Parks
Hunt Hill Farm
Delaware National Scenic River
Delaware And Lehigh National Heritage Corridor
Deshler Morris House
Delaware Water Gap National Recreation Area
Edgar Allan Poe National Historic Site
Edison National Historic Site
General Grant National Memorial
Gloria Dei Church National Historic Site
Hamilton Grange National Memorial
Home Of Franklin D Roosevelt National Historic Site
Independence National Historical Park
Lower East Side Tenement Museum National Historic Site
Morristown National Historical Park
New Jersey Pinelands National Reserve
Steamtown National Historic Site
Statue Of Liberty National Monument
Thaddeus Kosciuszko National Memorial
Theodore Roosevelt Birthplace National Historic Site
Valley Forge National Historical Park
Vanderbilt Mansion National Historic Site
Weir Farm National Historic Site
Hudson River National Estuarine Research Reserve
Jacques Cousteau National Estuarine Research Reserve
Manhattan Sites
National Museum Of Industrial History
The Jazz Museum In Harlem
The African American Museum In Philadelphia
Western Connecticut State University
Elizabeth A. Morton National Wildlife Refuge
Governors Island National Monument
Lincoln Park Coast Cultural District
Historic Bethlehem Partnership Inc.
Great Swamp National Wildlife Refuge
John Heinz At Tinicum National Wildlife Refuge
Stewart B. Mckinney National Wildlife Refuge
Wallkill River National Wildlife Refuge
Wertheim National Wildlife Refuge
Success Lake
Huntington State Park
Appalachian National Scenic Trail
Aylesworth Creek Lake
Beltzville Lake
Prompton Lake
Francis E Walter Dam
Hancock Brook Lake
Hop Brook Lake
Northfield Brook Lake
Thomaston Dam
Delaware Lake
Union City Dam
Edwin B. Forsythe National Wildlife Refuge
Elizabeth A. Morton Nwr
Near By Campgrounds
American Legion Sf (HAWES)
Black Rock Picnic Shelter
Black Rock State Park
Burr Pond Picnic Shelter
Chatfield Picnic Shelters
Dennis Hill Picnic Shelter
Dinosaur State Park Picnic Shelter
Hammonasset Beach State Park
Hammonasset Picnic Shelter
Housatonic Meadows State Park
Indian Well Picnic Shelter.
Kettletown State Park
Lake Waramaug State Park
Macedonia Brook Picnic Shelter
Macedonia Brook State Park
Northfield Brook Lake (CT)
Osbornedale Picnic Shelter
People&Amp;Apos;S Forest Picnic Shelter
Sleeping Giant Picnic Shelter
Southford Picnic Shelter
Wharton Brook Picnic Shelter
Atlantic Blueberry Hill
Buena Vista
Chestnut Lake Rv
Nascar Rv Resort At Mays Landing
Beaver Pond Campsite
Beaverkill
Camp Gateway (NY)
Clarence Fahnestock State Park
Kenneth L. Wilson
Lake Taghkanic
Little Pond Campground
Mills Norrie State Park
Mongaup Pond
Newburgh New York City North KOA
Roundout Valley Rv
Saugerties Woodstock KOA
Sebago Cabins
Taconic State Park (RUDD POND AREA)
Wildwood State Park
Woodland Valley
Delaware Water Gap Pocono Mountain KOA
Robin Hill Rv
Scotrun Campground
Timothy Lake North