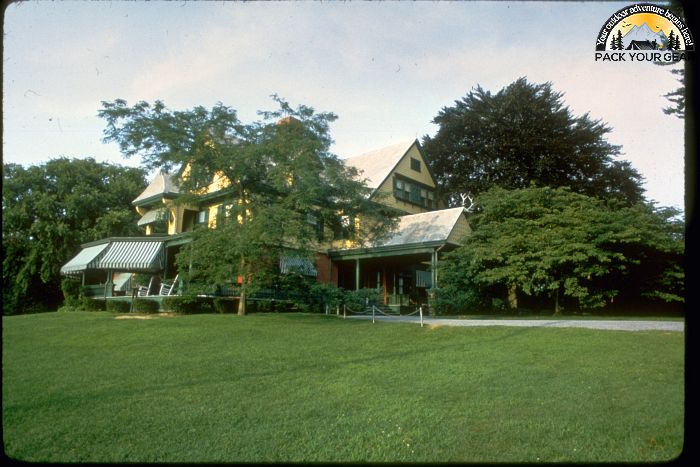 Sagamore Hill National Historic Site
Park Information
Sagamore Hill was the home of Theodore Roosevelt, 26th President of the United States, from 1885 until his death in 1919. From 1902 to 1908 his "Summer White House" was the focus of international attention.
Otherwise, it was the home of a most remarkable fellow. Theodore Roosevelt, a family-centered father of six, ended his workday at 4 PM to play with his children.
Often a man of contradiction, he was awarded the Nobel Peace Prize and the Congressional Medal of Honor. He was a diplomat, internationalist, naval historian and strategist, combat commander of a volunteer cavalry regiment, and Assistant Secretary of the Navy.
As a noted historian, biographer, essayist, editor, columnist, and critic. He wrote 36 books. He was a renowned ornithologist, an expert on and hunter of big-game animals, but a also pioneering American conservationist.
He was a country squire, horseman, socialite and patron of the arts. He reformed the federal civil service and New York City police department, lost a race for New York City mayor, finished second in a 1912 third party bid for president, arrested outlaws as a North Dakota deputy sheriff, served as Governor of New York and Vice-President of the United States. Today,
Sagamore Hill is furnished as it was during his busy lifetime.
Agency Name:
National Park Service
Directions
Plane – Long Island is served by three airports: Kennedy International (JFK) and LaGuardia (LGA) in New York City or MacArthur (ISD) at Islip, New York. Each airport is about 45-60 minutes travel time Sagamore Hill. Rental cars and taxis are available at all airports, but rates are high. Bus shuttle connections from JFK and LGA are available to Long Island Railroad's Jamaica Station. Ask travel agent or airport ground transportation desk for details. Driving from the airports: ISD – 29 miles. Take State Route 454 West/ Veterans Highway to Long Island Expressway (LIE) I-495, then west to Exit 41N – OR – continue 4 miles beyond interchange on Route 454 West to terminus of the Northern State Parkway (NSP). Take NSP west to Exit 35N. JFK – 28 miles. Take Belt Parkway east to the northbound Cross Island Parkway. Continue to Grand Central Parkway (GCP)/NSP eastbound to Exit 35N. LGA – 27 miles. Travel east/Long Island-bound on GCP to LIE/I-495, then east to Exit 41N – OR – continue on the GCP/NSP to Exit 35N.
Car – Sagamore Hill can be reached from NSP Exit 35N or LIE/I-495 Exit 41N. At those exits, take Route 106 North for 4 miles. Turn right/east on Route 25A and travel 2.5 miles. At third traffic light, turn left/northwest and take Cove Road for 1.7 miles. Turn right/north and take Cove Neck Road 1.5 miles to Sagamore Hill. The Belt/Cross Island, Grand Central parallel the NSP and LIE/I-495. The Southern State Parkway connects to NSP/LIE via the Wantaugh/Meadowbrook Parkways, or the Seaford/Oyster Bay Expressway. Take Southern State Exit 28AN to Route 135 North (Seaford/Oyster Bay Expressway) for 10 miles to Exit 14E (Woodbury) and Route 25(Jericho Turnpike). Turn right/east, travel to the third traffic light. Turn left on South Woods Road, traveling 1.6 miles to its end and turn right on to Cold Springs Road. Travel 1 mile to Route 25A intersection. Turn left on Route 25A and travel 0.7 miles downhill to the Cove Road stoplight. Turn right on Cove Road for 1.7 miles to Cove Neck Road. Turn right on Cove Neck Road and follow signs for 1.5 miles to Sagamore Hill.
Bus – By Bus: Long Island Bus service nearest Sagamore Hill is at Syosset (6 miles) or Hicksville (10 miles). Interstate bus service is through New York's Port Authority bus terminal. Rail/Taxi is the more practical public transportation option.
Public Transportation – Rail: AMTRAK, NJ Transit and the Long Island Railroad serve New York City through Penn Station. The LIRR provides service via the Oyster Bay Branch to Oyster Bay (3 miles away) – OR – more frequent service via the Port Jefferson Branch to Syosset (6 miles away). Both train rides take 60-75 minutes. Taxis typically meet all trains at Syosset. Not always the case at Oyster Bay. Cab fares average $8 from Oyster Bay, $9 from Syosset, $2 for additional passengers. Rail travelers to Sagamore Hill should leave New York City early in the day. hiking: Hiking the three miles from the Oyster Bay railroad station or the Oyster Bay Marina is not recommended. The route is hostile to pedestrians with narrow shoulders, fast and moderately heavy traffic and travels through exclusive rural residential neighborhoods where a premium is placed on privacy. No restrooms, water or food service is available enroute and no food service at the park.
By Private Boat: Sagamore Hill is within a mile of Oyster Bay Harbor and the Long Island Sound, but there is no public access or docking facility nearby. The Oyster Bay Marina is about three miles away and about a block from the Oyster Bay railroad station.
In making your weekend sailing plans, contact the Oyster Bay Harbor Master at (516)624-6201.
Contact Info
20 Sagamore Hill Road
Oyster Bay, NY
11771-1809
Additional Info
"Sagamore Hill National Historic Site (U.S. National Park Service)". Accessed July 02, 2020. Link.
Near By Parks
Hunt Hill Farm
Delaware National Scenic River
Delaware And Lehigh National Heritage Corridor
Delaware Water Gap National Recreation Area
Edison National Historic Site
General Grant National Memorial
Hamilton Grange National Memorial
Home Of Franklin D Roosevelt National Historic Site
Lower East Side Tenement Museum National Historic Site
Morristown National Historical Park
Springfield Armory National Historic Site
Theodore Roosevelt Birthplace National Historic Site
Vanderbilt Mansion National Historic Site
Weir Farm National Historic Site
Hudson River National Estuarine Research Reserve
Jacques Cousteau National Estuarine Research Reserve
Manhattan Sites
National Museum Of Industrial History
The Jazz Museum In Harlem
Western Connecticut State University
Elizabeth A. Morton National Wildlife Refuge
Governors Island National Monument
Lincoln Park Coast Cultural District
Great Swamp National Wildlife Refuge
Stewart B. Mckinney National Wildlife Refuge
Wallkill River National Wildlife Refuge
Wertheim National Wildlife Refuge
Success Lake
Huntington State Park
Appalachian National Scenic Trail
Colebrook River Lake
Hancock Brook Lake
Hop Brook Lake
Mansfield Hollow Lake
Northfield Brook Lake
Thomaston Dam
Delaware Lake
Union City Dam
Elizabeth A. Morton Nwr
Near By Campgrounds
American Legion Sf (HAWES)
Black Rock Picnic Shelter
Black Rock State Park
Burr Pond Picnic Shelter
Chatfield Picnic Shelters
Day Pond Picnic Shelter
Dennis Hill Picnic Shelter
Devils Hopyard
Devils Hopyard Picnic Shelter
Dinosaur State Park Picnic Shelter
Hammonasset Beach State Park
Hammonasset Picnic Shelter
Hopeville Pond State Park
Housatonic Meadows State Park
Indian Well Picnic Shelter.
Kettletown State Park
Lake Waramaug State Park
Macedonia Brook Picnic Shelter
Macedonia Brook State Park
Mystic KOA
Northfield Brook Lake (CT)
Osbornedale Picnic Shelter
Penwood Picnic Shelter
People&Amp;Apos;S Forest Picnic Shelter
Rocky Neck Picnic Shelter
Rocky Neck State Park
Seaport
Sleeping Giant Picnic Shelter
Southford Picnic Shelter
Stratton Brook Picnic Shelter
Wharton Brook Picnic Shelter
Beartown State Forest
Granville State Forest
Tolland State Forest
Beaver Pond Campsite
Camp Gateway (NY)
Camp Waubeeka
Clarence Fahnestock State Park
Cold Brook
Devils Tombstone Campground
Hither Hills State Park
Kenneth L. Wilson
Lake Taghkanic
Mills Norrie State Park
Mongaup Pond
Newburgh New York City North KOA
North South Lake Campground
Roundout Valley Rv
Saugerties Woodstock KOA
Sebago Cabins
Taconic (COPAKE FALLS)
Taconic State Park (RUDD POND AREA)
Wildwood State Park
Woodland Valley
Delaware Water Gap Pocono Mountain KOA
Scotrun Campground
Timothy Lake North