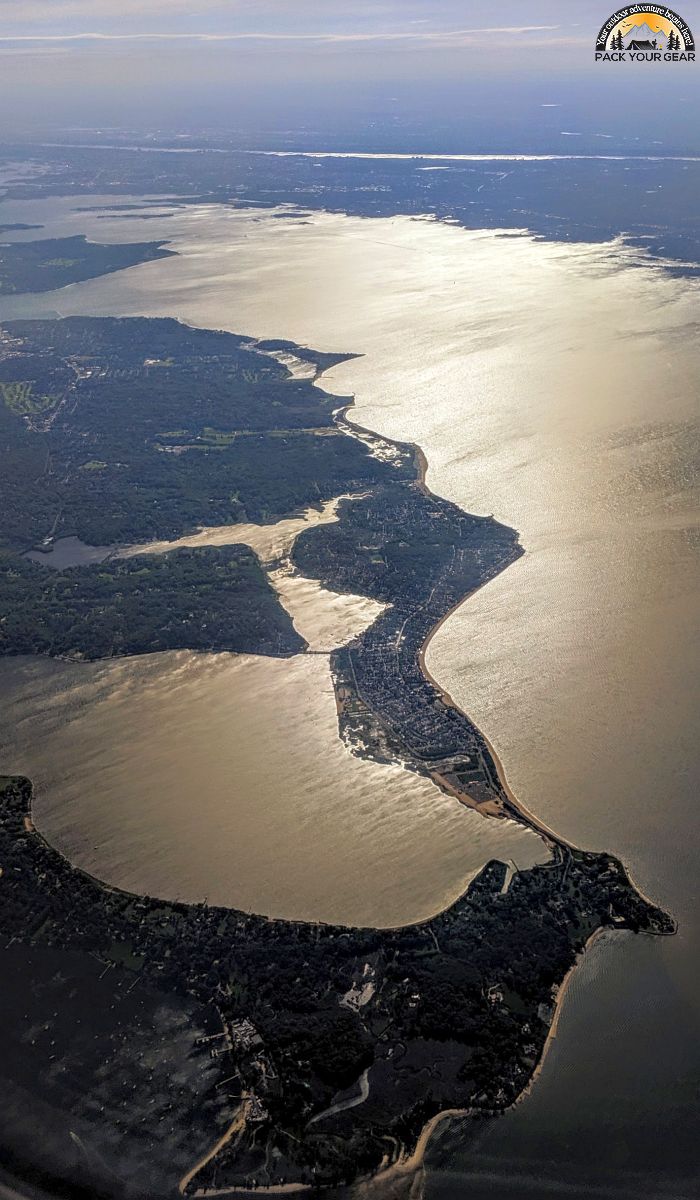 Oyster Bay National Wildlife Refuge
Park Information
The Oyster Bay NWR on the north shore of Long Island consists of high quality marine habitats that support a variety of aquatic-dependent wildlife.
The refuge's waters and marshes surround Sagamore Hill National Historic Site, home of Theodore Roosevelt – father of the National Wildlife Refuge System.
Subtidal (underwater up to mean high tide line) habitats are abundant with marine invertebrates, shellfish and fish. Marine invertebrate and fish communities support a complex food web from waterfowl to fish-eating birds, to marine mammals.
Waterfowl use of the Refuge peaks from October through April. Over 20,000 ducks have been documented on the refuge during one survey.
Over 25 species of waterfowl, along with numerous other waterbirds, depend on Oyster Bay for survival. The most common marine mammals at the refuge are harbor seals – which have become more noticeable during recent years.
Sea turtles and diamondback terrapins can also be sighted at the Refuge. New York State's only remaining commercial oyster farm operates on the refuge, producing 90% of the State's oyster harvest.
Agency Name:
Fish and Wildlife Service
Directions
Access to the refuge is limited to private boats and rentals. Residents outside of Oyster Bay may enter the refuge by boat from Long Island Sound. Visitors in vehicles may travel local roads adjacent to the refuge. The refuge does not provide parking. Mill Pond, part of the Refuge, is located off West Main Street. Onsite parking is not available.
Contact Info
N/A
Oyster Bay, NY
11771
Additional Info
"Home – Oyster Bay – U.S. Fish and Wildlife Service". Accessed July 02, 2020. Link.
Near By Parks
Hunt Hill Farm
Delaware National Scenic River
Delaware And Lehigh National Heritage Corridor
Delaware Water Gap National Recreation Area
Edison National Historic Site
General Grant National Memorial
Hamilton Grange National Memorial
Home Of Franklin D Roosevelt National Historic Site
Lower East Side Tenement Museum National Historic Site
Morristown National Historical Park
Sagamore Hill National Historic Site
Springfield Armory National Historic Site
Theodore Roosevelt Birthplace National Historic Site
Vanderbilt Mansion National Historic Site
Weir Farm National Historic Site
Hudson River National Estuarine Research Reserve
Jacques Cousteau National Estuarine Research Reserve
Manhattan Sites
National Museum Of Industrial History
The Jazz Museum In Harlem
Western Connecticut State University
Elizabeth A. Morton National Wildlife Refuge
Governors Island National Monument
Lincoln Park Coast Cultural District
Great Swamp National Wildlife Refuge
Stewart B. Mckinney National Wildlife Refuge
Wallkill River National Wildlife Refuge
Wertheim National Wildlife Refuge
Success Lake
Huntington State Park
Appalachian National Scenic Trail
Colebrook River Lake
Hancock Brook Lake
Hop Brook Lake
Mansfield Hollow Lake
Northfield Brook Lake
Thomaston Dam
Delaware Lake
Union City Dam
Elizabeth A. Morton Nwr
Near By Campgrounds
American Legion Sf (HAWES)
Black Rock Picnic Shelter
Black Rock State Park
Burr Pond Picnic Shelter
Chatfield Picnic Shelters
Day Pond Picnic Shelter
Dennis Hill Picnic Shelter
Devils Hopyard
Devils Hopyard Picnic Shelter
Dinosaur State Park Picnic Shelter
Hammonasset Beach State Park
Hammonasset Picnic Shelter
Hopeville Pond State Park
Housatonic Meadows State Park
Indian Well Picnic Shelter.
Kettletown State Park
Lake Waramaug State Park
Macedonia Brook Picnic Shelter
Macedonia Brook State Park
Mystic KOA
Northfield Brook Lake (CT)
Osbornedale Picnic Shelter
Penwood Picnic Shelter
People&Amp;Apos;S Forest Picnic Shelter
Rocky Neck Picnic Shelter
Rocky Neck State Park
Seaport
Sleeping Giant Picnic Shelter
Southford Picnic Shelter
Stratton Brook Picnic Shelter
Wharton Brook Picnic Shelter
Beartown State Forest
Granville State Forest
Tolland State Forest
Beaver Pond Campsite
Camp Gateway (NY)
Camp Waubeeka
Clarence Fahnestock State Park
Cold Brook
Devils Tombstone Campground
Hither Hills State Park
Kenneth L. Wilson
Lake Taghkanic
Mills Norrie State Park
Mongaup Pond
Newburgh New York City North KOA
North South Lake Campground
Roundout Valley Rv
Saugerties Woodstock KOA
Sebago Cabins
Taconic (COPAKE FALLS)
Taconic State Park (RUDD POND AREA)
Wildwood State Park
Woodland Valley
Delaware Water Gap Pocono Mountain KOA
Scotrun Campground
Timothy Lake North