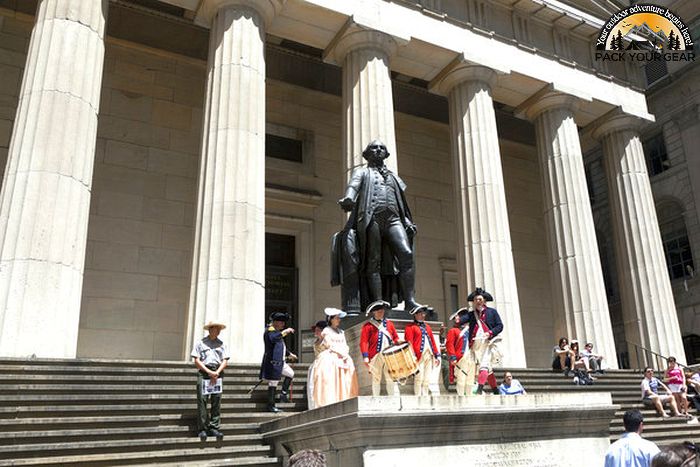 Federal Hall National Memorial
Park Information
26 Wall Street was the site of New York City's 18th century City Hall. Here John Peter Zenger was jailed, tried, and acquitted of libel for exposing government corruption in his newspaper, an early victory for freedom of the press.
City Hall hosted the Stamp Act Congress, which assembled in October 1765, to protest "taxation without representation".
After the American Revolution, the Continental Congress met at City Hall, and in 1787 adopted the Northwest Ordinance establishing procedures for creating new states.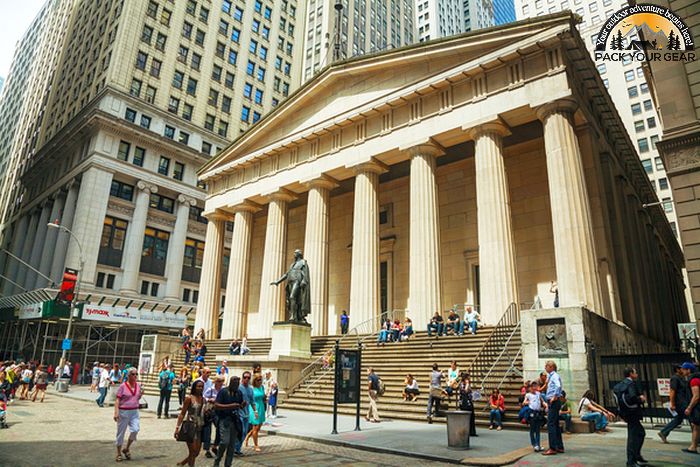 When the Constitution was ratified in 1788, New York remained the national capital. Pierre L'Enfant was commissioned to remodel City Hall for the new federal government.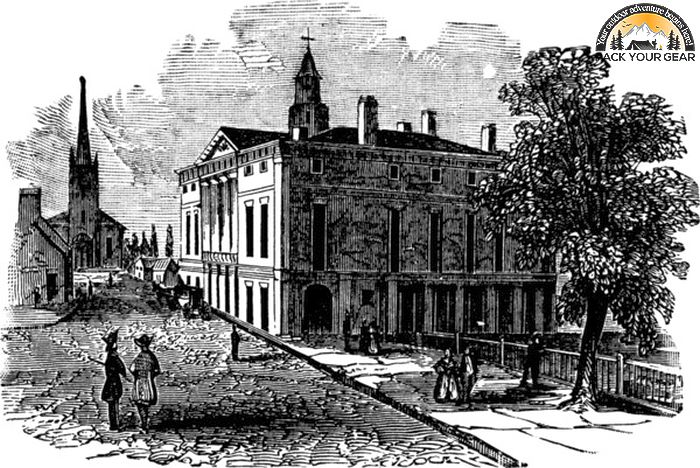 The First Congress met in the new Federal Hall, and wrote the Bill of Rights, and George Washington was inaugurated here as President on April 30, 1789.
When the capital moved to Philadelphia in 1790, the building again housed city government until 1812, at which time Federal Hall was demolished. The current structure on the site was built as the Customs House, opening in 1842.
In 1862, Customs moved to 55 Wall Street and the building became the U. S. Sub-Treasury. Millions of dollars of gold and silver were kept in the basement vaults until the Federal Reserve Bank replaced the Sub-Treasury system in 1920.
Agency Name:
National Park Service
Directions
Car – Parking in downtown Manhattan is extremely limited and extremely expensive. Driving is not recommended.
Public Transportation – Frequent service is provided 24 hours a day, seven days a week by subway and bus. The #2 and #3 subway trains stop at Wall and William Streets, one block east of Federal Hall. The #4 and #5 subway trains stop at Wall Street and Broadway, one block west of Federal Hall. J, M and Z subway trains stop at Wall and Broad Streets Monday through Friday. Bus service is provided by route M-15 on Water Street, three blocks to the east.
See www.mta.info for shedules and information.
Contact Info
26 Wall Street
New York, NY
10005
Additional Info
"Federal Hall National Memorial (U.S. National Park Service)". Accessed June 28, 2020. Link.
Near By Parks
Hunt Hill Farm
Delaware National Scenic River
Delaware And Lehigh National Heritage Corridor
Deshler Morris House
Delaware Water Gap National Recreation Area
Edgar Allan Poe National Historic Site
Edison National Historic Site
General Grant National Memorial
Gloria Dei Church National Historic Site
Hamilton Grange National Memorial
Home Of Franklin D Roosevelt National Historic Site
Independence National Historical Park
Lower East Side Tenement Museum National Historic Site
Morristown National Historical Park
New Jersey Pinelands National Reserve
Steamtown National Historic Site
Thaddeus Kosciuszko National Memorial
Theodore Roosevelt Birthplace National Historic Site
Valley Forge National Historical Park
Vanderbilt Mansion National Historic Site
Weir Farm National Historic Site
Hudson River National Estuarine Research Reserve
Jacques Cousteau National Estuarine Research Reserve
Manhattan Sites
National Museum Of Industrial History
The Jazz Museum In Harlem
The African American Museum In Philadelphia
Western Connecticut State University
Elizabeth A. Morton National Wildlife Refuge
Governors Island National Monument
Lincoln Park Coast Cultural District
Historic Bethlehem Partnership Inc.
Great Swamp National Wildlife Refuge
John Heinz At Tinicum National Wildlife Refuge
Stewart B. Mckinney National Wildlife Refuge
Wallkill River National Wildlife Refuge
Wertheim National Wildlife Refuge
Success Lake
Huntington State Park
Appalachian National Scenic Trail
Aylesworth Creek Lake
Beltzville Lake
Prompton Lake
Francis E Walter Dam
Hancock Brook Lake
Hop Brook Lake
Northfield Brook Lake
Thomaston Dam
Delaware Lake
Union City Dam
Edwin B. Forsythe National Wildlife Refuge
Elizabeth A. Morton Nwr
Near By Campgrounds
American Legion Sf (HAWES)
Black Rock Picnic Shelter
Black Rock State Park
Burr Pond Picnic Shelter
Chatfield Picnic Shelters
Dennis Hill Picnic Shelter
Dinosaur State Park Picnic Shelter
Hammonasset Beach State Park
Hammonasset Picnic Shelter
Housatonic Meadows State Park
Indian Well Picnic Shelter.
Kettletown State Park
Lake Waramaug State Park
Macedonia Brook Picnic Shelter
Macedonia Brook State Park
Northfield Brook Lake (CT)
Osbornedale Picnic Shelter
People&Amp;Apos;S Forest Picnic Shelter
Sleeping Giant Picnic Shelter
Southford Picnic Shelter
Wharton Brook Picnic Shelter
Atlantic Blueberry Hill
Buena Vista
Chestnut Lake Rv
Nascar Rv Resort At Mays Landing
Beaver Pond Campsite
Beaverkill
Camp Gateway (NY)
Clarence Fahnestock State Park
Kenneth L. Wilson
Lake Taghkanic
Little Pond Campground
Mills Norrie State Park
Mongaup Pond
Newburgh New York City North KOA
Roundout Valley Rv
Saugerties Woodstock KOA
Sebago Cabins
Taconic State Park (RUDD POND AREA)
Wildwood State Park
Woodland Valley
Delaware Water Gap Pocono Mountain KOA
Robin Hill Rv
Scotrun Campground
Timothy Lake North